Five Classics For Focus Money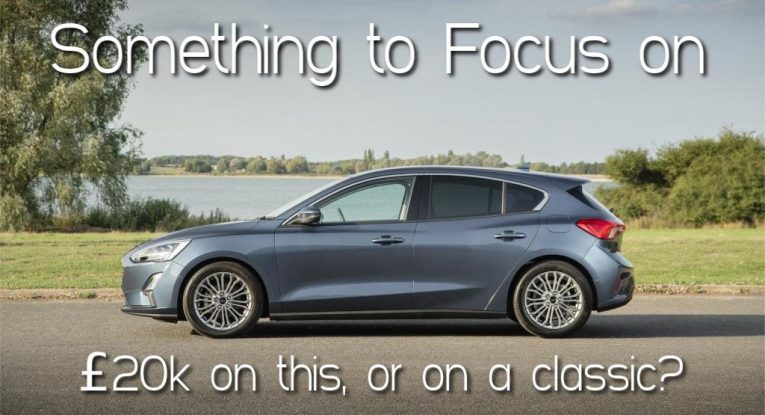 The current Ford Focus is, frankly, an exceptional car. It comes from a long line of the Focus hitting it out of the park, so it's not surprising that the current model follows that trend. It's handsome, it's incredibly safe, it's brilliant to drive and it's practical. It is, in many respects, the perfect car. 
Prices for the Focus start at around £20,000 for a base model, and that's pretty respectable. However, good though the Focus is, there's no escaping the fact that £20,000 is a lot of money. And that got us thinking. How far would that go in the classic car world? Needless to say, this sent us into the listings on Car & Classic to find out. 
Our digging was fruitful, bringing up the following five cars. We've stuck to the basics of what the Focus offers though, so four seats and a degree of practicality. By doing that, we're giving you the chance to labour over whether one of our five classics is a better bet. After all, you'll be able to justify it! They're just as practical. Though, they are entirely more daft. But, we only live once, so why not?
1) The Bentley Flying Spur
Yep, for Focus money, you could be lording it up in Britain's bastion of luxury motoring. And don't think we're talking about a leggy, high mileage machine that has been run into the ground. Far from it, in fact. For twenty grand, you can buy a Bentley Flying Spur with low miles (we found one with just 57k on the clock) and a full history. A flagship car for Focus money. Massage seats, more walnut than a KP Nuts factory, leather for days and a ride so smooth it'll be like driving Chesterfield sofa. This is it. This is elite-spec motoring. 
Of course, it won't be new. Your £20k will get you a car from around 2005. It also won't be cheap, given that servicing one properly will probably require you to sell an internal organ. And with a great 6.0 W12 engine, it's hardly the most frugal, but does that matter? Not when you get to roll up on your driveway in supreme luxury, it doesn't. Watch the neighbour's curtains twitch with envy. 
2) The Maserati Quattroporte 
Just say it. Maserati. Quattroporte. Oof. It's worth buying one for the name alone. This Italian stallion is the thinking man's BMW M5, it's speed, grace and pace but with a healthy dollop of Italian flair on top. The styling is bold and brave, the leather is rich and sumptuous and the noise is addictive. With a 4.2 V8 up front delivering power to the rear wheels via a ZF six-speed 'box, this is a proper sports car under a 'sensible' four-door body. And we really do mean proper – that 4.2 engine comes from Ferrari. 400bhp or thereabouts, in case you're wondering. 
Of course, there is no escaping the fact Italian cars are fragile, but worry not. Aim for a fourth-generation Quattroporte from around '07 and you should be fine. By now, thirteen years on, the issues should have been ironed out. That means you can easily pick up a car in perfect running order, with low miles and with full service history. And get this – buying one will leave you at least £5,000 – that Quattroporte really is a bargain at the moment. 
3) The Citroën DS
There are few cars as exciting and as evocative of days gone by as the mighty Citroën DS. Introduced in 1955, the DS was the brainchild of Italian sculptor and industrial designer Flaminio Bertoni and the French aeronautical engineer André Lefèbvre who styled and engineered the car. For '55, the DS was otherworldly, with commenters genuinely stating that the car looked as though it had fallen from space. But it wasn't just an exercise in aesthetics. The revolutionary hydropneumatic suspension designed by Paul Magès ensured this futuristic machine rode like nothing else. Even today, the DS is lauded as being one of the most refined cars to drive. 
Your £20,000 will have to be spent carefully here, as the market for the Citroën DS is extremely buoyant right now. You could easily spend £60-70k on a mint example. Your £20k will still get you a good one, of course. But maybe one that is showing its age, but that's fine, as some patina is important. And as long as the car you're looking at has been serviced and maintained, you should have nothing to worry about. 
4) The Toyota Century 
How about we now look at something from the land of the rising sun, namely the Toyota Century, a flagship V12 machine that will stun you. It's also a car we never got here in the UK, which gives those that have been imported some serious kudos. People will stop and stare, as they try to figure out just exactly what this machine is as it glides past. And glide it will. Fitted with a 5.0 V12, the Century is a flagship car built almost exclusively to chauffeur people around. As such, the suspension is dialed into 'smooth' and the engine to 'gently hum'. This is a sedate, dignified machine. 
Being a Toyota, the Century is ludicrously reliable. It's well built, too. All Toyotas are built well, but the Japanese engineers went the extra mile with the Century, knowing it was going to be the transport for many a dignitary or industry leader. Is it the most handsome car? That's for you to say. We like any traditional 'three box' saloon, so its looks float out boat. But when you have massage seats, climate control, reclining rear seats, curtains, a premium sound system and even the ability to fully stretch out thanks to a removable centre section in the passenger seat, do looks matter? Exactly. 
5) The Jaguar Mark 10
There are few cars as handsome, as refined (for the time) and as downright imposing as the Jaguar Mark 10. A car so big the front and rear seats are in different post codes. A car so wide you'll only be able to drive it on the new bit of the M1 and a car so intimidating you'll have the neighbors offering you 'protection money'. But then, we are talking about a car that, famously, the Kray twins owned. It's a car from a time when Jaguar was trying to permeate the American market, so making the Mark 10 slightly bigger than an aircraft carrier made sense. It was powered by either Jaguar's 3.8 or 4.2 straight-six engine, which was, amazingly, available as a manual as well as an automatic. 
Your £20,000 will go a long way here, buying you one of the best examples. You may even get a decent wedge of change, which you'll need in order to widen your driveway. You'll also need that change for Mr Sheen and leather feed, considering the interior is laden with walnut and leather. If you want to measure your spend in square feet, the Mark 10 is hard to beat. But more than that, it's a handsome British classic, and despite its brobdingnagian proportions, it's actually a joy to drive.