Five-Cylinder Engines – An Ode To The Odd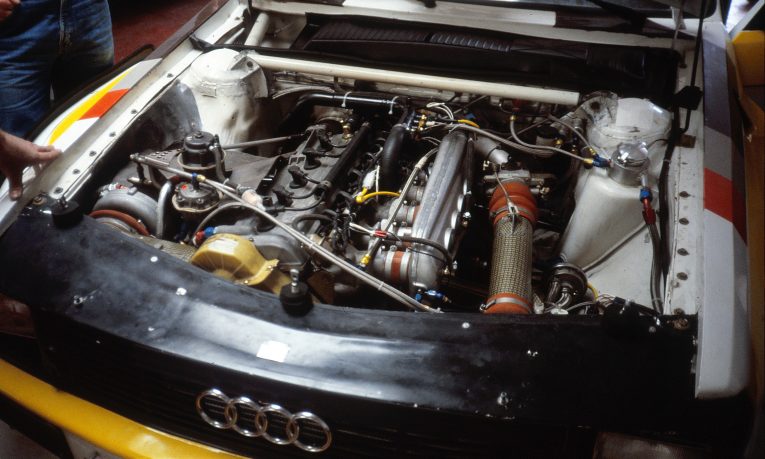 We appreciate symmetry here at Car and Classic. We like balance. We're the kind of people that have to have the car stereo volume set at a number that can be happily divided by two. Don't ask us why, that's just us. If you're a regular reader you'll also know we have a passion for V8 engines. Four cylinders on each side in perfect harmony with one another, a wonderful display of mechanical equality – it's a thing of beauty. But that's not to say we don't appreciate other engines, oh no. We embrace and cherish them all, from cute little two-bangers to giant behemoths like the BRM H-16. We're simple folk really and if it makes brum-brum noises then we're happy.
So we thought we would take some time to celebrate one of the less conventional engine setups out there – that of the five-cylinder variety. It may not be as popular as its more numerically balanced brethren but the humble five-pot has featured in some truly special cars over the years, so let's take a look at a few of them. No points for guessing how many there are going to be.
Before we dive in though, let's first of all talk about the engine itself and why there aren't more of them powering our favourite classics. Most manufacturers have avoided it like the plague while others have fully embraced the inline five. Less cumbersome than a six but smoother and more powerful than a four it bridges the gap nicely between the two but it's not without its problems that need to be addressed before it can have any chance of success. The biggest hurdle to overcome is cost. Inline five-cylinder engines are expensive to engineer and produce because of their inherent imbalance. Vertically they're fine but horizontally, due to the firing order, the engine will rock back and forth and so an additional balancing shaft needs to be employed to counteract this movement.
With the balancing act in tune however the benefits of this engine layout are numerous. As mentioned, an inline five produces an incredibly smooth power delivery and combined with a glorious sound that is akin to a toned-down V10 there's a lot to like. They are compact too which means they can be squeezed more easily into smaller, transverse engine compartments while producing more power than a four-cylinder motor. Thinking about it it's a wonder why historically they weren't more popular. Nowadays advances in technology mean that four-cylinder engines are becoming increasingly powerful and efficient and so there is even less demand for the five. Let's take a moment then and appreciate those manufacturers that stood by this oddball engine and made some cracking cars in the process.
Mercedes-Benz 300D
In 1974 Mercedes dropped their newly-developed five-cylinder OM617 diesel engine into the 240 saloon and its reputation was quickly cemented as one of the most reliable and robust engines ever produced. Like those kitchen appliance adverts from the 80s these things just go on and on and on. Evolving from the OM616 four-cylinder engine the Mercedes Benz inline five may not have been the most powerful, producing a mere 80bhp, but it made up for any lack of oomph by being pretty much indestructible and powering the revered W123 luxury saloon. A turbocharged version was also offered in the W116 S-Class in the U.S. in 1979 making it the world's first production turbo-diesel saloon car.
Volvo 850 T-5R
Perhaps the most venerated of Volvos the limited edition T-5R debuted in 1995 featuring a tuned, turbocharged version of the Swedish manufacturer's five-cylinder engine and it's easy to see why this car is so well respected. With the B5234T5 motor producing over 240bhp and around 250lb-ft of torque it's a bit of a beast. Available in either saloon or estate form the T5-R is a true sleeper and proof that a good five-cylinder engine really can deliver the goods.
Audi Quattro
Arguably the most famous rally car to ever grace a Group B stage, to say the Audi Quattro achieved a lot in its lifetime would be an understatement. Not only did it redefine the sport along the way but it did it all with a five-cylinder engine under the bonnet.
The final S1 E2 version produced the best part of 600bhp (but allegedly the figure was realistically far greater) from its turbocharged, inline five and if there was ever any doubt as to the sheer brilliance of this machine then just take a look at Walter Röhrl's record breaking Pike's Peak run in 1987. Astonishing.
Fiat Coupé
The Italians joined the five-cylinder party too with the hugely underrated Fiat Coupé. Launched in 1994 with a four-pot initially, it wasn't until two years later that Fiat introduced the 2.0-litre, five-cylinder engine in both normally aspirated and 20 valve turbo form. Aside from some build quality issues the Coupé was a great car. It looked good and the 220bhp from the 20 valve was a blast, propelling the feisty Fiat to 60mph in around 6 seconds. And boy did it sound good doing it.
Land Rover Discovery Series II
Alongside the Rover V8s offered in the second incarnation of the Discovery was a diesel-powered, direct-injection, inline five-cylinder engine. Still inherently a Rover product it was a torquey so-and-so with around 232lb-ft of caravan-lugging potential and properly maintained was a bit of a workhorse, entirely suited to the rugged vibe of the car in which it resided. It was also fitted to the Defender where it remained until 2007. Plus, when it was in development it was entitled 'Project Storm', which is cool.
By no means a definitive list this bunch of fives proves unequivocally, however, that the inline, five-cylinder engine is a force to be reckoned with. It's a niche market but when done right it can be a hugely capable and characterful motor that is guaranteed to put a smile on your face. We're off to watch that Pike's Peak vid again and we might be a little less obsessive about our car stereo's volume settings in the future.