Ford Model T – The Ultimate Distraction?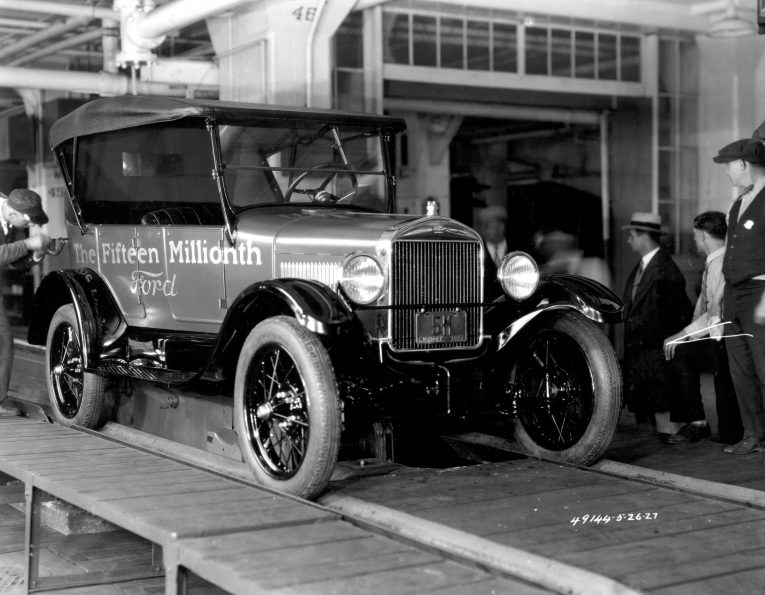 At first glance, we have a lot to be thankful for when it comes to the Ford Model T. It was, after all, the car that brought the assembly line to the automotive world. It was also the car that opened up mobility to the masses. But really, when you look deeper into the history of the Model T, that's about all it did. The car wasn't actually very good. In fact, it was famously unreliable and poorly built. And then there is the human element of the staff who built it, the people who had to work under Henry Ford's stringent and borderline megalomaniacal regime. And on top of that, there are the deeply anti-Semitic circumstances under which Ford insisted the Model T be sold.
Henry Ford
Henry Ford was working for the Edison Illuminating Company in the late 1800s, serving as the Chief Engineer. However, this wasn't enough for work-driven Ford. At home, he was labouring over his gasoline engine. In 1893, during Christmas, Ford finally had the breakthrough he needed – the engine ran, albeit for less than a minute. That was enough for Ford though, who took it as a sign he was onto something.
Three years later, he developed the Quadcycle, which was exactly what it sounds like. A curious carriage riding on four spoked wheels, powered by Ford's engine. But it was enough, especially in the exciting, developing landscape that the emerging notion of the automobile provided. After a couple of false starts, Ford Motor Company was founded on the 16th June 1903.
The Model T didn't come along until 1907. Ford spent a great deal of time researching and developing the car, but not with a view to it being any good. Ford simply wanted there to be lots of them. And not only that, he wanted one chassis to do multiple things. As such, the Model T was a coupe, a tourer, a pick-up and a van amongst others. By offering all this care of one chassis, the savings were huge.
Motoring at this point in history was something for the wealthy. It was a privilege, not the right we perceive it to be today (though really, it is still a privilege). Ford wanted to change that. He saw that by building a car that was, generally speaking, more affordable than anything else, it would open up this world of mobility to more people. And of course, from a business point of view, more sales meant more money.
With this in mind, the Model T was built to a price. It had no frills, it was a car in its most basic form. Seats, engine, steering wheel and if you paid enough, a roof. That was your lot. However, to credit the Model T, it boasted high ground clearance, which was crucial for the roads of the era. The four-cylinder engine was cast from iron with a vanadium alloy steel crank, resulting in being light, yet strong, while the body panels of the T were made from heat-treated steel that was also strong, yet light. A stock Model T tipped the scales at 1,200lb. The Model T boasted self-starting ability care of a starter and battery, optional to begin with, but standard from '26. This meant no more perilous interactions with a crank handle for owners.
History will tell you the car was cheap, but it actually wasn't. In today's money, it was about $20,000. Not cheap at all, really. But, by comparison to every other automobile, it was a veritable bargain. And, while it would be a stretch for most people to afford one, it was a very doable stretch. The Model T sold in massive numbers. And as the evolution of the Model T progressed, Ford's promise to drive the price down was met – by 1925, it was $300, or $4,500 in today's money.
This was the first step in the Model T's domination. The next was the assembly line. This is where Ford's business mind excelled. He looked at the standard production times for the Model T and devised a plan to better them. For this, a new facility was built in Highland Park in Detroit. The 60 acre facility was recognised as being the biggest in the world, and with its completion, Ford had to double the number of employees. However, these employees were unskilled. This was thanks in part to Ford's unwillingness to employ experts, and also because it was cheaper.
How then, did Ford see to it that these unskilled people could build cars? This is where step two of the Model T's revolution came about. You can be forgiven for thinking that the Model T and the assembly line go hand in hand. However, it wasn't until 1913 that Ford put them into action. Taking inspiration from the meat-packing factories in the district, Ford devised a conveyor belt system that would deliver components down the line. At various points, the unskilled staff were charged with the task of fitting a couple of parts before the component went on to the next stage. This was clever, as no skill was needed. The workers just had to do one thing. The Highland Park facility had 500 departments like this, each building components. After this, the built parts were centralised, and another assembly line built them into cars. And this system worked. By 1925, Ford had built 16,500,000 Model Ts.
Quite how Ford managed to sell them, however, was something else. Or build them for that matter.

Ford was a staunch anti-unionist, and famously used mob tactics to intimidate workers from forming unions. But that wasn't all. Many of Ford's workers were immigrants, and by their very nature, not American. This didn't sit too well with Henry. As such, he set up the Ford Sociological Department, which hired investigators who checked on the worker's personal lives to make sure they were living 'the American way'. Workers who took exception to this had their salaries cut. Workers who failed to comply had their employment terminated.
You may have seen posts about Henry Ford being the revolutionary who paid his workers $5 a day, twice the national average. And yes, he did. But $2.50 of it was a bonus, only earned by satisfying the FSD. Furthermore, it was a step Ford had to take in order to prevent the costly high turnover of staff. For example, Ford was employing 52,000 workers at one point, but only retaining 14,000. That's bad business.
Henry Ford receiving the Grand Cross of the German Eagle from Nazi officials, 1938.
More bad business came with the selling of the Model T. Henry Ford, who had strong 'opinions' on Jewish people, bought the Dearborn Independent newspaper in 1919 and used it to publish deeply anti-semitic pieces, including his thoughts on how he believed Jews were responsible for starting wars. Needless to say, a lot of dealers didn't like the fact that Ford ordered all Model Ts be sold with a subscription. Thankfully, the paper, despite being worryingly popular, folded in 1927. Ford would go on instead to compile his book, The International Jew, which enjoyed readers such as Hitler. Earning Ford a positive mention in Hitler's book, Mein Kampf, along with a later award of the Grand Cross of the German Eagle by the Nazis in 1938.
The Ford Model T was, make no mistake, the most important car in the history of the automobile. At one point, it represented well over half of all cars on the road globally. But in the case of the T, it's what was learned from it, in terms of production, that changed the motoring world. The car itself was fairly terrible, it was complicated to drive, it was unrefined and it was often unreliable. But even so, in production terms, it showed what could be done, and thus paved the way for other manufacturers.
And so impressive was its legacy of mass production, it successfully blinkered us from the human pressure and frankly out of touch beliefs of the company's founder, which, for Ford's sake, is probably a very good thing indeed.