Ford Mondeo ST200 – The Time is Now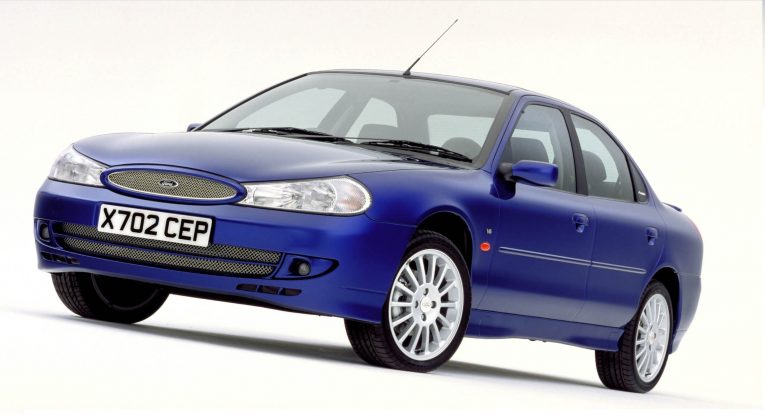 Ford has never been shy when it comes to making performance models of its otherwise staid line-up. Yes, if you want a safe, reliable and inoffensive family car, Ford can sort you out. But Ford can also sort you out if you want that same car to be a little more… wild.
Ford has, let us not forget, given us cars like the Escort Mexico, the GT40, the Mustang, the RS models, the XR cars and, as of the 1990s, the ST range. The ST range was ushered in to be a replacement for the XR performance models. Insurance companies had, by this point, decided that it would cost a small fortune to get even third party cover on anything with an XR badge, and so Ford changed it. The new performance moniker would be ST, and the first car to parade it would be, erm, the Mondeo.
We're not sure why, but bosses figured the 1997 Mondeo would be the perfect car to introduce us to the new Sport Technologies branding. And it didn't hold back. It gave the Mondeo an exclusive body kit, exclusive wheels, a sporty interior and of course, a 24v V6 petrol engine. It was actually quite potent. Then followed the Focus ST170, again with big wheels, bespoke trim and a hot engine. And the rest, as they say, is history. Except it's not, because Ford wanted to really show what the ST badge could mean. It was also an exercise in 'race on Sunday, sell on Monday' in relation to the BTCC. Clever. But what exactly did Ford do?
An introduction to the Mondeo ST200
In 1999, at the Geneva Motor Show, Ford bosses pulled back the cover of the new Mondeo ST200. Presented in a hue synonymous with performance Fords, Imperial Blue, this new version of the Mondeo took the lessons that had been learned from the success of the ST24 version, and in turn, emerged as a harder, more aggressive machine. At a glance, it was just an ST24. However, look closer and the changes soon became obvious.
There was Recaro trim, for starters. Unapologetically black and blue, including the steering wheel, it was peak '90s. The car sat on new alloys, reminiscent of those on the Touring cars of the time. The body kit played home to more mesh than before, and the whole thing sat a little lower. It wasn't just an exercise in aesthetics though. The ST200 was a serious performer. The engine produced 170bhp in the ST24. In the ST200, it was 202bhp. There was more torque, too. All care of better induction, bigger throttle body, a revised exhaust system and new cams. It was, and still is, a bit of an animal.
Most were ordered, and quite rightly so, in Imperial Blue. Though Ford did offer the ST200 in Stardust Silver, Panther Black and Radiant Red. The Police also had some, in white, of course. Blue was the hue, though. The one to have. An ocean of colour that suits the lines of the Mondeo well.
Despite being a hugely impressive car, and one that is still loved today, it's depressingly thin on the ground for reasons we'll get to in a bit. Some were foolish, and dismissed the ST200 as being nothing more than a marketing exercise, but it really wasn't. It was fast, it was handsome and it was and still is a wonderful thing to drive. If you can, you should.
You can even try before you buy – this one can be hired from Great Driving Days
What should I look out for?
Rust. All the rust. The ST200 was made from metal so willing to corrode, it would make a shipwreck look mint. Rear arches go, and that normally takes the fuel filler with it. The sills rot out, the boot floor collects water, and rots out. The inner rear wings, the front subframe mounts, the front subframe, the strut tops, the bulkhead, the… you get the idea. If it's metal it can and will rust. If you're going to look at one, insist you get it up on a ramp. You need to look underneath it. Trust us.
Abuse is another thing to look for. Because the ST200 is thin on the ground, prices are on the rise. However, they were serious bargain basement fodder for a long while, and bargain basement buyers don't generally look after things. As such, you're looking for body damage, interior wear and neglect, and of course, mechanical issues. Has it been serviced? Has it seen fresh oil since 2002? Does the clutch still work, and do the gears still seem to have all their synchromeshery?
If the blue is too much, some were fitted with black leather trim
Finally, modifications. Fords are a beacon for people with an insatiable need to buy awful, stick-on tat. Fake vents, stickers, awful rear spoilers. They're all fair game. Crap stereo systems with ill-fitting speakers that sound like a distressed cat locked in a washing machine. Awful alloy wheels that more closely resemble 50p coins due to being bounced off every curb in sight. That kind of stuff.
What are prices like?
At the moment, still low. You can buy a basket case for as little as £500, whereas you can get a car that's presentable and on the road for a couple of grand. Mint, low mileage examples are a different story though, and you could be looking at around five grand for something like that. But it would be money well spent, especially if it's laden with low miles and full history.
The five-door hatch is the most common. Expect to pay more for a saloon and more again for an estate – they are exceptionally rare. Imperial Blue cars are the most common, but find a red, silver or black one and the price will go up. Exclusivity, you see.
Prices are going up though. The ST200 is one of those cars that people are now realising were special. And as such, the smart money is getting on board while they're still, relatively speaking, cheap. But there is only a finite number of them left, so if you want one, now is the time to strike. Give it three, five years maybe, and it won't be hard to find one for ten grand.
Why should I buy one?
Because it's brilliant, that's why. And because pretty soon the ST200 is going to be a serious bit of collector car fodder. People are finding them, and they're spending the money to get them restored. They are becoming more and more sought after, and as such, harder to find for sale. But as we type, they are still out there. The time is definitely now.
Furthermore, the ST200 is an absolute riot to drive. The V6 is silky smooth, impressively powerful and the chassis (if looked after) is a joy to push hard with. It's a properly sporty car. It's not badge engineering, it's not a bit of marketing. It is instead, the real performance deal. Buy one. You'll love it.