Gilbern Cars – The Welsh Flyer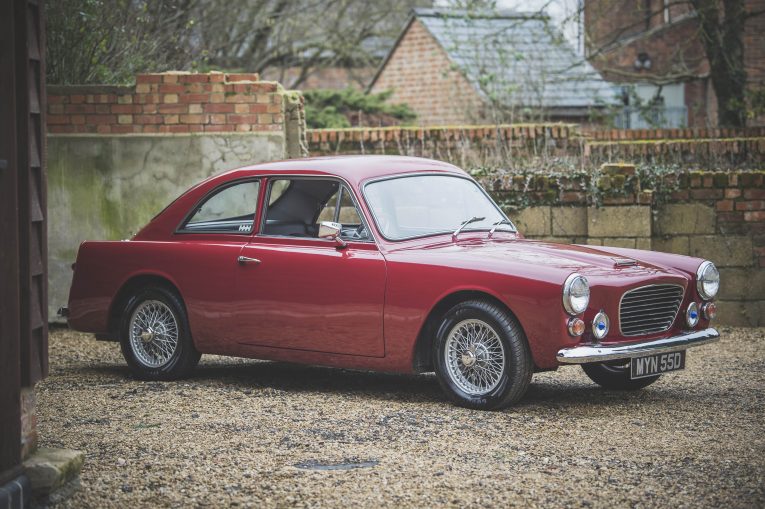 Written by John Byrne
Among the few little-known, most noteworthy examples back in the Sixties heyday of the low-volume GT Special, and virtually the only car firm to have been made in Wales, the Gilbern GT successfully transitioned from being produced initially in kit form to genuine complete cars, though it also sold in component form to beat purchase tax.
The original Gilbern prototype
The GTs' conception was the brainchild of one Giles Smith, a local butcher near Pontypridd, and co-founder Bernard Friese who was a German engineer with experience in working on Glassfibre material with a coachbuilder and who himself wanted to build his own design, both men having met by chance. Thus their venture became aptly named 'Gilbern' by blending both of their first names. First launched in 1959, it had a humble beginning as a prototype from an old abattoir converted to a workshop owned by Mr Smith behind his shop in Church Village, that would subsequently become their first variant, the GT MK 1.
The bodies were provided fully trimmed, wired and painted with initially the buyer sourcing second-hand parts, but in turn the pair decided it would be easier to directly supply brand new parts to each owner for assembly in a similar vein as the then current Lotus 7.  These mechanical components consisted of the familiar BMC 'A' series engine and gearbox that slotted within a space frame chassis, constructed out of a strong square-section steel tube that supplemented Austin A35 front suspension /steering with a modified Morris Minor rear axle located by conventional leaf springs, later uprated by twin radius arms in their own mountings assisted by telescopic Monroe dampers and transverse Panhard rod.
The body is of a quality one-piece moulding that was riveted to the frame, making for a light but stiff car available as either a body/chassis homebuilt kit or as a fully factory-built car that remained sturdy with remarkable road holding.  The body panels which are decorative rather than structural included front and rear fibreglass wings that were a direct mould from the Austin A40 Farina that was fashioned by using wood/aluminium, also its windscreen was that of a Riley 1.5 saloon, all of which added to the coupes' handsome outlines that also offered genuine 2+2 seating.
Despite its modest size, its overall dimensions closely resemble that of the Morris Minor 1000, except that the height is 3in less and the wheelbase is 6in longer. Its shell is not designed to take any of the chassis stresses, however the doors and bonnet are hinged on chassis members, thus overcoming one of the difficulties of this type of construction. By 1961, the pair bought a larger premises in Llantwit Fardre and were just producing one car per month, which would gradually increase to one car per week that by 1965 would amount to 157 cars annually with about 20 staff.
At first, the GT came with either a 948cc Austin-Healey Sprite motor with rare optional Shorrocks supercharger or Coventry-Climax 1098cc racing engines. But by 1962, it would become fitted with the 'B' series MGA 1500/1600cc versions and gearbox which managed a top speed of 104mph and 0/60mph of around 13 seconds, costing £948, this variant was equipped with Lockheed front disc brakes up front, Smiths full binnacle display and attractive wood-trimmed steering wheel as standard. From 1963 on, it would inherit the 1800 unit of the MGB and became the 1800GT that also received some of the MGB's mechanical set-up, such as double A-arm front suspension/gearbox (now with overdrive) and rear coil-sprung live axle unit.
With the GT1800's low weight of approximately 12cwt, the MGB 95bhp motor and 106lbs/ft. of torque afforded a boost in performance with a 0/60mph time of around 9 seconds reaching 110mph, which was somewhat potent over the previous model.  A total of 202 of this variant were built up to 1967, before being discontinued as Gilbern were unable to source a reliable supply of parts from BMC so instead had to buy engines 'over the counter' at nearby BMC dealers. It proved very popular at the time with enthusiasts looking for a relatively straightforward to assemble sporty coupe that was durably made as an affordable entry into the sports car market. At least one of the GT1800 in supercharged form was FIA accredited and raced throughout 1965-69.
Almost all found favour in the hands of privateers even driven by noted race-drivers and were campaigned in sprints or hill-climbs of the day. Most notably amateur racer Peter Cottrell who endorsed the GT from the very outset and who also acquired only the second model built. Through to 1967 a newly revised variant was introduced, although the GT1800 continued to be built for a short period, 'The Genie' was a much larger 2+2 with more chiselled modern lines that came as a complete car with no assembly required for about £2000 with added strengthening of the passenger compartment. Even more power was derived from Ford's then new compact Essex V6 2.5/3.0 litre unit found in the Ford Zodiac MkIV, though some did have a brief trial run of V4 units, running through either a 4-speed/4-speed with overdrive manual gearbox while retaining the BMC rack-and-pinion steering some with Austin Healey 3000 rear axles and Watts linkage, it was capable of cruising comfortably to 115mph.
The cars' interior received such up-market additions as wood grain trim, vinyl covered dashboard with centre console, fabric sunroof and optional power-operated windows but one of its most popular standard features was an all-new light-alloy wheel seen on many of this model, whereas early models had wire wheels. The Genie could be identifiable by their large Lucas rear lights from the Ford Thames van!  After just 197 of these were built in 1969, it evolved into the 'Invader' variant and its front suspension is of MGC origin as is the rear axle that comes with a more stiffened chassis. The Invader retained the Ford V6 carb-fed power-plant producing 141bhp with dual overdrive standard 4-speed all-synchromesh transmission with an optional automatic shift and larger brakes.  The cars' cabin came enhanced with such features as fully reclining seats adjusted by rake, tilt-able steering column, and walnut-veneered dashboard.
The MKII variant of the Invader followed in 1971 and appeared with a re-designed front section, its sports-estate version having already debuted a year earlier as an alternative to the contemporary Scimitar GTE with both these models being built as complete cars as well as in part kit-form.  In late 1972, the MK3 made its debut having restyled front/rear ends with wider wheel arches also a roomier boot as it was produced using new moulds that increased the track by 10cm and was lower than that of the earlier Invader.  This last iteration of the Gilbern Invader that was also only ever factory built was supplied with a Ford Cortina front sub frame and acquired a Cortina MK3 rear axle as well as adjustable shock absorbers all-round.
The body shape is distinct from earlier models, although it is still "basically Genie" with similar front and rear screens, Mk I Escort rear lights while at the front, there is a raised bumper line with a remodelled grille, beneath which are Triumph sidelights and integral fog lamps in the valance. For its engine the higher tune unit from the Ford Capri 3000GT was now installed, taking the GTs' top speed up to 122mph, with a leather upholstery appointed interior as standard.
It cost in excess of £2,500 when new and a total of 606 Invaders were built between 1969 and 1974. The 'dragon' motif on the front grille is symbolic of this being Wales's national car. Though the company never made huge profits, both Giles and Bernard kept the company turning over until spring 1968 when it was sold to the ACE Capitol Holdings, which was based near the Gilbern factory.
During this period, two new joint Managing Directors entered the fray, Mike Leather and Maurice Collings snr whose son Roger was a keen car enthusiast and were also involved in the day to day running, thereby replacing its former Directors, Smith and Friese, whom had moved on within a year.
From 1972 to 1974 the company for various reasons struggled to make a profit not helped by the newly imposed VAT impacting on sales, and even with a succession of investors it finally closed in 1974. Since its early inception, the marque that specialised in practical and distinctive fine sporting cars has its own dedicated club following today and remain highly revered by an extended fan base around the world.
We would like to thank Brian Gent of the Gilbern Club for his assistance in completing this piece.