Jaguar E Type – Try Before You Buy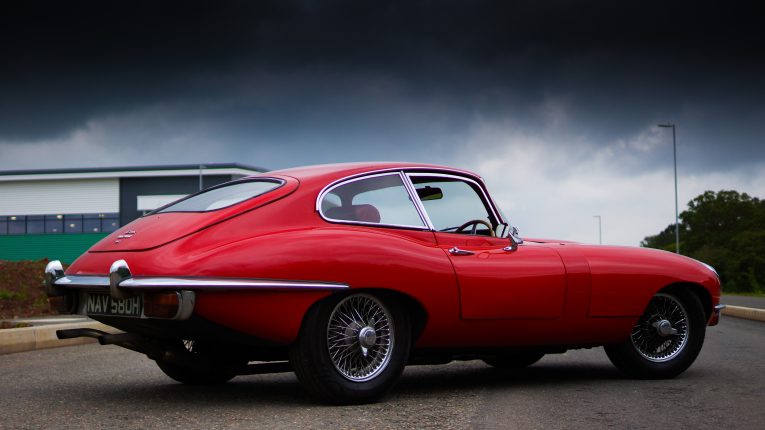 We've talked about Great Escape Classic Car Hire before. We recently went along for one of the experience days the company offers, in which you get to drive a selection of classic cars on a pre-set route, with stop offs for lunch and coffee along the way. It was good fun, and it also brought us to the reason we're once again at the company's Redditch HQ. This time though, there is no pre-set route, in fact, there are no other customers. It's just us, an E Type Jaguar and a full tank of fuel. You see, this time, we're here to try one of the classic tasters.
The man behind the idea is Great Escape head honcho, Graham Eason. With over thirty cars on his fleet, he wanted to look for a new and engaging way to get the cars out more often. What he came up with was the classic taster idea. The premise is simple: you pay £99, fill out some forms, and then you get a car for an hour. No map, no convoy, no agenda. It's just you and the car.
For Graham, the reason behind this is simple. As he puts it, the predefined time of an hours gives people a chance to get to know the car, and to enjoy it, but without getting tired of it. The majority of Graham's customers don't own classic cars, hence them coming to him. And by not owning one, they sometimes fall victim to the unforeseen – have they hired a car that they don't really fit into comfortably, is it too hard to drive compared to their modern daily, so on and so forth. Take a classic out for an hour though, and these things don't present themselves as an issue. Those 60 minutes are filled with petrol-scented romance and excitement, the car is a new experience, every minute something new is being discovered, a classic car idiosyncrasy or an increasing bravery in pushing the car a little more. It's visceral, it's an assault on the senses and for Graham, it's a massive success.
Rather than book one car for a weekend, Graham often finds people will come for the day and have a go in one or two cars, stopping for a spot of lunch between. And people love it. It was a brave move to offer his cars by the hour, but it works, the cars are busier than ever and most importantly, the customer feedback is brilliant.
We, however, aren't here for the Yell reviews. Instead, we can't help but see the hidden potential in this for people like yourselves, people who may well be looking to own a classic car. What Graham and Great Escape has in effect created is no pressure, completely enjoyable test drive experience. And that's how we were thinking when we picked up the keys for the bright red Series 2 FHC 4.2 Jaguar E Type. It's a car we have always wanted (not a roadster, always a hard top, don't ask me why – Chris) and now it's a car we'd get to drive, with absolutely zero pressure.
That lack of pressure is what makes this experience. Buying a car is a stressful thing to do. You're parting with a lot of money, you're also buying something old, and more often than not, the test drive will be short and somewhat ruined by the unwanted pressure of having a salesman or owner sat next to you. And as well they should be, its their car after all, but still, their bum being in the passenger seat doesn't help you.
Before we set off, Steve from Great Escape goes around the car and points out the odd blemish and imperfection, marking it all down on a sheet as he does. Then he gives us a guide to the car; choke is here, heater is there, wipers over there, general familiarisation stuff. And then that's it, we're turning the key and we're off.
It's a giddy feeling to be out in a car so special all on your own, but that's what you want. It's just driver and machine, and immediately we can, at our own pace, start to weigh up of the E Type is for us. We can get familiar with the four-speed manual transmission and the surprisingly light clutch, and we can do so without having to mumble a petty excuse to our passenger if we slip the clutch a bit. As we start to head into the Worcester countryside, we settle into our surroundings. This is pure, and comfortably so. We start to think about living with this car. Straight away we're in a situation where we'd replicate on a daily basis if we did buy one. We start to be captivated; we start to imagine. Not having a salesman talk at us non-stop means we can.
Then the discovery starts, the things we could never know until we actually drove an E Type. Visibility is better than expected, it's more comfortable than we imagined, too. In fact, for a '60s car, it's remarkably compliant and direct on the road. The 4.2 is also more than enough engine for this car, so as a potential buyer, we've no ruled out the needless excess of a V12. The straight-six is just fine. The four-speed 'box is crisp and direct, though we'd probably go for an auto as there is nowhere to rest our clutch foot other than on the actual clutch. This isn't something we could live with, but better to discover that now, of our own accord. It's a welcome revelation in this scenario, rather than a sudden point of conversational awkwardness with a salesman later on.
Stopping, as anyone would, to get some pictures, we get a moment of quiet reflection to look at the car and really decide if it's what we want, and to maintain a theme, we do so without pressure. Then we hop back in, fire up that gorgeous 4.2 and head back to base.
Of course, you're still going to need to test drive any car you might buy, and we're not saying otherwise. What we are saying though, is that this little hour out in a Great Escape car is going to set you up and give you a true sense of what your future metal family member will be like. And what's more, Graham will be happy to have a chat with you about the cars, about what to look for, about the repair costs, about what these cars are like to live with. He's got a few E Types and they all work for a living, so he's a font of information.
Honestly, if you're looking for a classic, check and see if Great Escape have one on the fleet. Get yourself an hour behind the wheel and arm yourself with an honest, unencumbered driving experience. You'll be glad you did.