Little Cars, But Big Characters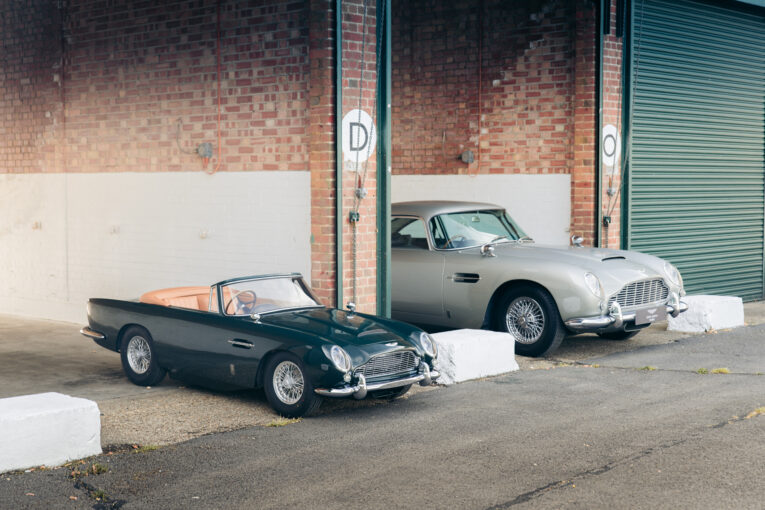 For decades we had pedal cars, then along came the electric Jeeps, Hummers and others that you can buy for your darling little ones in major toy shops, but then there are the exquisite scale recreations made by The Little Car Company. They take things to a whole new level, both in terms of price and fun, even for those young at heart, provided you can fit behind the steering wheel.
If like me you're a parent of very young children, then you'll probably be familiar with the episode of Peppa Pig (bear with me here) where Grandpa Pig has to point out to a load of kids that his "miniature locomotive" is not a toy train.
As I walked into the shop floor of The Little Car Company in Bicester, I had Grandpa Pig's voice saying "it's not a toy car, it's a miniature car." Only parents of youngsters will understand this, everyone else will think we've gone completely mad referring to Peppa Pig on Car and Classic, but there's no denying that the Bugatti Baby II, Ferrari Testa Rossa J and Aston Martin DB5 Junior gleaming on the workshop floor are very much, miniature cars, superb scale representations of the originals.
Ben Hedley wanted to be a car designer when he was young, but life doesn't always turn out the way you want it to does it. He went on to import tribute cars from Asia, but just as he was considering closing that business down, he was approached by Bugatti to make a Baby Bugatti and so The Little Car Company was born.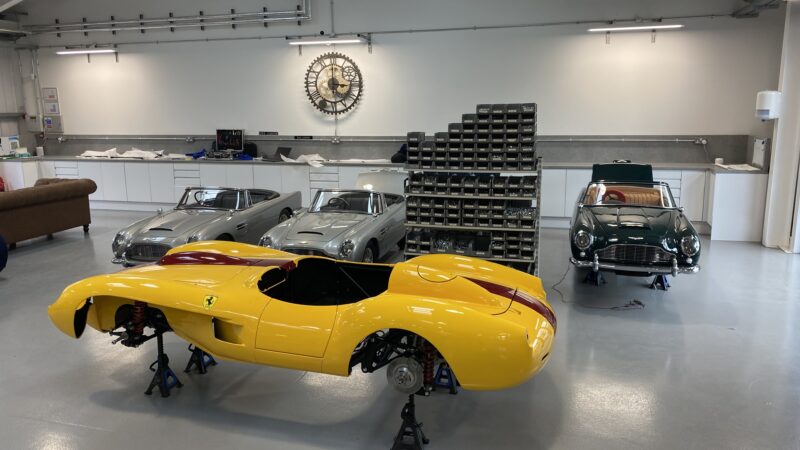 The first Bugatti was to 50% scale, but the team and the Bugatti family quickly discovered that 8-year olds couldn't fit in it. The decision was made to switch to 75% scale which also means an adult can drive the cars too, although not always comfortably.
Hedley says they could have banged out 500 units of something in the East and made a suitcase of money, but he didn't want to do that. Instead, he and his team paid meticulous attention to the details, including scanning the original Bugatti Type 35 and shrinking the scans by 25% to give them their accurate measurements. He says it's not about perfectly replicating the original though, but re-interpreting it, which is most apparent in the fact that the cars are powered not by handcrafted petrol engines but by electric motors and batteries.
We've been give the chance to drive all three of its current line-up including the very latest, the Aston Martin DB5 Junior. We pottered around the Bicester Heritage site, waving at people in full-size vintage vehicles but it was on the airfield test track that some childish fun was to be had.
Aston Martin DB5 Junior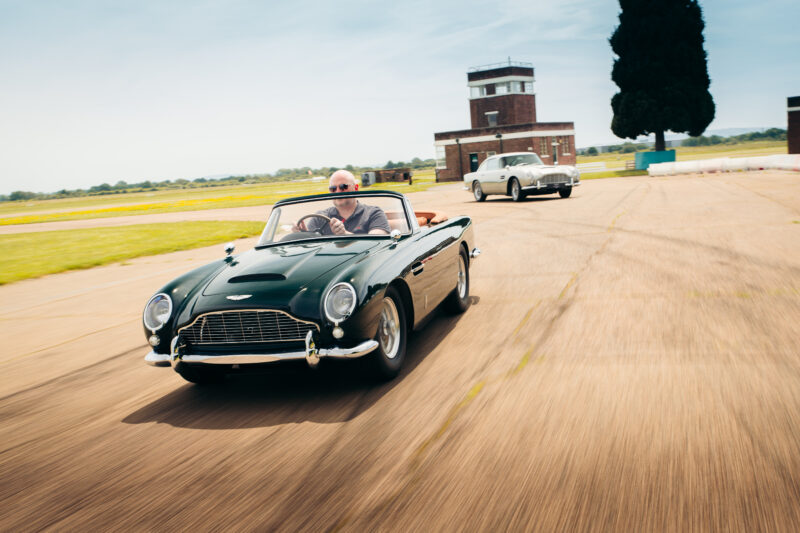 The latest addition to the Little Car Company's line-up is the Aston Martin DB5 Junior, a classy looking 66% scale version of the original DB5 that even features genuine Aston badges. The clocks come from Smiths just as they did on the original, the clock is the same size and there's a Nardi wooden steering wheel. The brakes are Brembo discs from Ducati and it has adjustable Bilstein shocks. This is a serious thing, serious enough in fact that it even gets a genuine Aston Martin chassis plate.
Prices for the little Aston start at £35,000 plus tax, which gets you the 6.7 bhp version with a range of 10-20 miles, although you can double this with an additional battery. Its Novice mode limits the power to 1.3 bhp and a top speed of 12 mph, while Expert releases the full power and allows a top speed of 30 mph. There's a Competition mode too, but for the full experience you'll need to fork out £45,000 plus taxes for the DB5 Vantage Junior with its carbon fibre bodywork. It features a 'missile' switch hidden behind a panel in the left side door trim that unleashes the full 13.4 bhp.
Naturally we needed to experience this one so climbed over the passenger side and slid in behind that Nardi wheel. You can take the wheel off but this way seemed far more efficient. Settling into the Bridge of Weir leather seats, the driving position was remarkably comfortable and after a lap of the Bicester Heritage track we were properly settled in and feeling like we were cruising around in a pukka Aston, which we sort of were.
Initially we ignored the red switch behind the panel, choosing instead to get used to the car and just have a bit of fun, but then things got a bit more serious. This is one tail happy Aston, even more so when you get access to that full 13.4 bhp. Lift-off oversteer? Yes please. Tail slide during mid-corner braking? Oh why not. It's all extremely controllable and instead of giving you any brown pants moments, it's addictive, making you do it over and over again as the little 10-inch tyres squeal a little as you flick the car into the next turn. It's not only great fun, it is quite simply, child's play and like many of the Little Car Company cars, if the way your child is driving makes you a little nervous, you have a remote kill switch that will make them wish they had James Bond gadgets to get back at you for spoiling their fun.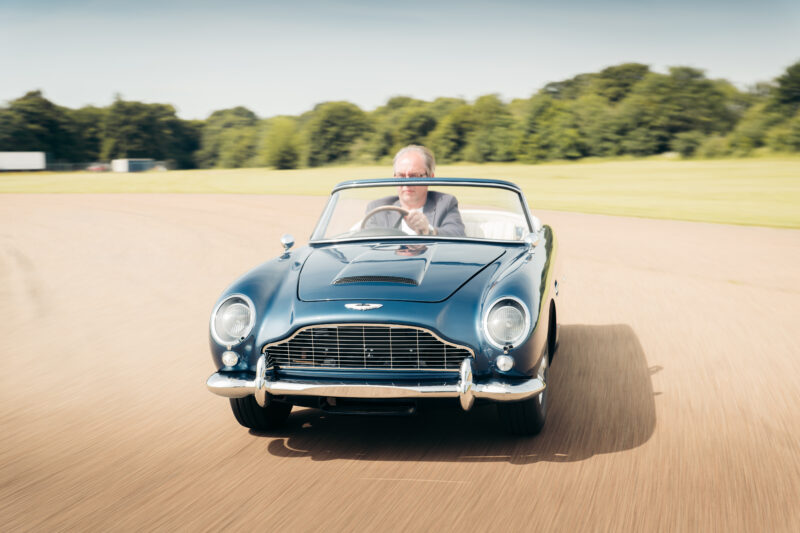 Secret agent gadgets you say? Well you can have those too in the No Time to Die edition which not only gets the full Vantage kit but adds in things like revolving number plates, a smoke machine in the boot to ward off chasing parents and headlights that disappear at the press of a button to be replaced by pretend machine guns.
Bugatti Baby II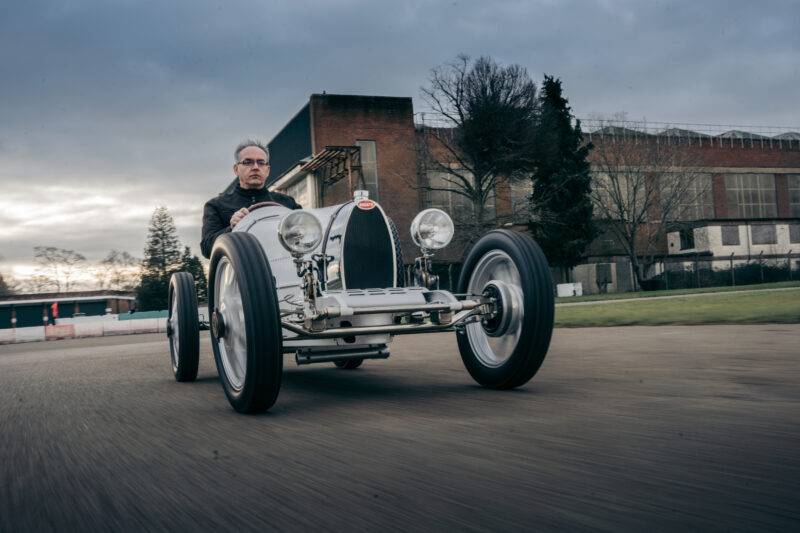 Our man Mark is having fun, we swear…
This is where it all began, with that request from Bugatti a few years ago to create a version of the famous Type 35 that youngsters could enjoy, just as they did with the original Bugatti Baby back in 1926. So far the company has made 100 versions. It's available as a Base model from around £30,000, a Vitesse or the Pur Sang, the latter featuring hand-formed aluminium bodywork that alone takes over 200 hours to create.
Like other models, there are various driving modes available which unlock different levels of electric power, with the top two models featuring up to 13.4 bhp and a top speed of around 42mph, which is unlocked via the Speed key. While the Bugatti Baby II has the most vintage look and feel, there are a few modern touches like the instruments that show battery levels rather than fuel pressure and adjustable dampers, which are attached to suspension that perfectly recreates the geometry of the original.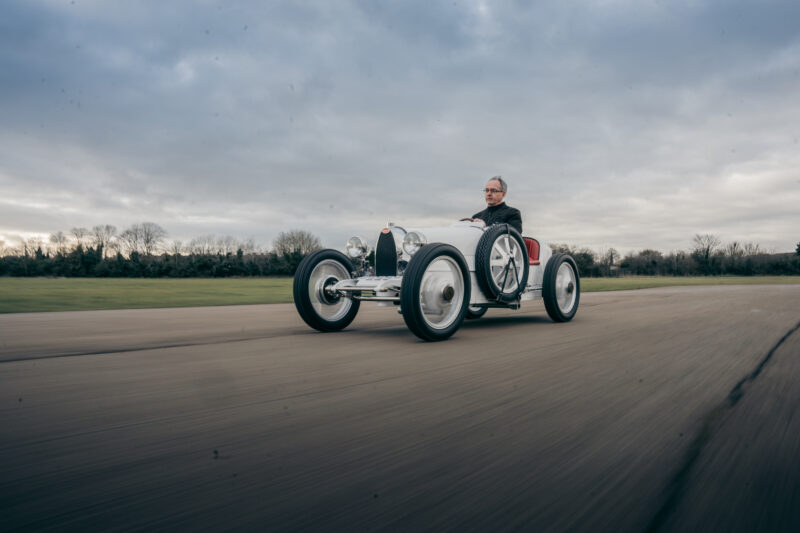 There's no easy way to climb into this one as an adult. Remove the four-spoke steering wheel and squeeze under the hand-crafted metal dash which then wedges against your knee. We probably should have got a much younger driver for this one. Even so, it has this feeling of authenticity as the wind hits your face, the suspension rattles around, the Avon motorcycle side-car tyres wobble along on the tarmac and you put some effort into the adapted Volkswagen Beetle steering box to get through the next corner. It might have an electric motor and battery, but it feels vintage, involved, fun.
There is an optional Touring Pack with mudguards and other items, for when your little one wants to head to the summer house at the other end of the estate. Another useful item is anti-rollover bars which attach to the sides and prevent the thing tipping over in go-faster mode.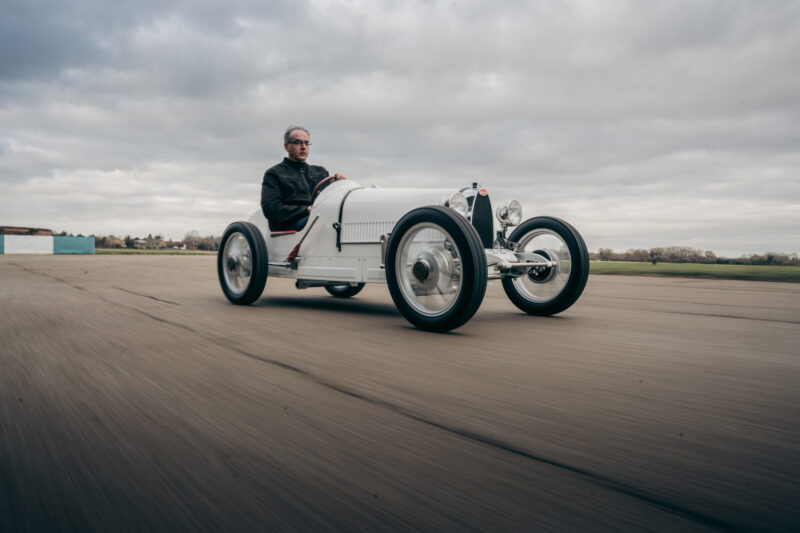 Not that the Bugatti Baby II is really about proper performance. It's all about the incredible work that goes into it and you can't help but just stand and admire it, much like a real Type 35 really. Then watch as your child snatches the keys from you and tears off down the driveway with you running along behind.
Ferrari Testa Rossa J
Then there's the Testa Rossa J, a 75% scale replica of the famous Ferrari 250 Testa Rossa. It's the most expensive of the trio at the moment, commanding over £80,000 but then it is an official Ferrari with a genuine chassis plate. It's not only the first Ferrari made outside of Maranello, but technically it is the first pure electric Ferrari.
Hedley and his team were given great access to the Ferrari archives, including the technical drawings in Ferrari Classiche. Then were able to scan the original chassis but the Ferrari is even more involved because it not only supplies the badges for the Testa Rossa J, it even supplies the actual paint. The leather upholstery comes from Ferrari too and it's only on the recreated instrument dials that you find references to 'TLCC Bicester'. Ferrari really wants this to be a Ferrari.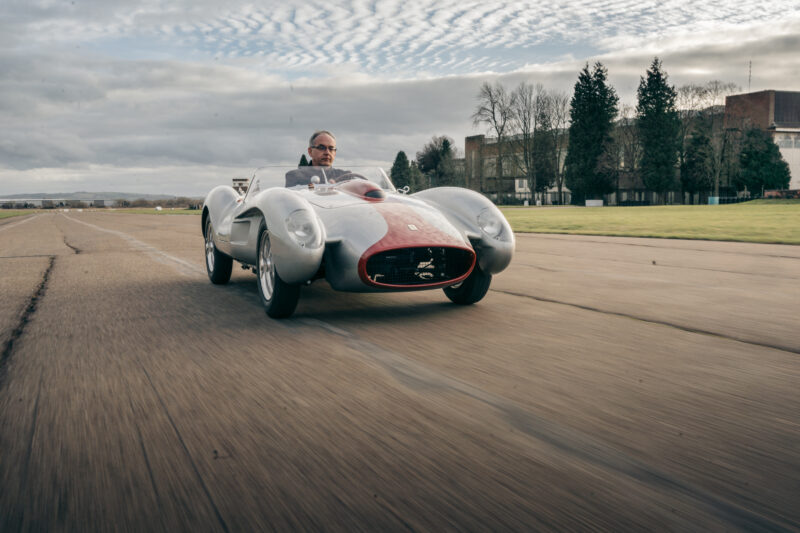 He IS having fun, he really is. He's just… concentrating.
In a nod to modern Ferraris, there's a Manettino, but not on the Nardi steering wheel, instead it's on the dashboard, offering a choice between Novice, Comfort, Sport and Race modes. Another modern touch is the inclusion of the pedals from the Ferrari 488 Pista.
It's not as comfortable as the Aston, but still a relaxing place to be, especially in Novice or Comfort modes. Switch things into Sport and the electric motor delivers 13.4 bhp and the fun begins. This thing is quick, but also nimble through the corners. It dances around on its Eibach springs as the period correct Pirelli 12-inch rubber from the original Fiat 500 tries to grab the tarmac beneath.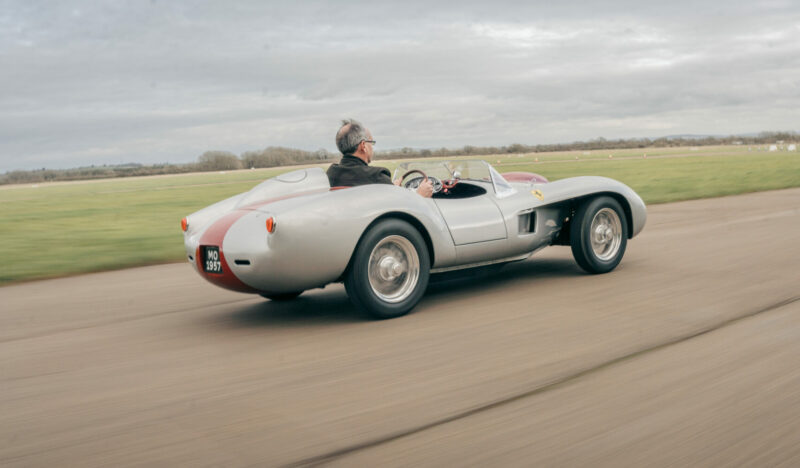 Then you don a helmet and switch into Race mode. Suddenly you have 16.1 bhp, which might not sound like much but you're in an open top car designed to accommodate a 14-year old, charging around an old airfield track at nearly 50 mph just a few inches off the ground. Oh yeah, this thing is tremendous fun. Expensive, yes, but tremendous fun and it's all genuine Ferrari, a real piece of handcrafted, precision engineered luxury and performance, albeit scaled down.
Which one then?
Now you want to know what we'd pick from the three don't you? The Bugatti looks the business, while the Ferrari is the quickest, but it's the Aston that we'd want to spend the most time in. Even as a grown-up person, it's comfortable and luxurious and you can just sit back and enjoy the drive before taking to a windy piece of the estate roads or your parents' airfield to engage in some secret agent car chase fun. We're even told the DB5 Junior handles better than the original.
That's the thing about the Little Car Company cars, they might be mini-me versions but they are scaled down only in their size, the attention to detail is equal to that of the factories and teams that made the originals. Their characters are as big as the real thing and while yes they are expensive and you will need your own private roads, as someone once said, if you have the means, I highly recommend picking one up.