Maserati Quattroporte V – The Time Is Now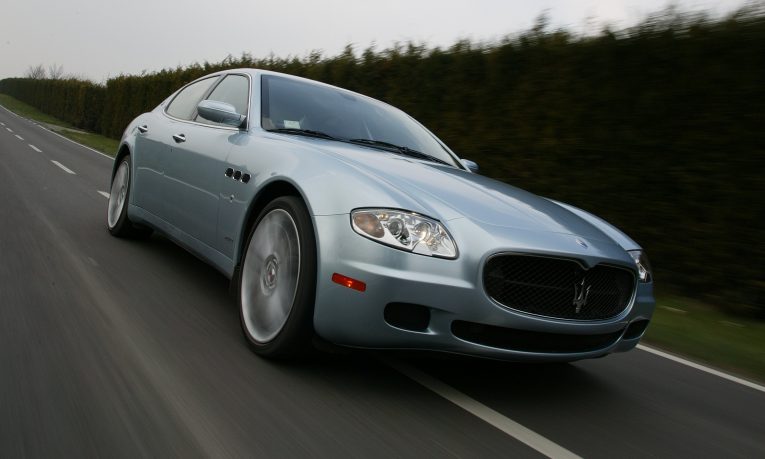 Everybody loves a sporty Italian saloon right? Of course they do, and Maserati has been scratching that particular itch since 1963 with the launch of the very first Quattroporte. Those with a loose grasp of foreign languages can probably guess how many doors the thing has but Italian 101 aside, the Quattroporte was a bit of a first for the auto maker from Modena, being as it was their premier production V8 saloon to wear the trident badge.
Designed by revered Italian coach builder and car designer Petro Frua, this full-size, luxury sports sedan would kick-start a continuous production run for the Quattroporte that is still going strong today. Available with a quad-cam, 4.1-litre V8 (a 4.7 was later added to the line-up for the Series II in 1966 making it the fastest four door saloon at the time), along with a five-speed manual or three-speed automatic gearbox, the Quattroporte was capable of 140mph flat out from the 260bhp on tap.
It was a bit of a trendsetter too and many other Italian car makers would go on to mimic the Quattroporte's winning setup. Its main rivals of the day were the Lagonda Rapide from Aston Martin and the French Facel Vega Excellence but nothing really from its home country. It would go through five further iterations, landing at the Series VI we have today – clear proof of a successful concept – but it's the Series V we want to talk about here. Currently taking up residence in a classic car sweet spot the Series V has dropped into a very agreeable price bracket and so the time is most definitely now to pick up one of these Italian super saloons.
An Introduction to the Maserati Quattroporte V
The fifth gen Quattroporte was produced between 2003 and 2012, showing its rather handsome face for the first time at the Frankfurt Motor Show. Continuing the Quattroporte habit of being penned by some of the best in the business, the Series V was designed by Pinifarina's top scribbler at the time Ken Okuyama. Eschewing the platform of the Series IV (essentially a stretched Biturbo setup) in favour of a brand new design with aluminium subframes and a steel unibody construction, the build had a fresh slate. The Series V did thankfully retain the front-engine, rear-wheel-drive configuration of its predecessor, however.
Upon release the car was initially only available with a 4.2-litre V8 (that was jointly developed with Ferrari) mated to a six-speed automatic/manual gearbox, dubbed the 'Duo Select' on account of it's manually operated paddle shifters. Producing almost 400bhp and with a 0-60 time of five seconds the Series V was seriously quick and it felt like you were driving a much smaller car thanks to its poised handling, care of fancy 'Skyhook' adaptive suspension.
Along with the introduction in 2007 of a six-speed ZF auto box that was mounted to the back of the engine rather than the rear axle, as per the Duo Select, a more powerful, 424bhp 4.7-litre V8 was also added to the fold in 2008 with the introduction of the face-lifted Quattroporte S. Upgraded brakes were also included but it wasn't until a year later that the Top Trump GTS model appeared. Featuring a tuned version of the 4.7 V8 from the S, the cream of the crop GTS produced ten extra brake horse power thanks to an improved intake and exhaust which also featured a bypass valve for that extra fruity tone. And boy, what a tone!
What Should I Look Out For?
This isn't a nuts and bolts classic, and by that we mean there is a lot of electronic jiggery pokery involved making the Quattroporte a complex and complicated machine. From the fancy gearboxes to the myriad bells and whistles in the cockpit there's a lot that can go wrong which has historically put people off from owning these fine cars, but that needn't be the case if the car in question has been well maintained and looked after. Like many cars of this era the LCD screen can suffer from pixel issues and is horrifically expensive to replace so check that everything is kosher and it all works as it should.
Despite being a relatively modern car there are areas of the Quattroporte that can rust. The two main culprits being both front and rear subframes. Not only that but the the aluminium bonnet and boot can also suffer from electrolytic corrosion where it is in contact with the steel bodywork. Neither of these should be an issue though if the car has been properly cared for. This is a performance machine with rear-wheel-drive too, don't forget, so check for any accident damage as the car can very easily swap ends in the hands of the inexperienced.
The two V8 engines are essentially the same, aside from capacity, and they are generally pretty bomb-proof if regularly serviced, which should occur annually or every 6,000 miles or so. The camshaft variators can become a little noisy when the engine is cold so get your ears on when test driving the car.
Many people prefer the later ZF gearbox and it is generally considered to be the better of the two. Gear changes are smoother and it tends to be a trouble-free unit. That's not to say that you shouldn't consider earlier cars with the Duo Select transmission, however, as they can be used manually with the paddles which makes it a much more enjoyable proposition. A lot of stop/start city driving can cause premature clutch wear so check for any slippage or jumping gears. A plug-in diagnostic test can also determine clutch life.
The Quattroporte is a bit of a fatty at nearly two tons and so suspension bushes, ball joints, tyres and brakes are all in for a beating. Whilst the Skyhook adaptive suspension is fairly complex it is generally a relatively trouble-free setup but do check that the dampers are operating correctly. The S and GTS models are equipped with regular shock absorbers as well as stiffer springs so there's even less to worry about, apart from a firmer ride.
What Are Prices Like?
There is an obvious distinction financially speaking, as well as from a technical standpoint, between pre-facelift Duo Select cars and the later ZF-equipped models and the 4.7-litre cars command a higher premium than their lower capacity brethren. Whichever you choose, however, there are still bargains to be had. The 4.2 cars are not only cheaper but also more plentiful but the general rule is to buy the best you can afford. If you opt for the cheapest then you're only setting yourself up for a rather expensive fall further down the line.
Early 4.2 cars can be had for as little as £10,000 but expect to double that for later, low mileage examples in top condition. Cars with the larger 4.7 engine can range from around £20,000 to upwards of £30,000 for a minter. Similarly, the S and GTS badged Quatropportes will run in to similar figures plus 10% or so.
Running costs can be high, depending on how you drive the thing, and how much you drive it too, but keep on top of maintenance and servicing and you shouldn't be stung by any hefty, one-off bills. Again, buy the best one you can afford and only consider cars with fully documented service history.
Why Should I buy One?
Because it's a beautiful and powerful Italian super saloon for the price of a brand new base model Ford Focus. This really is Champagne dreams for lemonade money – it's a lot of car for the cash and we know which of the two we would rather have. More elegant and exclusive than its rival German fare the Quattroporte is not only pretty thanks to that Pininfarina design, it is also incredibly driver-focussed, making it an absolute joy to pilot. And with arguably the most sonorous exhaust note of any road car out there, especially on the GTS, there's a lot to like. Pick one up now, cherish it and watch prices rise. There's even a GTS currently available via our auctions platform. It's almost like it was meant to be…