NEC Classic Motorshow – Back, and Better than Ever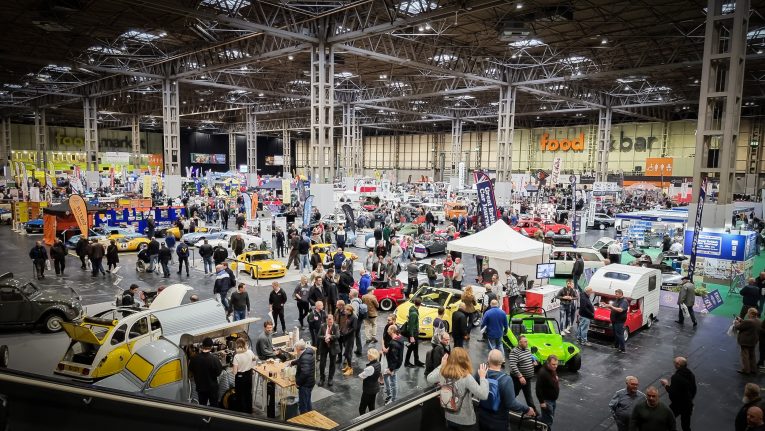 Last year, we didn't get to enjoy the car show monster that is the NEC Classic Motor Show. Covid put paid to any hopes of anyone holding an event so big. And while that was of course the right move, what with a need for us all to be safe, it was still a bit sad. It's a huge show for the UK classic car community, one that covers all manner of makes and models, it stretches from two wheels to four and even beyond thanks to a collection of commercial vehicles. There is live driving thanks to the Sporting Bears and their Dream Rides event, there's a live stage thanks to discovery+ and there are stalls upon stalls full of parts, memorabilia and models. It's a brilliant, brilliant event. Plus, it's all indoors, so the weather need not dampen your spirits. Yep, we missed it last year, in a big way. So, to make up for it, to celebrate the show's 2021 return, our Editor, Chris Pollitt spent the full weekend there. And absence, it seems, makes the show grow stronger.
I was just going to do the press pass thing, but then an invitation arrived from the team over at the Modern Classic Executive Cars group on Facebook. It's a group I'm part of, as my Rover 800 Vitesse fits the bill. And, what with it being fresh out of the body shop, it seemed to hold appeal with the MCEC lads, as I was offered a place on the stand for the duration. This was great, because I'm never going to say no to the opportunity to show my car off. But also because it would give me the full weekend to experience the show. And you do need a full weekend. You'll hear people moan online about the show getting smaller, but ignore them. It's not the case. There are huge halls upon huge halls (seven, in total) full of everything classic and automotive. Something to whet the vehicular whistle of any enthusiast.
I adore this show because of the variety on display. From our stand in Hall 4, to one side I had the vista of painstakingly restored Bedford J Type vans, while on the other was a brace of P6 Rovers, with Jowetts and Austins poking out behind them. There was the Restoration Theatre, from which skilled tradespeople spent the weekend teaching crowds how various things are done. Metal shaping, leading, paint restoration. A real heavy hit of valuable information. You don't get that at every classic car show. Our hall also contained a seemingly unending number of trade stands. Some were selling new wares, such as tools and cleaning products and the like. Others were laden with parts and spares, some new old stock, some saved from now long gone cars. Looking around, there was enough to give any restoration a push. Tyres, suspension, interior trim, rubber door seals and trims, lights, engine part, brake lines, even number plates. It was all there.
Andrew Evanson, Senior Operations Manager of headline sponsor Lancaster Insurance, said: "It was amazing to see the classic car community reunite over the past three days. The show is always a calendar highlight but was something special this year. Thank you to all involved and we can't wait to do it again next year."
Other show highlights included the discovery+ Live Stage, where host Mike Brewer was joined by his Wheeler Dealers co-stars Marc 'Elvis' Priestley and Ant Anstead. Other stars appearing included Jimmy Doherty and Jimmy De Ville from Jimmy Doherty's Dream Builds, Paul Cowland from Salvage Hunters Classic Cars, Helen Stanley from Motor Pickers, and Ant Partridge from Goblin Works Garage.
Wandering around the halls, it was near impossible to take everything in. With over 3,000 vehicles on display, there was quite literally something no matter where I turned. But for me, it was the variation that was the most staggering part. Sure, you had your minty-fresh concours cars on display, but you also had restoration projects along with classics that are used in motorsport or even driven daily. The NEC Classic Motor Show is a broad church, that sets out to make sure enthusiasts at every level have something to grab their attention. From Ford to Ferrari, Austin to AC, it was all there. And there were some incredible hidden gems in there, too, like ECTO 1 from Ghostbusters, an amazing Mini campervan, bespoke hot rods and even a million mile MG Montego. Let it never be said that old BL metal can't be reliable!
I'll let the pictures do the talking now, as I took plenty. I would encourage you to grab a brew and have a look through them all though, as there will be something there that appeals. And from that, hopefully the appeal to attend next year will grow. The team behind the NEC Classic Motor Show have already announced that the 2022 event will be held at Birmingham's NEC from Friday 11 to Sunday 13 November. So be sure to get it in your diary, and make sure to clear two days for it as a minimum, because trust me, you're going to need them! This is the biggest event on the UK's classic car calendar by some measure.