Playing Dirty – Five Formidable Rally Classics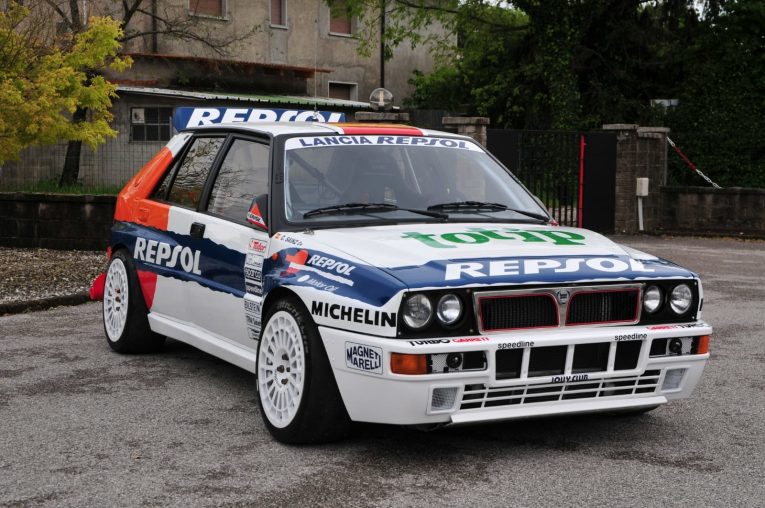 Motorsport in general is a brilliant thing. The speed, the excitement, the door-to-door action, it's just ace. However, within the broad church of competitive driving, there is one discipline that, for us at least, stands tall above all others, and that's rallying. We mean no disrespect to any other form of motorsport, and in fact we applaud anyone with the required bravery and skill to jump in a car and pilot it while at its very limit. However, there is something about rally driving that is on another level. A circuit poses danger, make no mistake. However, the rally stage is fraught with it. There is no armco, there are no gravel traps. Instead, there are immovable trees, sheer drops and all manner of surface variable to contend with. Yet despite this, rally drivers don't hold back. They don't exercise any more caution than the driver on track. No, they still go flat out… even if in doubt.
The sport of rallying is one that is home to some serious automotive evolution, too. Over the years, the cars have advanced impressively. Back in the early days, rally cars didn't even have roll cages (seriously). Now, they're built around a roll cage. Back in the day, they were standard in terms of power. Now, a modern WRC car runs at around 380bhp. They're all four-wheel drive, too. There is aero at play. There is incredibly clever electronic management. Modern WRC cars are, quite simply, technical works of art.
But of course, this is Car & Classic, so our heart lies with the older machines. But that's why we spoke of how impressive the modern WRC cars are. They are the culmination of years of ongoing development. And the journey to get here has spawned some amazing, iconic rally cars. We've had a look through our listings to find five of our favourite classic rally cars. But don't think they are delicate antiques. Once a rally car, always a rally car, and as such, these five are all ready to hit the stages.
1) Lancia Delta
When it comes to evocative rally cars from the '80s and early '90s there are few that stir the soul quite as much as the mighty Lancia Delta. But we're not talking about the Group B S4 (amazing though it was). No, our focus here is on the Group A Integrale.
This example, which was the last Works car to take a win for Lancia is perhaps the ultimate. This is no pastiche or lookalike. This is the real deal. It's been, in gravel specification, piloted by legends like Didier Auril and Juha Kankkunen. At showcase events after the car's retriement, it's been driven by Carlos Sainz, Ari Vatanen, Francois Delecour and more. It's a legend driven by legends.
Now in full tarmac specification, this 1991 Lancia Delta is ready to go. You could use it as a showcase, or you could campaign it in historic championships. All while your backside shares the same spot as rallying's legends of old.
2) Peugeot 206
Peugeot might not be a marque associated with rallying today, but it has a rich and instrumental history in the sport. Let us not forgot that Peugeot gave the world the might Group B T16 incarnation of the 205.
The 206 WRC we're looking at here was the spiritual follow-up to that car. This actual car was also deeply special to the sport, as is was the final competitive drive for Ari Vatanen and Timo Salonen, during the 2002 World Rally Championship. Though of course, the 206 didn't retire, and has in fact been campaigned in myraid events since.
This car is chassis no. 17 and was built by Peugeot's Works-supported satellite team, Bozian Racing. Gilles Panizzi, who also drove for the Works team in '02, was at the controls of chassis 17 for the Rallies of Sweden, the Acropolis and Great Britain. Gilles had placed as high as 5th on Stage 12 in Greece, but was forced to retire with transmission trouble two stages before the end and his best result with the car was 11th in Great Britain. It is a bona fide rally icon, and it could be yours.
3) Mk1 Cortina
It would be easy, and perhaps predictable to put a Mk1 or Mk2 Escort in this list. They are both rallying legends after all. However, Ford's rallying efforts were not confined to the Escort. The Cortina was also a formidable force on the stages, as this 1965 example proves. If it was good enough for Jim Clark…
While this car might not have the high-profile history as the 206 or the Integrale, it shouldn't be overlooked. It started its rally career in the 1990s and has recently been completely rebuilt and re-engineered to be a class-winning historic touring car. As such, its gravel days might be behind it (though it's only a suspension change away) but that wouldn't stop it from taking on tarmac rallies.
It boasts a Nick Stagg engine with 170bhp and 134lb ft. There's a full cage, bucket seats, AHR Koni suspension, fire suppression, Quaife transmission and a whole lot more. It's fighting fit and champing at the bit to hit the stages. Get on it.
4) Porsche 911
Yes, the Porsche 911 has proven itself to be a formidable force on the stages of many a rally event. You would think the rear-engine, rear-drive layout would spell disaster, but that couldn't be further from the truth. There is grip aplenty, and with the right modifications, it can dominate the split times.
This 1965 Porsche 911 is a glorious thing. Built with little to no expense spared, it has been a rally car for at least the last fifteen years. It's full FIA specification, with a passport valid until 2028, meaning there is nearly a decade of competition there for the taking with ease.
The car was fully-restored between '16 and '19 and as such, is now in near 'as new' condition. It's not a battered old wreck like so many out there. No, this is a classic 911 rally car at the top of its game. All it needs now is a new pilot. You have to get it from Finland, but that's fine. Remember, the Finns live for rallying, so this car will have been built with some serious expert knowledge at play.
5) Rover P5B
Yes, we are indeed suggesting a Rover as a rally car. And that's because rallying isn't always about cutting through stage sections at blistering speeds. Sometimes rallying is about endurance, and it's about covering massive distances without succumbing to any kind of mechanical failure, and that's exactly what this Rover P5B was built for.
Last year we did a feature on this very car, which was built to compete in long-distance rallies. And let us tell you, these events are tough. A stage car has to perform hard and fast over a short period. An endurance car has to take thousands of miles of wear, tear and abuse. And yes, we literally mean thousands. This P5B, for example, competed in and completed events spanning 3,000 miles. Madness.
We love this P5B. It's a strange choice at first, but the longer you look at it, the more it makes sense. It's big, the V8 has been built to be reliable, it's also powerful, and it's comfortable (or as comfortable as a rally car can be). It's actually, on reflection, the perfect choice for smashing through thousands of miles of desert and gravel.