Playing it SAFE – Motorcycle Security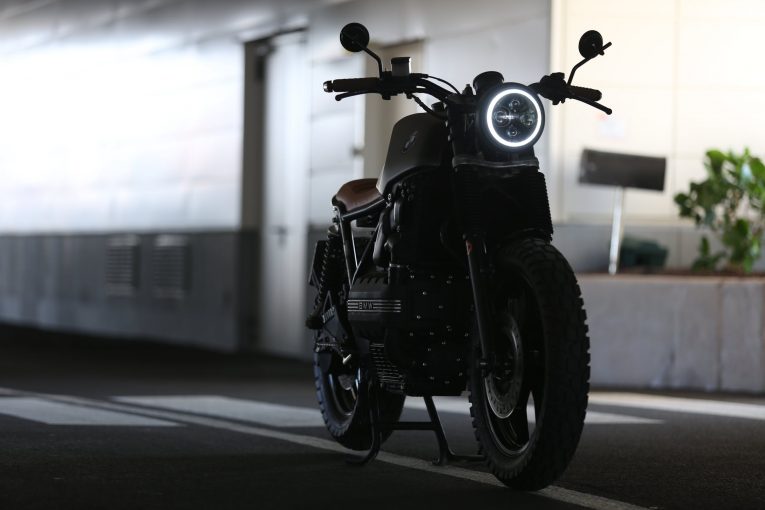 Keeping your bike secure isn't a luxury – it's a necessity in these trying times. Here's how.
One of the most talked about subjects in the motorcycling world, whether you're into modern or classic, sportsbike or off-road, is that of security. Facebook is full of posts to various groups that start with the word 'STOLEN' and imploring people to make whatever bike 'too hot to handle'. Unfortunately, the chances are that by the time you realise a bike is gone, it's already long gone… But there are ways you can make your bike tougher for thieves to steal and ways to find it again if they do manage to get away with it.
Know Thine Enemy
The first thing to realise is that there are fundamentally two kinds of bike thieves; the opportunist and the organised thief. The former is the kind of person that will attack your bike for the hell of it and probably just to razz it down the road, bait the police into a chase and then, torch it on the local playing field. They're the kind of criminal that will stare you in the eye as they cut a chain with an angle grinder in your front garden or have six mates stand around them while they do it in a busy street. They don't care, as they know there is little chance of getting caught – ever-dwindling numbers of police have far more important things to do than try to keep your pride and joy yours. The key here is to make it as difficult as possible for them to get away with your bike.
The other kind is the organised criminal who views your bike purely as a revenue stream. Unless they are tasked to steal your particular model to order, they will have it in bits and scattered across the country and quite possibly, Europe before you manage to even get through to a police call centre to get the crime number you need to make an insurance claim. To them, there's more value in your bike as a collection of parts than as a hot motorcycle and the chances are, you'll never see it again.
So how to you protect your bike?
At Home
It sounds obvious but for a start, keep the bike out of sight. Lock it in a garage or a shed and alarm the building. If you have just a shed, try to build a decent concrete base and install a ground anchor, that you can chain the bike to when it's parked up. Invest in the best locks for the building you can and while you're at it, why not go for some CCTV – there are plenty of inexpensive hard-drive or Wi-Fi based versions to keep an eye on the bike. Of course, with criminals masked up, you might not be able to recognise them but you'd be surprised what a night-time camera can reveal.
If you have a proper garage, then again, use a hefty anchor concreted into the ground and a protector on the door – whether it's a roller or up-and-over door, there are plenty of security devices to prevent them being opened.
And of course, a rabid dog with a healthy disregard for anyone who comes calling in the night can't hurt either… Or a recording of one…
Once the bike is inside the shed or garage and all tucked up, a good quality lock and chain set to the ground anchor will make it difficult to get the bike moving even if they do manage to get into the building. Something like the enormous Almax series VI with the specially developed Squire SS100CS padlock uses 25mm-bar chain links which you can't get through in one go with a 4.5in angle grinding disc. A hacksaw will bounce off them and a set of bolt croppers will barely open that far, let alone mark the surface. The 1.85m long chain weighs 23.4kg so that gives you some idea of the protection it'll offer, but for £499.95, it wants to – both the chain and the lock are Sold Secure Diamond rated.
Out & About
When you're away from home, it's all about layers and what you can carry with you.
A standard steering lock, which prevents the bars from being turned, is of little use – thieves can break those in moments and get a mate on a twist-and-go to push them down the road to somewhere they can get your bike hot-wired, running and ride it away. You need at least a disclock, which goes through the brake disc and prevents the wheels from turning, so the bike can't be pushed or ridden away.
The Abus Granit Detecto SmartX disclock, for example, is smartphone-connected to record the location you parked the bike in and the hardened pin goes through the brake disc to stop the bike being moved. It also has a movement-sensitive 100-dB alarm to draw attention to the fact someone's trying to nick it.
A variation on this theme is a shackle lock, which looks like a padlock but with a longer shackle. This goes through either the central space of the disc and locks on the outside, making a more obvious and secure looking device, or through the spokes of the wheels to prevent it turning.
Of course, a disc lock doesn't stop a determined thief from simply picking the bike up and loading it in to the back of a van – a couple of mates and even the heftiest looking bike can be on its way in a few moments. So a hefty chain and padlock, fixing the bike to something solid like a bike rail, a lamp-post or a railing will mean they can't just walk away with it and have to get through some serious metalwork before they can do anything with it.
Strength is directly related to weight here, so the bigger and heavier, the better. But don't forget you have to carry it with you. If you plan to carry it on a luggage rack in a topbox or tailpack, you may find there's a 5kg weight limit. If that's the case, the Gold-rated Milenco Coleraine weighs just 3.8Kg but has gold approval. If you are happy to wrap a chain around the grab handles or fix it to the pillion pad, the also Gold approved Oxford Nemesis weighs around 8kg and does a very good job, while its padlock can also double as a disclock.
Some people favour lever locks and these can be a useful deterrent, much like the old Crooklocks for cars. The idea is the front brake lever is locked to the throttle grip so the bike can't be moved. A useful additional layer of protection, from £15 upwards but it doesn't take long to work out how they can be circumnavigated quickly.
One final thought – you can also benefit from hiding in plain sight – get a cover to go over your bike so people don't know what it is at first glance. It could be the latest high-sped adventure tourer or it could be a £500 commuting hack. Without lifting the cover to look and see, they'll never know.
On the Right Tracker
Sometimes, you just can't stop people getting away with your bike – it's a fact. So another layer of security helps find your bike if they do get away with it. This is one of the biggest success areas, with tracker companies quoting between 94 and 99% success rate in retrieving stolen bikes.
Like on cars, the idea is the tracker shouts for help when it detects the bike being stolen – being moved without the ignition on. Most will use GPS, GSM, GPRS and Radio Frequency to not only determine their position but also, communicate with a centralised monitoring service even if the thieves try to block the signal by hiding it in a container or underground parking. The monitoring service will contact you if the bike is stolen and advise you on what you should do. There are several, such as BikeTrac, that will then send approved security personnel to locate your bike and feed that information back to the police, to aid them in getting the necessary search warrant and your bike back.
While you're at it, it's worth getting the key components of the bike marked with a service like DataTag if it hasn't had this done at factory or dealer level. This is a series of minute transponders that can be fitted to virtually any (or all) component of the bike, allowing it to be identified if found at a later date.
A Few Other Thoughts
There are a few obvious – and some not so obvious – points to consider alongside actual hardware. Try to park in well-lit areas with CCTV if possible. If you're going to be staying at a hotel, look for one with secure parking. Keep an eye out around you – if you see two-up scooters with riders in back visors acting dubiously, consider moving along or pulling into a fuel station for a fill-up or a cuppa. If you come across someone in the process of nicking your bike, let them. Unless you're Jason Statham, in which case, welcome, then you're not Jason Statham and while the metal and plastic that makes up your bike can be replaced easily, your bones and skin can't. Also, if they target it at your house, they know where you live. So just let them have the bike…
And check it over once in a while; that tracker that will take the police to your bike if it's nicked can also take them to your house so they can work out how to get it when you're fast asleep, so make sure there aren't any tucked away. If your bike has keyless ignition (more and more do nowadays) then you probably don't need to keep the key in the freezer; a faraday pouch will block the signal from grabbers if you're worried, but many modern keys now stop transmitting their signal after a few minutes of inactivity anyway. Take any sat navs or phones off the bike when it's parked, however short a period it's for, as you don't want to add to the target value and remember, there's safety in numbers; if you and your mates are out together, then consider chaining all the bikes together and possibly leave someone on guard duty if you're really worried. An hour looking after everyone's rides on a rotation is better than the stomach-sinking feeling of coming back to where you parked your bike and it isn't there…
Gold Standard
When you're buying security, look for Sold Secure approval. This not-for-profit organisation is run by the Master Locksmith Association and as a test house, it rates products for bicycles, scooters and motorcycles and awards products that meet the necessary standard. It only awards Gold for motorcycle products but there is also a Diamond standard for certain elements, such as locking mechanisms.