Q-Cars – Five Super Sleepers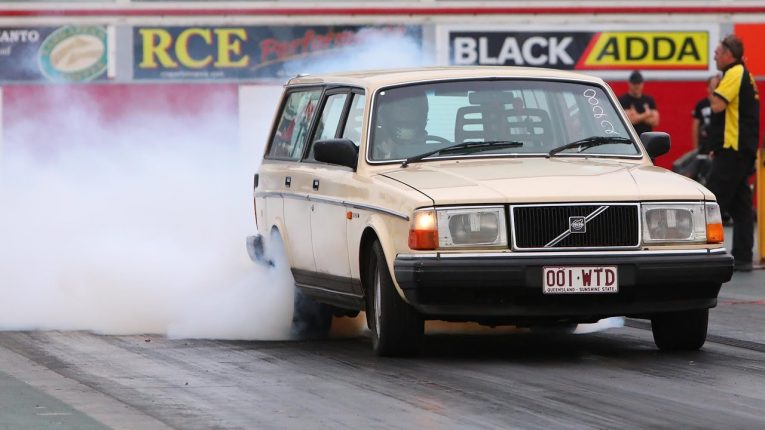 First of all let's address the name. What exactly are Q-cars and why are they called Q-cars? A Q-car, or 'sleeper' as it is more commonly known outside of the UK, particularly in the US, is a term used to describe a car that is inherently unassuming on the surface but packs a performance punch under the bonnet. Like a Mini Mayfair fitted with a Suzuki Hyabusa motorbike engine, for example.
With regards to the nomenclature both epithets have their origins in military parlance. A Q-ship was a merchant vessel disguised as an attack ship used by the Royal Navy during the First and Second World Wars that was heavily equipped with concealed armaments designed to lure enemy submarines close enough to destroy. Nowadays, instead of a German U-boat popping up thinking it's about to blow a sitting duck out of the water it's a yuppie in a Porsche getting humiliated in a traffic light street race by an LS-swapped Volvo 240 with a big turbo and 20psi of boost pressure.
As for the term 'sleeper', this refers to a sleeper agent – a spy who is deployed to an enemy country or organisation to lay low and wait to be activated, hiding in plain sight but ready to wreak havoc when needed. Think Clive Owen's character in The Bourne Identity. Get it?
Owner-modified sleepers are a whole sub-culture unto themselves that one could easily get lost in but car makers have been producing these types of vehicles from the factory for decades. From the 1950s Chrysler C-300 with its 300bhp V8 to the Mercedes 300 SEL 6.3 in the late sixties, these original Q-cars had subtle looks combined with blistering performance.
The trend continues to this day too with modern cars like the Volkswagen Golf R taking on the mantle so there is a rich history from which to pick five Q-cars that share that dichotomy and really stand out as true sleepers.
Lotus Carlton
An absolute legend the Lotus Carlton is ostensibly an early 90s Vauxhall and that's precisely what makes it so great and a worthy inclusion in this list. That's not to say the original Carlton was a bad car, it just doesn't associate with the term 'performance' and that's kind of the point of this whole Q-cars thing. But with 377bhp and a whopping 419lb-ft of torque from its 3.6-litre, six-cylinder, twin-turbo engine the Lotus-bred version was, and still is, quite frankly ludicrous.
60mph arrives in five seconds and the car will easily push on to a top speed of nearly 180mph, enough to embarrass a fair few super cars of the era, not to mention a whole plethora of performance metal today. Although the underneath was majorly tweaked by Lotus, in keeping with the sleeper ethos the exterior of the car received only minor fettling. Flared wheel arches, bonnet vents and a rear spoiler are the only clues as to its rather impressive capabilities.
BMW E28 M5
BMW have been building performance variants of their cars for a long time and it's tradition nowadays to see these versions of their latest factory cars. Although most people are now more aware of that 'M' reputation it would be remiss of us not to mention where it all started for BMW with the E28 M5 and the genesis of the super saloon. It was the fastest production saloon in the world when it hit the scene in 1985 thanks to the huge 3.5-litre straight-six it had nestled under the bonnet, care of the 635CSi.
Faster than a Ferrari 328 at the time the M5 was unbelievably quick but the engineers at BMW didn't just play with the engine, oh no. The chassis and drivetrain received a host of upgrades too from ant-roll bars to a limited slip differential all of which improved the handling and, combined with the 280bhp performance, instantly catapulted the E28 into 'legendary' territory. Much like the Lotus Carlton there are only subtle aesthetic indications that this is no ordinary 5-series – that revered M badge with its tricolour logo being the only real giveaway. The E28 M5 gave birth to a whole sub-division of cars and the M5 continues to evolve to this day but it will always have the E28 to thank for the esteemed position it currently enjoys.
Volvo 850R Estate
Historically speaking the name Volvo has always been synonymous with safety and practicality – they're the boring cars old people drive to bingo and back – and that is exactly why the 850R is one of the great Q-cars. It's an estate for goodness sake! Released in 1996 the 850R was based on, and was a replacement for, the limited edition T-5R (although due to it's success Volvo actually had to make more).
Available as a saloon as well it featured a turbocharged, five-cylinder engine producing 250bhp which would propel the car – nicknamed the turbo brick – to 60mph in around six and a half seconds. Not bad for a giant box on wheels. The 850 estate's reputation had already been cemented thanks to a not unsuccessful stint in the British Touring Car Championship and seeing a Volvo estate going bumper-to-bumper around Brands Hatch is a sight to behold. The beauty of the 850R though was that it still looked like a boring estate car. The only upgrades it received to the outside were bigger wheels and a front splitter. Dr Jekyll, we'd like you to meet Mr Hyde.
Buick Grand National GNX
Let's not forget about the Americans, after all, they did help to kick-start this whole movement with that luxury Chrysler we mentioned earlier. So what other sleepers have they produced across the pond? Well, the Buick Grand National GNX is a prime example. But isn't the Grand National just a Buick Regal painted black? Well no, not exactly, but that's what people thought when they saw it, which makes it prime Q-car material.
Although technically based on the Regal, a rather uninspiring grocery-getter from the 80s, early Grand Nationals (named after the NASCAR race series of the same name – and therein lies a clue as to its heritage) were decent performers in their own right but it wasn't until 1987 that the tarted-up Buick really made a name for itself when it morphed (thanks to ASC/McLaren – no, not that McLaren) into the GNX, with the X standing for 'Experimental', although that really should make it the GNE, but that doesn't sound as cool.
Anyway, we digress, this limited edition version (GM only made 547 of them) was equipped with a turbocharged V6 churning out real world figures of around 300bhp and a whopping 420lb-ft of torque. That's enough to make the planet spin in the opposite direction as well as get it to 60mph in under 5 seconds. That was Lamborghini Countach territory. It was so powerful that it needed an extra torque arm to keep the rear wheels planted to the ground under acceleration. You can keep your Corvettes and Camaros, we'll take a GNX please.
Audi RS2 Avant
If BMW are up to something then we can pretty much guarantee Audi will be in on the action and that goes for Q-cars too. Another estate, the Audi RS2 Avant was produced as a limited edition, performance version of the Audi 80 upon which it was based. Developed in conjunction with Porsche (who know a thing or two about building performance oriented cars) the RS2 was the first Audi to carry the 'RS' badge which has since gone on to define performance for the German manufacturer, establishing them as a force to be reckoned with in that particular corner of the market.
In keeping with the majority of cars on this list the 2.2-litre, in-line five-cylinder engine utilised forced induction to produce over 300bhp through a six speed manual gearbox to all four wheels via Audi's famous Quattro all-wheel-drive system. With a 0-60mph time of under 5 seconds in an unassuming estate car body and with suspension and braking, as well as engine modifications by Porsche, the RS2 Avant defines what it means to be a Q-car.
We love them. There is something universally appealing about seeing an apparently ordinary-looking car embarrassing something way more expensive and ostentatious, and the attraction of the underdog emerging victorious will always remain timeless. Long live the Q-cars.