Something for the Weekend – London Motor Show 2019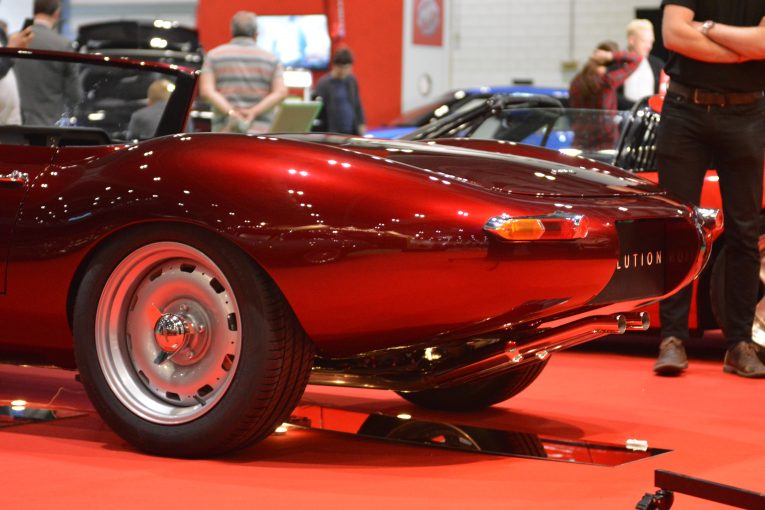 The London Motor Show (or, to give it its full and grand title, 'The Leasing.com London Motor and Tech Show') is possibly not the show you'd expect. Certain events with such grand titles position themselves at the very zenith of the automotive zeitgeist, showcasing a combination of the zingy and the zany to satiate the zealous; the Geneva Motor Show, Tokyo Auto Salon, Los Angeles Auto Show, these are places where manufacturers unveil their latest models to great fanfare, and the aftermarket sidles in to ride on the coattails as the world's media looks on with hungry lenses.
The UK has a lengthy and celebrated history of being a major player in this extremely visible scene – the British International Motor Show ran from 1903 all the way to 2008, morphing into the biannual London Motor Show at Earls Court. But Earls Court isn't there any more (the show venue, that is; fear not, nothing cataclysmic has happened in the W14 postcode that we're aware of) and the new iteration of the London Motor Show, conceived in 2016 is… well, it's not exactly Geneva. The first couple of outings were in Battersea Park, with the show moving to the sporadically-capitalised ExCeL in 2018. To be brutally honest, if you bought a ticket for this event expecting the grandeur of a huge international motor show, you'd feel distinctly short-changed… but that's not to say there isn't enjoyment to be found here. The show may only cover two modestly-sized halls (plus a live arena for donutting and suchlike), but we wrinkled out a few choice gems for your delectation. Behold:
Ferrari 308 GTE
The idea of modifying a celebrated classic car is anathema to some. The oft-illusory perception of posterity is enough to have you chased from the village (albeit quite slowly) with the clichéd pitchforks and flaming torches if you have the temerity to tamper with something rare and beloved; pointing out that it's your car and you can do what you like with it holds little sway with the type of fervent enthusiasts who'd fall into a swoon at the suggestion of fitting non-standard wheel nuts or swapping in a year-incorrect gear knob.
So, how does the notion of pulling the iconic V8 out of a Ferrari 308 and swapping in an electric powertrain sit with the crowds at the ExCeL? Do heads roll, do knee jerk fisticuffs descend into a full-bore rumble? Er, no, actually. People seemed quite receptive to the idea. In fact, we overheard one fella enthusiastically quizzing the attendant staff about the possibility of swapping his Mondial to a similar powertrain setup.
When you look at the numbers, it actually makes a lot of sense. What the masterminds behind it, Electric Classic Cars, have done is to carefully store the V8 somewhere safe and install a 450kw motor – the effect of this is to drop the 0-62mph time from 7.8s to an astounding 3.8s, raising top speed from 140mph to 165mph. Power is the equivalent of 500bhp+, compared the original 208bhp, and the colossal 600Nm of torque is available from zero-revs, a handy quirk of electric power. And another benefit is that the 308 GTE's ones-and-zeroes allow it a perfect 50/50 weight distribution.
It's a no-brainer really, isn't it? And you could always bolt the V8 back in if the tifosi get cross.
Buick Regal
The US lowriding scene has always enjoyed a niche following in the UK, and the Tru-Rydaz collective are working hard to push it to the forefront of the consciousness of today's show-going public. The club's Lay 'N' Play brand is essentially a way to spread awareness about traditional lowriding culture, which is the sort of altruism we can get on board with, and they had a variety of cars on display at the London Motor Show. Most impressive, we reckon, is the '79 Buick Regal, for two key reasons: firstly, it holds the title of 'UK's Highest Hopper', its hydraulic suspension allowing it to bounce clear off the ground like some kind of demented rabbit. And secondly… well, just look at that paint. Look at it! We tried to tot up the number of hours that must have taken to achieve, but then we had to have a little sit down and rethink a few basic principles.
Crown Victoria
If lowriding is starting to get under your skin, how about delving into its modern equivalent – air-ride? Alright, air-ride suspension has actually been around since the 1940s, but it's proving to be really quite popular these days as it offers some amusing benefits. See this Crown Victoria? People were walking past it all day saying 'That's ridiculous, you can't possibly drive it like that,' which is very much the point. It looks outrageous when hard-parked, but at the flick of a switch it'll raise up to usable height. And this particular car is a beautiful representation of this modern phenomenon: owned by auto detailing supremos Meguiar's, it's a genuine Police Interceptor, complete with cop-spec Modular V8, nudge bars and Police Pursuit Pack steels. Quite possibly the cleanest Crown Vic in the world, artfully hiding an undoubtedly mucky past – who knows what horrible things once happened inside? And now you'd never know…
MINI Cooper S
OK, we appreciate that this won't be most readers' cup of tea, but it's an important continuation of the lowriding theme. See, air-ride doesn't just get fitted to low-and-lazy cruisers – here we see it cunningly applied to an R53 Cooper S, one of our favourite modern-classics, and there are oodles of other details to enjoy here too. There's a distinct motorsport vibe, most notably with the faux-distressed Martini wrap, and also the split-rims, lightweight Tillet seats and rollcage, but there's also a flavour of the premium with sumptuous Bentley-esque trimming inside. Love it or hate it, you have to admire the sheer level of effort.
Jaguar E-Type
…and moving things back to the heartland of Car & Classic territory, behold the magnificence of Evolution's shimmering interpretation of the E-Type platform. Their modus operandi is all about 'continuously upgrading and respectfully modernising' – having found the quality of aftermarket E-Type spares somewhat lacking, these guys began making their own and it's snowballed into a full-on restomod concern. Imagine a classic E-Type with better-than-new panel gaps and fit-and-finish, modern NVH levels, and a customer's choice of adding things like air-con, power steering, modern suspension and brakes, all of which are wholly reversible. Engines are also fabulously re-engineered with billet pistons and cranks, custom cams and clever ignition; you can even have a fuel injection system hidden inside the carburettor bodies. And to the uninitiated, it'll just look like a really nicely maintained E-Type. It takes a lot of effort to look this effortless.
There were plenty of other treats to delight and divert along the way, including a styling mock-up of Noble's new M500 – a model designed to offer the lunacy of previous Nobles combined with a bit more refinement and everyday usability – and a Reliant Regal van which was actually used in Only Fools and Horses (the 'Jolly Boys Outing' episode, if you're a factoid completist), which makes a refreshing change from all the thousands of replica Delboy Regals. We spotted the mighty Bloodhound SSC (well, you can't miss it really) and a golden Rolls-Royce Ghost; a Lamborghini Aventador wrapped in driving school livery, and more Caterhams than you could shake a carbon fibre propshaft at. Something for everyone, then? Yes, sort of. Don't expect it to be the kind of show you'd attend at the NEC that'd easily soak up a whole day and more; you'll have seen everything at the London Motor Show within an hour or so. But it'll be a perfectly entertaining hour.