Ten Questions – Alex Riley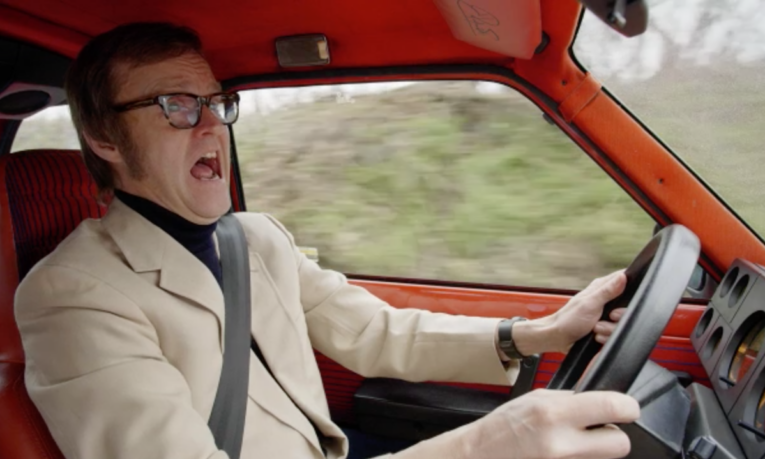 In the second episode of our Ten Questions series we're talking to sartorially chic The Car Years presenter and all-round classic car fanatic Alex Riley. Alex went in at the deep end when he landed a job as a researcher for Top Gear and he hasn't looked back. From writing to presenting and hosting Alex's CV makes for some fascinating reading and he's no stranger to four-wheeled transport of advancing years. He even won Celebrity Mastermind, focussing on Triumph TRs as his specialist subject! With great shows like The Cars the Star, The Car Years – Classic Car Club and The Classic Car Show under his rather stylish belt he definitely fits our bill so let's delve a little deeper.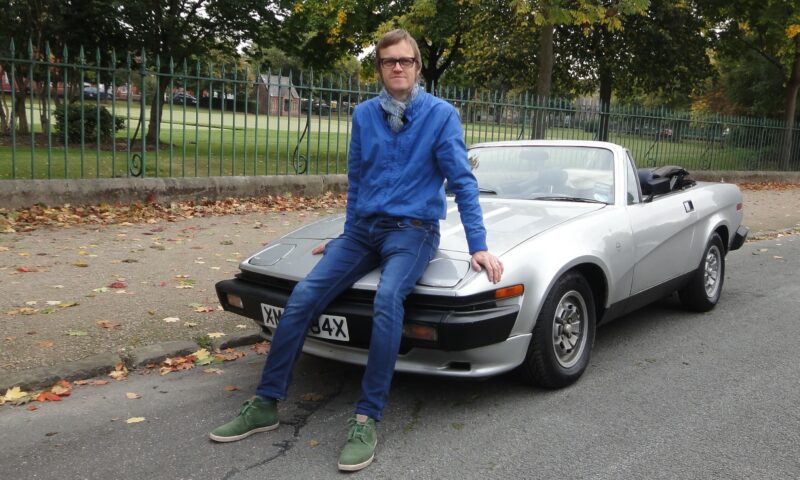 1) Most people will know you from Top Gear, The Car's The Star and most recently The Car Years (not to mention your sharp sense of dress) but for those living in a cave can you tell us a bit about yourself and your background?
I grew up in Sheffield, passionate about cars and making people laugh. I did quite a bit of performing in sketches, plays and farces, while at the same time reading and obsessing about cars. My original dream was to engineer and design cars, but when I realised science wasn't a strong suit I decided I wanted to work for Austin Rover organising motorshows. I was passionate about Austin Rover and wanted to do everything I could to make them the success I thought they deserved. And I just loved motorshows – they were the highlight of my year. I eventually got an interview with them for a graduate marketing job but it didn't work out. So, I spent several years doing jobs I hated while dreaming of a career in TV. It wasn't looking very promising until one night I was watching Top Gear and they asked people to apply to become researchers on the show. I knew this was the break I'd been praying for, so I worked hard on creating a killer CV and came up with seven ideas, got an interview and a few months later (it took ages) got the job. I gave up my job and flat in Sheffield, took a big pay cut and started all over again in 'leafy Birmingham' (as Top Gear described it). It took about three years, but eventually I got the chance to present three items on the show. So I am, technically, a former Top Gear presenter.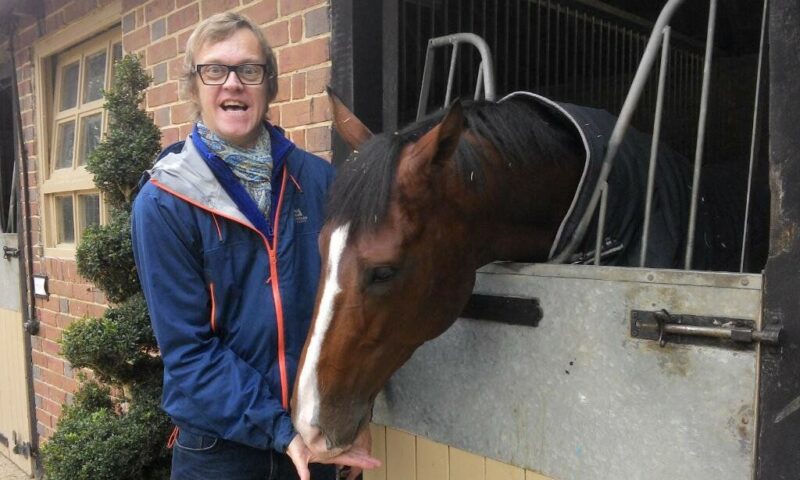 Before presenting The Car Years I did a show called Classic Car Club and also The Classic Car Show on Channel 5, but I've done lots of non-car TV – eleven documentaries for BBC3, including Secrets of the Superbrands and Britain's Really Disgusting Food, three children's series for CBBC, around 150 films for The One Show, plus series on antiques, active sports and even Scalextric racing (Short Circuits).
2) So you grew up in Sheffield with a love for performing but where did your passion for classic cars stem from? Was there a particular car or experience that led you down that path?
I can't remember a time where I wasn't obsessed with cars. But 1970s TV probably played its part. The Italian Job – still my favourite film – was on regularly and I loved everything about The Persuaders. It portrayed this utterly thrilling world of the playboy – exotic locations, stylish clothes, witty dialogue and fabulous cars – the Aston DBS and Ferrari Dino 246 – and other interesting stuff too.
I've always loved the idea of the lifestyle enjoyed by the owners of interesting cars when they were new – especially Coupes, Sportscars and GTs. And that's part of the joy of The Car Years, we're putting old cars into their original context – shedding them of the baggage of investment value and their status within the classic car hobby – and thinking about what the cars meant to the people who created them and who bought them new. And it also means I have a valid excuse to dress up like Roger Moore.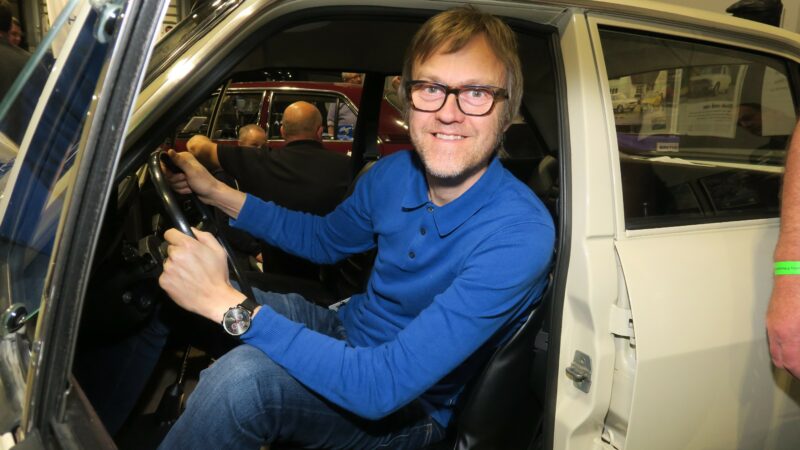 I started buying car magazines regularly when I was about 10 or 11, mostly Street Machine and Custom Car, and then on holiday in Sussex in 1981 I bought my first issue of Car Magazine and that changed my life. It was so well written, intelligent and entertaining it made cars and driving and the engineers and designers responsible seem really important. People like LJK Setright, Roger Bell, Steve Cropley and Mel Nichols opened my eyes to a whole new world. And then Car launched Supercar Classics magazine and so I bought every issue and that taught me a huge amount too. That said, it was quite difficult to persuade some of the other kids at school in the '80s that the cars that Car loved, like the Citroen CX or Alfasud were anything other than a heap of expensive trouble.
3) Your latest endeavour, the frankly brilliant The Car Years with partner in crime Vicki Butler-Henderson, is a cracking show. What's the premise?
Thanks. Each episode of The Car Years focusses on a particular year. Vicki and I each pick a car that we think was the greatest, most important or most influential car launched in that year and then we tell the car's story to explain why it was so special. We do this wearing authentic period costume.
We also have three judges who flesh out the stories and vote for a winner, and then Vicki and I meet up at the end to say rude things to each other before we find out which car has won. Vicki is a terrible loser. But if she wins she's unbearable. It's just as well it doesn't happen very often. There's no buyers' guides, or valuations or restoration in the show – it's just fascinating stories about fabulous cars in a beautiful landscape, with amazing archive footage. With a bit of period fashion thrown in.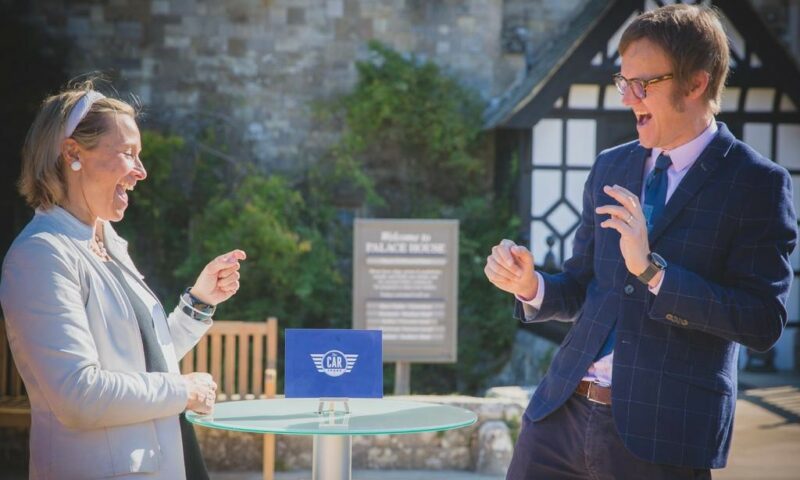 I love researching the cars I choose and trying to put together a compelling argument. It's fascinating to find out exactly what was going on behind the scenes as the car was developed and the challenges it faced. The best stories for me are the ones where the company is in crisis and if it doesn't pull a winner out of the bag the company could go under. I also like the stories where the car was brilliant but never quite achieved its potential. I've always loved the underdog. The stories where the car was great, sold in huge numbers and went out on top are much harder to write.
4) We understand you've just returned from Ireland where you've been filming the third series. What can you tell us about it and when does it air?
There are eight new shows covering eight Car Years we've never featured before. Because this is the third series we're getting better at telling the stories and digging out surprising nuggets of information. We filmed the new series on the West Coast of Ireland, along 'The Wild Atlantic Way' in Galway and Kerry, and the scenery is truly breath-taking. We had great weather, and the cars look amazing. Costume-wise I own a lot of stuff from the 70's but we've only done 1977 this year so I had to work really hard to source authentic outfits for the '80s and '90s episodes. My favourite costume is definitely the one I wear in the 1981 episode.
It's a bit early to give away the full list of years and cars but I can say we're covering a range of years from 1957 to 1993, and we feature a gorgeous Alfa Romeo, a ground-breaking Lotus, a forgotten BMW, a pioneering Maserati, a very very fast Jaguar, a seminal Fiat, an all-conquering Lancia, a Pontiac that beat the system, a bruiser of an Aston Martin and a car that's more famous as a time machine than an actual car.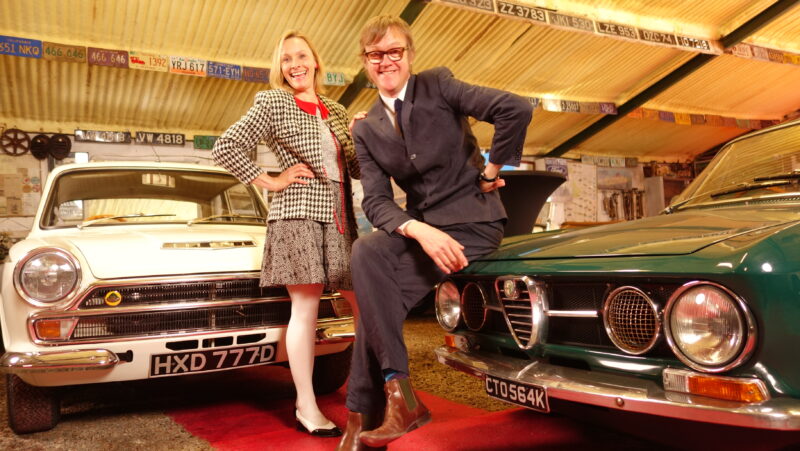 Catch Alex in the latest series of The Car Years this autumn on ITV4 and ITV Hub.
5) Speaking of cars are you still driving the TR7? What makes it so special to you?
In the '70s I only saw exotic cars like Maseratis, De Tomasos and Monteverdis in Top Trumps sets or in a Figurine Panini sticker book we had, called Super Auto. For me the TR7, with its pop-up headlights, wedge shape and just two seats, was the nearest you could get to those cars in suburban Sheffield and it was a thrill every time I saw one. My brother brought home the brochure one Saturday morning and I was hooked. As I got older and found out it was a car that some people hated, or misunderstood, and that its many merits had been largely forgotten or ignored I loved it even more. I'd always wanted one, and one day when I lived in London, I wrote off my Saab and realised it was time to take the plunge. I ended up with a drophead because fixed heads were so thin on the ground and I needed a car quickly.
In London it was my only car, and I used it twelve months of the year and did over 20,000 miles before our first baby arrived. Since then I've tried to use it as much as possible but it's been off the road for a couple of years now since the garage door broke for the third time and it's just sitting there. It'll need a bit of recommissioning but I'm very keen to get it back on the road soon. It's just such a great car to drive, much quicker than people realise with loads of mid-range torque, lovely steering and an excellent chassis. It also has tons of room inside, a very big boot, and a five speed box so it's comfortable and practical too.
6) What is the biggest highlight from your career working in the classic car world and is there a particular car that you've driven that has really floated your boat and stuck with you?
The Car Years is a joy and a privilege to work on and I love everything about making it. But a few years ago I was lucky enough to interview John Surtees for the One Show. I'm fascinated by the history of F1, so to have John show me round his collection of road and racing cars and bikes all the while telling fascinating stories of his life and career was a real pinch-me moment. I also got to be a passenger in a McLaren F1 about twenty years ago, with McLaren test driver (and Le Mans winner) Andy Wallace driving. We drove round the shops in it and then as he was coming off the A14 and driving onto Alconbury airfield (where we were filming) he floored it. We went from about 40mph to over 140mph so quickly it was like being fired out of a cannon. That, and the sound of that incredible V12 will live with me forever.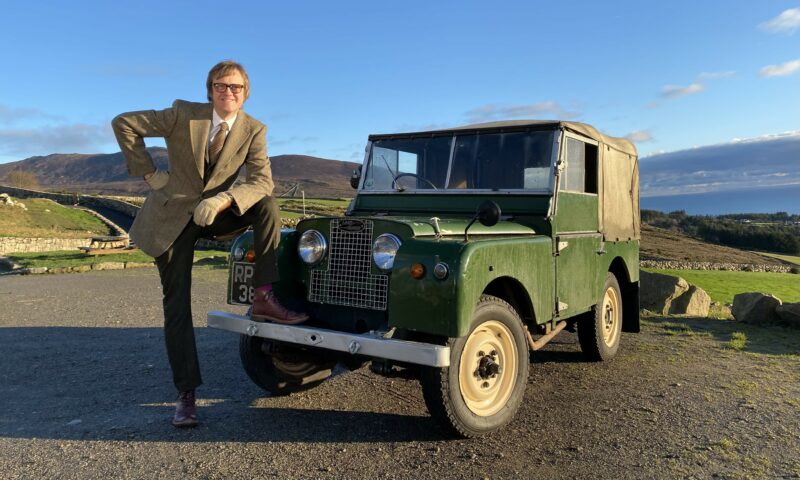 7) It's clear to see that you have an affinity for all things vintage, from your dress sense to the cars you drive but what would you say is your favourite period and why?
I've always been fascinated by the mid to late '60s through to the mid '70s. I think it was a fascinating time for culture, fashion and ideas. I really like the music of that period too. And it was a golden age for cars and concept cars too, before legislation started to inhibit some of the wilder flights of creative thinking.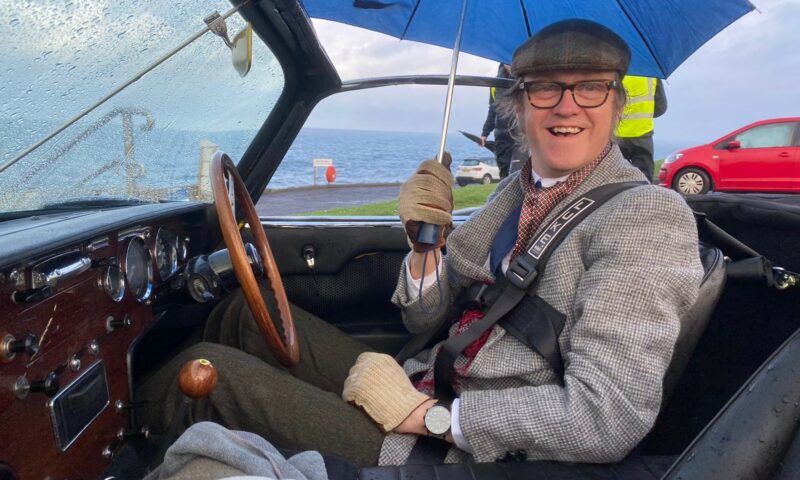 8) If you could own any classic car, money no object, what would it be and why?
I'm a huge fan of the Citroen SM, I've driven a couple and it's so capable and intelligent and charismatic. There's a specialist in France called Jean Michel-Gallet whose business, SM2A, restores Citroens. He's created a subtly improved SM that cures the car's original reliability frailties, reduces weight, uprates the engine and adds things like a hidden sound system. It sounds like my perfect car, but it costs about a quarter of a million so I'll be sticking with the TR7 for now.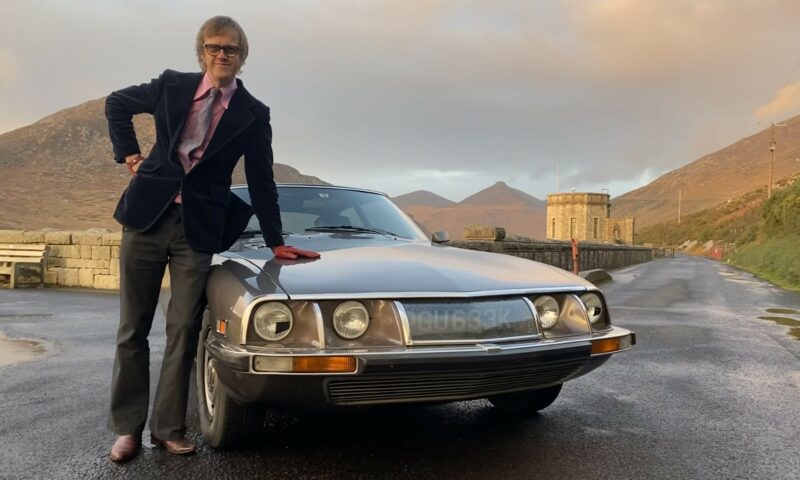 9) With the proliferation of electric vehicles and the rising costs of living how do you see the future of classic cars developing?
I think we'll be in love with old cars for a long time to come. Cars are the defining technology of the 20th Century and I'm sure they'll continue to fascinate people long into the future. I'm hopeful that a zero CO2 synthetic fuel will be commercialised before long, giving old and new ICE cars a sustainable future. BEVs use a lot more CO2 in their manufacture than ICE cars, but use less CO2 in operation, so a zero CO2 fuel makes the wholesale change to electric harder to justify. And when it comes to preserving cars, it's surely greener to keep using and repairing an existing car than scrapping it, then using all the resources and energy required to replace it with a new one.
10) And what about the future for Alex Riley? What other projects are you working on and what's on the horizon?
I'm writing articles for magazines and script-writing for a couple of other TV car shows at the moment. And you might see me appearing at some Car Shows over the Summer. There should also be another series of The Car Years to plan, write and film later in the year.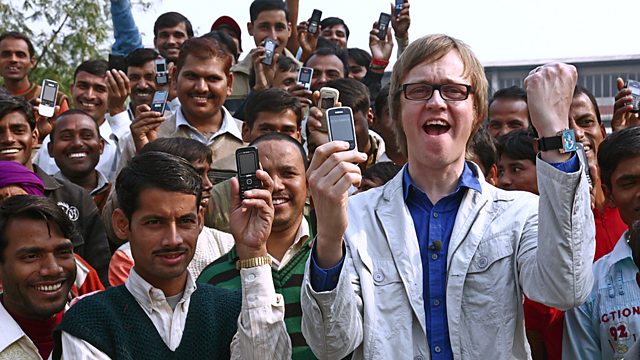 On a completely different note, I'm currently doing a bit of acting for a TV sitcom pilot, wearing the tweed jacket from the 1948 episode of The Car Years. You just never know when these things will come in handy…