The BMW E38 7 Series – The Time is Now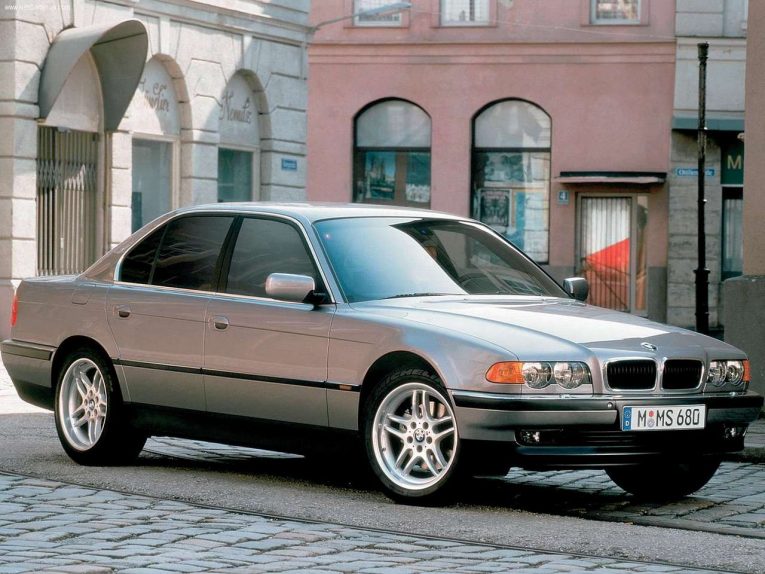 The Germans have always been at the top of the pecking order when it comes to making executive saloons. Audi has the A8, Mercedes-Benz has the S Class and BMW has the 7 Series. The German 'big three' don't tend to worry about offerings from other brands, instead choosing to fight it out between themselves – after all, other brands can't compete. And this is good for us, because it means we get three teams that are great at what they do, battling each other to be even better.
BMW, however, has always had a unique edge when compared to Audi and Mercedes-Benz, and that is its dedication to ensuring every car it makes, even the big saloons, is the best driver's car they can be. As such, the 7 Series is just as welcome on the driveway of the spirited driver as it is on the driveway of the customer who likes to be chauffeur driven.
However, there is a downside to the 7 Series, and that comes in the guise of the way the car has looked after the E38. Many have accused BMW of losing its way. The successors to the E38 have grown into grotesque caricatures of the elegant, considered saloon the car once was. This means that there is a movement to own and enjoy those older cars, of which the E38 is seen by many as being the best.
An introduction to the E38
Introduced in 1994, the E38 BMW 7 Series took over the throne from the E32. Rather than being a revolutionary new car, it took what had been learned from the E32 and refined it. The result was a large executive saloon that was incredibly handsome, spacious and thanks to BMW's 50/50 weight distribution, an absolute riot to drive. It was also a car of firsts. The E38 was the first car to be fitted with curtain airbags, it was the first European car to be offered with satellite navigation and it was the first BMW to be offered with an in-built television. Maximum luxury, then.
Engine-wise, the E38 was available with a straight-six, a V8 or a V12. For some markets its was also built with a range of diesel engines, though here in the UK we didn't get those. We also didn't get the rare manual-transmission cars – we only had the six-speed automatic, but to be honest, in a car of such heft, automatic is the way to go.
For many, the E38 was 7 Series perfection. The design was and still is seen as being one of the best ever, and we mean that in terms of cars in general, not just BMW. So smitten were buyers with the E38, when the E65 successor was announced, sales of the E38 went up, as did values. We really didn't like the new, brave style of the E65.
Over its life, the E38 has also become a bit of a pop-culture icon, with starring roles in films like James Bond and of course, The Transporter. The E38 was also one of the cars used by BMW in its self-produced short film series 'The Hire' in which British actor, Clive Owen, found himself at the helm of various BMWs. In the case of the E38, he had to outrun a van full of tooled-up bad guys truing to steal diamonds from Clive's back-seat passenger. It was marketing on another level, that's for sure!
What are prices like?
There is a vast chasm of prices for the E38. Older, slightly battered cars can be had for as little as £500, and that's with MOT. Then you have the more appealing, late-1990s cars that will boast some history, they would have been well cared for and as such, will set you back a couple of grand. Then you have the top-tier, immaculate cars. You'll be looking at a V12 under the bonnet, a flawless and completely satisfied service history and it's be in near showroom condition. For one of these cars, you'll be looking at anywhere from £5,000 up.
Those flagship, top tier cars are nice. But in reality, you're going to buy one of these so you can drive it, as that's a huge part of the E38s appeal. As such, we'd suggest going for a facelift Sport, ideally with a V8 (though you shouldn't overlook the 2.8 straight-six, it's a good engine) and mileage under 100k. You'll be looking at around £3,500 to £4,500 for a car in this spec, and that budget will get you one of the nicer cars.
Cheap E38s are tempting for a bit of bargain posh, but in reality, they'll be battered old relics that should have been taken out to pasture long ago. While the E38 is a wonderful car, rust can be an issue, as can the fuel system and also the transmission and the electrical system. A cheap car is just going to present one, if not all of those errors at some point.
Why should I buy one?
In a nutshell, because it's the last car you'll ever need. Buy a decent one and you'll be the owner of a machine that still has presence and still turns heads, despite being twenty years old. The E38 is a considered, beautiful and timeless design that people are still drawn to. And yet, despite this, it's a car with no ego. It exudes charm and charisma, not arrogance, as many cars in this class seem to.
Then there is the way it drives. The E38 is a rewarding, involving and exciting car to press on in. It wants to be pushed, and that perfectly balanced chassis will reward you when you do. But when you're not in a hurry, it settles down into being a quiet, comfortable, soothing place to be. It is all things to all drivers.
How long will it take to see a return?
For the right E38 in the right specification – so facelift Sport models – prices are already on the up. Good cars bottomed out at around £2500 a couple of years back, but now those same cars are commanding around a thousand pounds more.
Condition and history are key when it comes to making your E38 hold or even increase in value. People want these cars, but they're scared of the upkeep, so if you can prove that it's all been kept in hand and carried out be reputable specialists or even main dealers, your car is going to sit atop the others in the classifieds.
You might think it would be best to go for a V12 car, but in reality, these struggle to sell. The thirst and the often prohibitively expensive upkeep turn people off. As such, a straight six or V8 car really is the way to go, a V12 is something you should only buy because you want a V12. Don't buy one with goals of seducing a future owner.