The Homologators – Dodge Daytona and Plymouth Superbird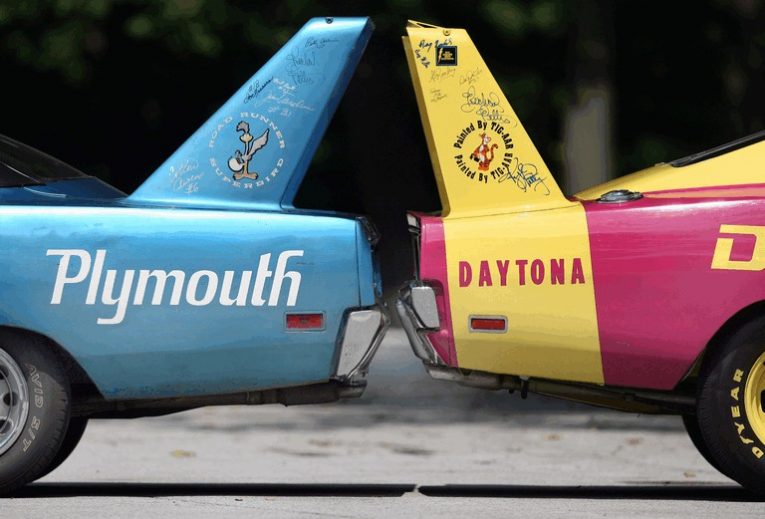 As the world's calendars flipped over from 1969 to 1970 the American muscle car boom was reaching a crescendo of power and performance. With that bigger-is-better attitude still in full swing US car makers were consistently churning out faster and more whacky cars, all to the delight of an eager public who were lapping them up. Things would come to a head, however, as two giants of the industry were about to go mano a mano on the race track. It was a battle that would produce a pair of the craziest, most radical cars yet to emerge from that glorious V8 era when displacement was king. Ladies and gentlemen, we present to you the Dodge Daytona and Plymouth Superbird.
It all began when Chrysler and Ford both realised that aerodynamics actually had quite the impact on NASCAR lap times (who knew?). With this radical new information in mind they set about creating a new generation of sleek racers to take advantage of that discovery. Ford subsequently developed the Torino Talladega and Mercury Cyclone Spoiler II while Chrysler went one further by actually studying their cars in a wind tunnel and then bolting a pointy nose cone and huge rear wing onto a Dodge Charger in late 1969, thereby creating the Dodge Charger Daytona. It was a snarling beast of a car that topped out at 199mph on its debut appearance and would be the first to break the 200mph mark with Buddy Baker behind the wheel of his No. 88 car. Thanks to its 7.2-litre Magnum V8 and those wind-piercing body mods it was 20mph faster than Chrysler's previous Charger on the track, and while it may have looked unconventional at the time, boy, did it work.
The next year, Dodge's sister company Plymouth got in on the action and Chrysler strapped the now tweaked nose cone and rear wing onto the Roadrunner, and thus the Plymouth Roadrunner Superbird was born in 1970. Modifications weren't limited to aerodynamic accoutrements either. Oh no. The car was also fitted with a big-block 426 Hemi engine. That's a 7.0-litre V8 that produced around 425bhp, capable of propelling the car to 60mph in 5.5 seconds and on to 200mph – similar specs to the Daytona.
These two behemoths (they were five and a half metres long) were known as the 'aero cars' and they would go on to dominate at NASCAR, which was exactly the intention for the brass at Chrysler. Unfortunately they were a bit too good. The following year they were effectively banned from competition due to new power-to-weight regulations imposed by NASCAR officials to try and reign in the ever-increasing performance of competition cars because they were outstripping the then current tyre and safety technologies. At 200mph the tyres simply couldn't keep up and the wheels were literally being driven off of these rabid racers.
Speaking of NASCAR regulations, another rule stipulated that a certain number of road-going versions of both cars had to be produced and offered to the public in order for them to be able to compete on the track. These homologation models were thus fitted with the same aero add-ons and a little over 500 Daytonas and around 1900 Superbirds were farmed out to dealers across the country. The disparity in volume for each car was due to a rise in production requirements for homologation in 1970 and as such the Daytona remains the rarer of the two.
Both the Dodge Daytona and Plymouth Superbird were fitted with Chrysler's 440 cubic inch, 7.2-litre "wedge" V8 (named for the shape of its combustion chambers) that produced 375bhp and a whopping 480lb-ft of torque. Although marketed as the 'Magnum' in the Daytona and 'Super Commando' in the Plymouth (both excellent names by the way) they were essentially the same engine. An additional option was that 426 Hemi we mentioned earlier, which churned out an extra 50 horsepower over the standard 440 as well as 10lb-ft more torque. For the Plymouth only, a six-barrel version of the 440 was made available with three 2-barrel Holley carburettors, plonking it slap bang in the middle of the other V8s with 390bhp on tap. As far as the drivetrain was concerned both cars were offered with a four-speed manual gearbox or a three-speed, Torqueflite 727 automatic transmission.
Despite these impressive performance figures and obvious racing pedigree the two aero cars failed to capture the imagination of the American buying public. The Dodge Daytona and Plymouth Superbird were deemed too ugly and many languished, unsold, on dealer lots. So dire was the situation that some were even converted back to standard cars to try and get them shifted. Chrysler themselves didn't really care though as the exercise had served its purpose as far as they were concerned as the production variants had allowed them to go racing and rack up those all-important wins. As such, the Daytona was only produced from 1969 to 1970 with the Superbird only seeing a single year of production in 1970. A veritable flash in the pan.
The Superbird arguably looks the better car but the earlier Daytona was actually faster. With a lower drag coefficient the Dodge had a small aerodynamic advantage over its sister car. This may not have meant anything on the street where the modifications had little effect under 60mph, but on the track it could make all the difference between a podium finish and an instantly forgettable fourth place and those few mph and tenths of seconds soon add up.
Today these cars are now worth a small fortune, depending on engine and spec, and it seems mad that they were not more popular upon release. But then the same can be said of many a classic car, cherished nowadays but under-appreciated and deemed ahead of their time back when they first hit the streets, maturing since into something that is considered desirable. Both cars clearly show what can be achieved when companies push the limits, especially where motorsport is concerned. What the world has been gifted then, as a result of a healthy rivalry, are two quite frankly ridiculous but ultimately impressive vehicles that we're just glad got to exist in the first place.