The Porsche 944 – Five things you need to know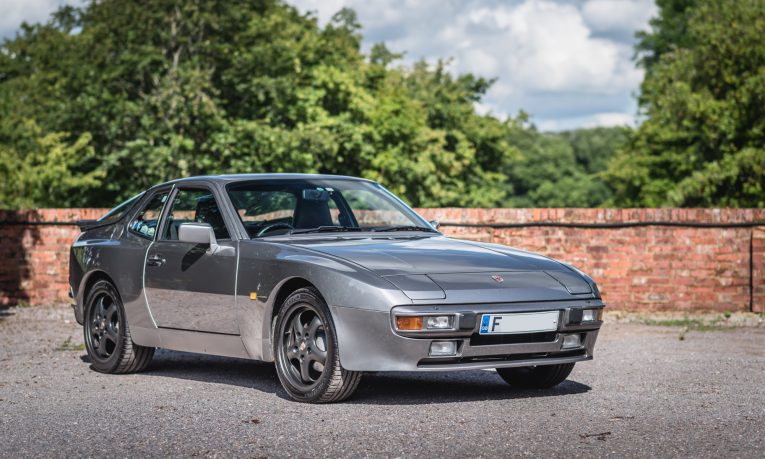 We know how it goes – you're browsing through the Car and Classic classifieds, or perhaps perusing our myriad auction listings when suddenly something catches your eye. We've all been there. This time its those sleek, instantly recognisable lines and flared rear end of the Porsche 944 jumping off the screen at you and you know you have to have one. Well hold your horses there partner. Before you commit to buy there a few things you need to know about this sporty German number.
Everyone loves a Porsche, this is a fact. Whether it be a top of the line 911 Turbo S, the V8-equipped 928 or the chuckable little Boxster, there's a lot of affection for the auto maker from Stuttgart and the 944 is one of the many jewels in its rather vast crown. Based upon the previous 924 platform the 944 is a mid-engined, rear-wheel drive sports car that, over the course of its 9 year production run, was offered in coupé and cabriolet guises with multiple, continuously-developed four-cylinder engines along with a five-speed manual or three-speed automatic gearbox.
Initially sold with a 143bhp, 2.5-litre 8-valve motor this was upgraded to the 220bhp, turbocharged lump in 1985. '87 saw the introduction of the slightly disappointing (at least from a performance perspective) 190bhp, 16-valve in the 944S and then a 250bhp, forced induction variant in the Turbo S a year later. It didn't stop there though. The original 944 engine was enlarged to 2.7-litres in 1989, increasing the power to 165bhp while the Turbo model was also tuned to 250bhp as standard to match the S. Finally the S2 was released in 1990 with a 16-valve, 3-litre engine producing 211bhp. And breathe.
The 944 retained the notable well-balanced handling of the 924 but the new 2.5-litre, all aluminium engine leant a very welcome injection of grunt to proceedings and the car was a hugely successful endeavour for the German firm that provided a much-needed sales boost in the '80s. Not only is it a proper Porsche but it's easy to live with, comfortable, fast enough for most and with folding rear seats and full, opening tailgate it's a practical beast too. It's a handsome devil as well, and it has pop up headlights. Need we say more?
Prices have been rising steadily for a while now but you can still grab a performance bargain. Before you potentially jump head first into classic Porsche ownership though there are five things you need to know about the 944.
1) Engine
Being an interference engine, whereby the pistons and valves occupy the same space, the condition of the timing belt is of utmost importance. If it snaps you're in a world of pain, very expensive pain, so make sure it has been replaced recently. Every 30,000 miles is the generally accepted interval so if it's due, factor that in to the price. If you're going for one of the forced induction variants then make sure the turbo is in good shape and doesn't smoke or whine although they are generally reliable. Like the earlier 911s there will be some lag as the thing spools up but you should feel a reassuring shove in the back as it comes on boost. Due to the 944's all aluminium engine annual oil changes are a must, even if the car has been unused or in storage, so check the history folder for evidence of regular flushes. Higher mileage cars may be on their way to a top end rebuild so check for any smoking or head gasket issues due to bad heat exchangers but either way regular maintenance is a must regardless of how many times it has been up and down the straße.
2) Bodywork
Porsche 944s are notorious for rusty sills so check to see if they have been replaced in the past or if they need doing. Porsche do still supply OEM items and there are after market options available but the fit might not be quite as good. Have a look at the wheel arches and floor pans too for any signs of corrosion – sunroof drain holes can get clogged and cause water to find it's way inside the car. Suspension mounts can go as well so scrutinise these areas and have a look for any evidence of crash repairs while you're there. The 944 can be a handful for the inexperienced driver and many have found themselves facing the wrong way after their ego has written a cheque their body couldn't cash. A bit too much right foot and not enough skill has ruined quite a Porsches over the years and uneven panel gaps will be a sure sign that something isn't quite right.
3) Suspension
The suspension setup on the Porsche 944 is generally robust but along with the mounts mentioned above inspect all of the bushes for deterioration and play. Check the struts for any leaks and have a look at the tyres too as bad or worn suspension component will tend to cause uneven wear to the rubber. Park the car on level ground to see if the rear has sagged. If it has then the rear torsion bar may need to be replaced.
4) Interior
If the interior has been well looked after there shouldn't really be any major issues but there are a few areas that can be rather susceptible to age-related wear and tear. The seat bolsters are a particularly sensitive area and the seats themselves can come apart at the seams if neglected. Leather upholstery is generally more hardy but cracking and dryness can indicate a lack of care. The tailgate gas struts are known to weaken too, therefore not being able to hold the boot up but most interior trim parts are readily available so if you do need to replace anything it's not the end of the world. The one major issue that the Porsche 944 suffers from is a cracked dashboard, mainly due to heat damage. Replacements are expensive so bear this in mind when choosing your car. If you can live with it then crack on (sorry, couldn't resist).
5) Electrics
Go for a drive and check everything electrical before handing over any cash. Make sure all of the switchgear works and that those iconic pop-up headlights do exactly that, and go back down again for that matter. The DME relay is a known weak point with the Porsche 944 that can cause non-starting issues. Not only does it power the ECU but it's also connected to the fuel pump and it is widely acknowledged and recommended to carry a spare or two in the car. This pesky little relay should be the first port of call when diagnosing any running issues.