1951 Lancia Aurelia – Project Profile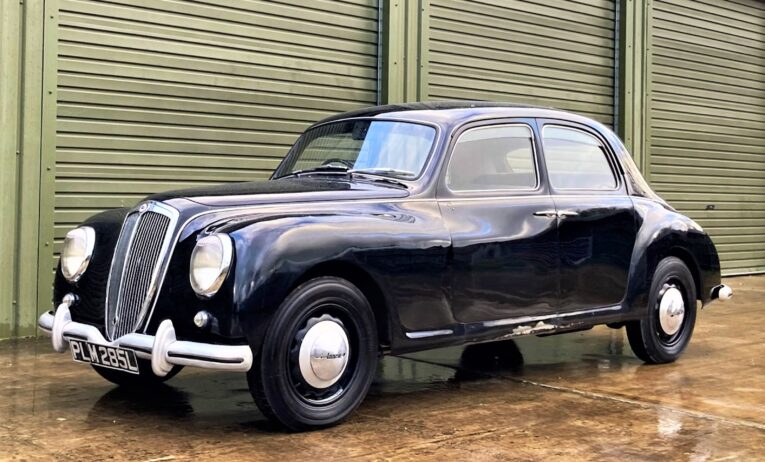 People in our world will gladly tell you that you need to own a Mini (the little one) or an Alfa Romeo before you can truly tick off the 'petrolhead' box on your sheet of personality traits. This is, of course, nonsense. No brand stands as the gatekeeper to petrolheadism. However, if such a thing were true, the brand standing on the door deciding whether or not you can come in would be Lancia. Today, it is a sad shadow of what it once was, which is a shame. But, what it once was, was incredible. A bright, shining, forward thinking star glistening above the automotive landscape. For proof, look at cars like this magnificent 1951 Lancia Aurelia. Even the name is magical.
What is it? 
What we have here is a 1951 Lancia Aurelia sedan. It's easy to get swept away with thoughts of the coupe when it comes to the Aurelia, but don't dismiss the sedan on which it was based. It was, and still is a thing of beauty. It also boasted clever design touches, like the 'suicide' read doors – a feature Lancia loved using. It was more than just doors, though. The Aurelia, penned under the watchful eye of Vittorio Jano, was a monocoque, making it very stiff indeed. It had fully independent suspension, it had inboard brakes, and it also had a clever transaxle housing the differential, the transmission and the clutch, offering excellent weight distribution. The crowning glory, however, was the engine. The Aurelia was the first series produced car to boast a V6. A sweet, all-alloy pushrod affair with hemispherical combustion chambers and inline valves. Designed by Francesco de Virgilio, it was a work of art.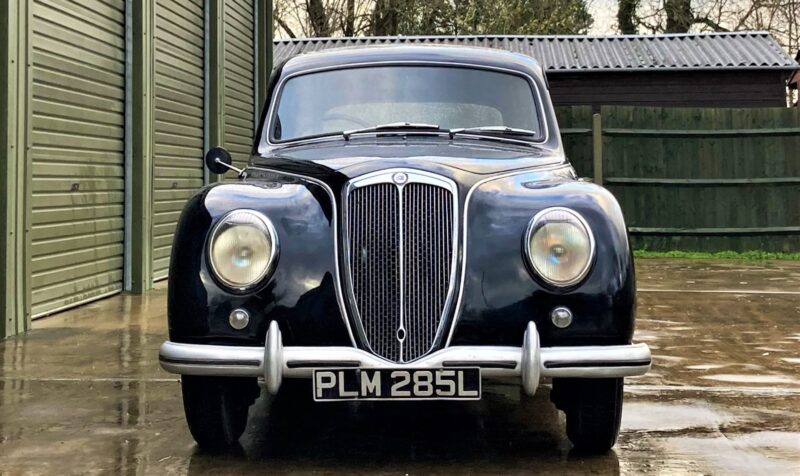 Why is it a project? 
This particular Aurelia has lived a life. It stands today in excellent condition, but the years have inevitably caught up with it and it needs a freshen up. We wouldn't say it's in need of a full nut and bolt restoration, though. The car is believed to have been discovered in Belgium, and when it was discovered it was found to have all manner of competition parts fitted. The car came to the UK in 1973 (hence the registration). It was sold again in 2002 and was fully prepared for historic racing by Andrew Thorogood and Tim Burnett. Sadly, they removed the original V6. Don't panic though, as they replaced it with a more powerful, larger capacity B21 V6 from a later Aurelia. So it's still 'right'. The car went back to Europe, then came back to the UK where it has been since. The engine has been rebuilt (but has issues – we'll get to that), a new Weber carb was fitted, new pistons, valves and so on went in, too. The interior was refreshed with new upholstery, rubbers and so on.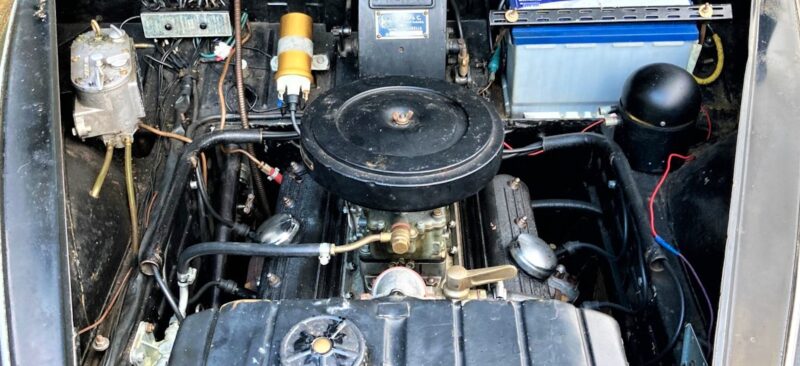 Now, here's why it's a project. The engine has developed "a rattle" to quote the vendor. This will of course need investigating. The body also has some 'life' to it, which should be addressed, like that damage on the left-hand sill. But on the whole, this car is in excellent condition, it has a fascinating history and it's a welcome reminder of how glorious the sedan was. Why should the coupes have all the attention?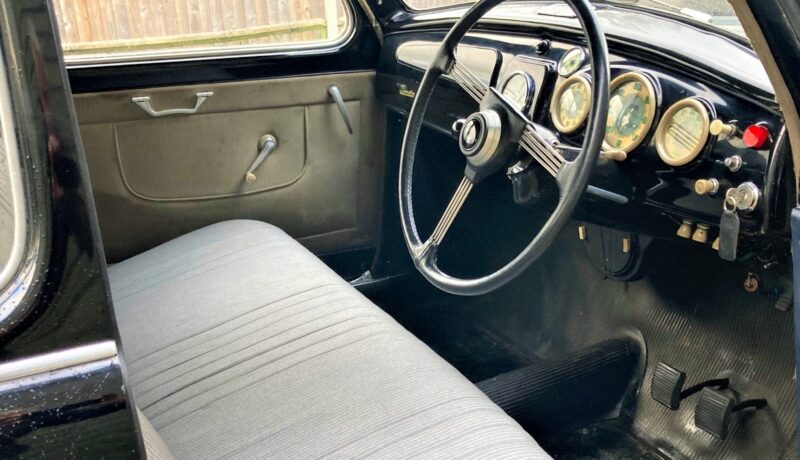 Five things to look for: 
1) Engine
Obviously, if the engine is making a noise, that's the first thing to look at. It is without a doubt the soul of this car after all. Happily, there are specialists out there who should be able to help. Hopefully it's nothing too damaging, especially as it sounds like the Aurelia was taken out of use once the noise was discovered.
2) Transmission
The transaxle setup is key to the way in which the Aurelia performs and drives. With the engine being unhappy, it's going to be difficult to check it fully, but you can still inspect it for leaks, check the action of the clutch, and make sure the gear selection feels positive. Depending on the severity of the engine's rattle, you might be able to take it for a small drive. However, given the passion-led history of this car, we would think there are no horrors. Hopefully.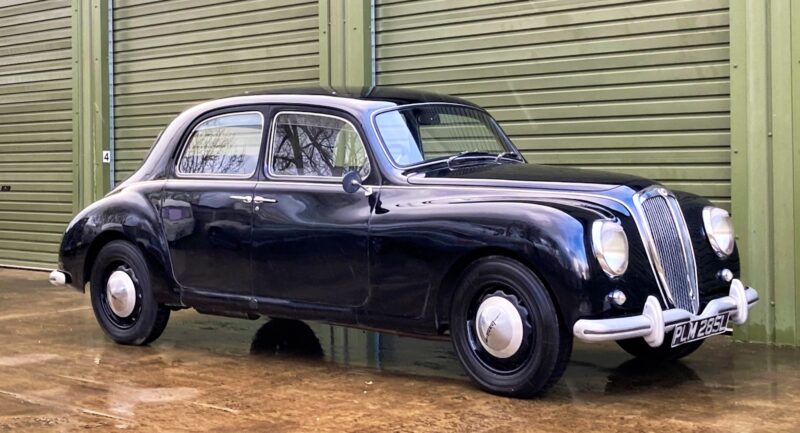 3) Suspension
This is where some work looks like it might be needed. Interestingly, there is some MOT history for this car, though it is from 2009. First, it failed on brakes and some corrosion, which seem to have been addressed to gain a pass. However, there were advisories for a misting of oil on the shocks, drag links, and suspension mounting areas. All stuff you can do with relative ease though, and not too expensively.
4) Rust 
Any car from 1951 needs to be inspected for rust, and the Aurelia is no exception. There have been mentions of corrosion on past MOTs, so get underneath it and have a poke about. The Aurelia was a unibody, so strength is everything. Have a look for any work that might need doing, and try and figure out if you can do it yourself, or if you're going to need a specialist fabricator.
5) Trim
The Aurelia is a rare car in any shape, but the sedan is perhaps the rarest, as such you need to make sure everything fitted to it is fit for purpose and usable, as replacement trim parts unique to this car are going to be hard if not impossible to find. Happily, the bumpers, grill, lights (which have been refinished), hubcaps and glass all look great, so there shouldn't be any nasties hiding.
What should you do with it? 
Get the engine sorted and then just enjoy it. That's what we'd do. The car has been a full racer in the past, used in the 2002 Goodwood Revival St. Mary's Trophy. It had bucket seats and a roll cage and everything. And while a return to that would indeed be amazing, it also robs this Aurelia of its usability. It's a sedan, so embrace it. This is a fun, exciting, spirited classic that the whole family can enjoy and fall in love with. And you get the bonus knowledge of knowing it was once a bona fide race car. And let's face it, that's cool!