1964 Triumph Tiger T100SC – Project Profile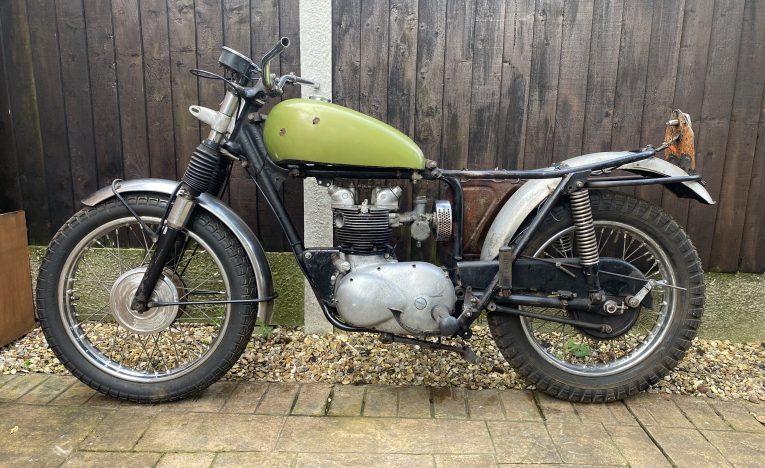 We've been spending some time recently looking at the history of Triumph motorcycles for a feature that will be published tomorrow and so we subsequently found ourselves, rather predictably we might add, browsing the Car & Classic classified and auction listings for suitable old school Triumphs to buy. Or at least to add to that ever growing wanted pile. Our timing turned out to be rather fortuitous it would seem, as one of the bikes that caught our eye was this rather special 1964 Triumph Tiger T100SC. We say special because this is a matching numbers and rare SC model. The SC, also known as the 'Competition Trophy' or 'Jack Pine', was essentially a road-legal scrambler built for enduro racing. The Jack Pine moniker derives from the famous American enduro race through the forests of Michigan where riders found success on the nimble T100 at a time when dirt bike racing was all the rage across the pond.
The Tiger 100 was first produced in 1939 but it wasn't until 1962 that we see the post-war SC model come to light. Manufactured until 1974 the SC was the competition version of the T100 and was geared very much towards off-road racing.
What is it? 
There were several differences between the T100R road model and the T100SC. The SC featured a smaller, flatter petrol tank, a bolted in frame brace, quickly detachable headlamps, left-hand Siamese exhausts, raised handlebars and off road tyres. Aesthetic distinctions included polished alloy fenders along with Tiger Cub badges and knee grips.
With its 490cc, air-cooled, four stroke parallel twin motor, the T100SC produced 38bhp through a four-speed gearbox allowing for a top speed of over 100mph. Thanks to the nature of the frame, shock and wheel choices the SC had around 9 inches of ground clearance, and with a 153kg curb weight it was hugely manoeuvrable and agile, making it perfectly suited as a scrambler. But that's not to say it wasn't a capable cruiser either and the bike could easily be used on the road too.
Why is it a project? 
Described as "complete restoration project" this T100SC looks fairly complete in all fairness. The seat is obviously missing but the engine, gearbox, wheels, suspension, and brakes are all present and correct with only the exhaust missing so we imagine they just need to be rebuilt or refreshed. The bike appears to be all original and with matching its numbers would make a very desirable finished product. The wheels are the original Dunlop rims and as this particular model was a battery-less, magneto-equipped affair there shouldn't be too much in the way of electronics to fiddle about with. A mechanical overhaul and restoration of the exterior parts would appear to be the order of the day. These '60s era Triumphs are not only rewarding to ride and own but they are also easy to spanner on and maintain, making them the ideal choice as a first classic bike.
Five things to look for? 
1) Engine and Gearbox
Unfortunately the advert listing doesn't provide much detail on the condition of either of these items but the OHV, single carb motor is a pretty simple affair and shouldn't be too difficult to bring back to life, even if that means a complete rebuild. It's the same story with the four-speed transmission too, so barring any critical damage to either there shouldn't be much in the way of roadblocks here. It's probably a good idea to check with the current owner whether or not the engine spins freely, however, just to gauge what work will actually be required.
2) Suspension and Brakes
The rear swing arm and adjustable shock suspension setup on the SC is fairly straightforward. Everything appears to be present too and so could just require a rebuild. Both the front and rear brakes come in the form of 7 inch drums which should be simple enough to refresh without the need for specialist support.
3) Frame
With twin steel down tubes the frame on these Triumphs can and will corrode. Surface rust can be removed and the frame can be treated but if the rot has really taken hold and there are holes then that could spell disaster. Also check for straightness as well as any damage – this is an off-road scrambler after all.
4) Parts and Originality
This is a matching numbers bike, according to the seller, so check that this is indeed the case as it will affect the price should this be a buy it, restore it, sell it type deal. There are a bunch of parts included in the sale but check what is actually required for a complete and faithful restoration. Most parts are readily available from good suppliers such as Tri-Supply, however, so it's not the end of the world if there are a few things missing.
5) Paperwork
There's no mention of previous history or mileage but what we do know is that this is a US re-import having been one of the 487 T100SC models despatched to Johnson Motors in  California in 1964. It comes complete with its American registration documentation and NOVA certificate which will make UK registration a doddle. There is also a Triumph Owners Club certificate of authenticity but check if there is any paperwork pertaining to previous owners and/or work carried out in the past.
What should you do with it? 
Originality is key here. Jack Pine Tigers are incredibly sought after, especially in top condition and so if it were our dime we would go the full and faithful resto route. Don't be dissuaded by any perceived complexity of the restoration and maintenance of a classic motorcycle – these bikes are easy to work on and, as mentioned, most parts are available. With the appropriate tools the skills required to bring this T100SC back to its former glory are well within the capabilities of any confident home mechanic. Once restored you will be the proud owner of not only a very en vogue Triumph scrambler, but perhaps the ideal classic British motorcycle – a useable and capable icon that is fit for various styles of riding.