1971 Triumph GT6 – Classified of the Week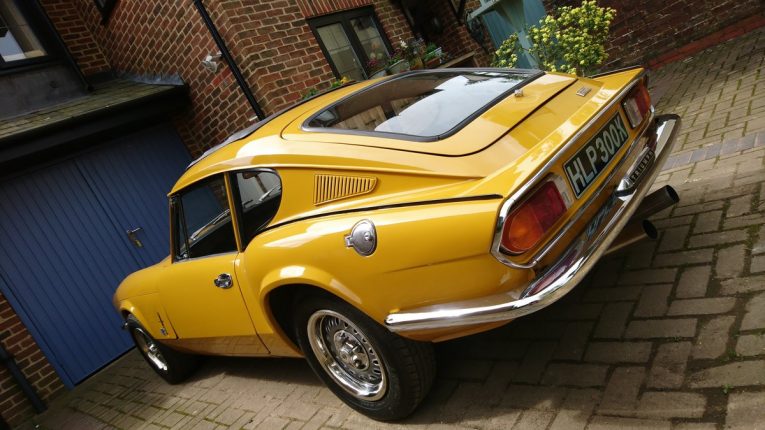 The Triumph GT6 was a great car, but by the end of its life it simply couldn't compete with the MGB, which was a shame, because as the MkIII GT6 here shows, it was a car that had evolved wonderfully. The MkIII was sleeker, it was more aerodynamic and as such, it was faster than the GT6 models before it, despite largely being the same mechanically. If you had the space to legally do so, the GT6 would top out at 112mph. Impressive for the time.
Despite the GT6 reaching the top of its design and performance potential, it wasn't enough. Then there was the fact Triumph opted to not make a roadster version, which is mad when you consider it had the Spitfire. But who are we to argue with the management of '70s automotive Britain? All we can do now is find the surviving cars and cherish them, which is where this week's classified of choice comes in. Namely a 1971 GT6.
Finished in Saffron Yellow with black upholstery, sitting on silver steel wheels with beauty rings, it is so '70s it hurts, and we love it. We also love the full Webasto roof, which is perfect for letting in the summer sun. As GT6 Triumphs go, this is about as perfect as they get. The big straight-six, a four-speed manual with overdrive and a long, sculpted bonnet to look out over – this is proper driving.
The seller admits that after seeing one at the impossible to spell Beaulieu Classic Car Weekend, he had to have one. But being someone not too comfortable on the spanners, it had to be a minter. And that is certainly what he found. These old Triumphs are prone to rot and rust, but there is none of that to be seen here. In fact, it looks almost showroom clean. The car is perhaps better than original, thanks to additions such as electronic ignition and a conversion to a more modern spin-on oil filter arrangement.
The GT6 comes with a raft of paperwork, all from Triumph specialists. It's had a recent service, a new brake master cylinder and the speedometer has recently been recalibrated. All this work came in at just shy of £2,000. Proof that this old GT6 is in caring hands. It wants for nothing.
If you're in the market for a late-model Triumph GT6, we can't imagine finding one much better than this. It has clearly been cared for, but it's also a car that's been used for events and for driving, meaning it's not overly fragile or precious. It's the best of both worlds – a car to wow onlookers at shows, but that will also drive to and from said show.