1981 Mini Clubman Estate – Project Profile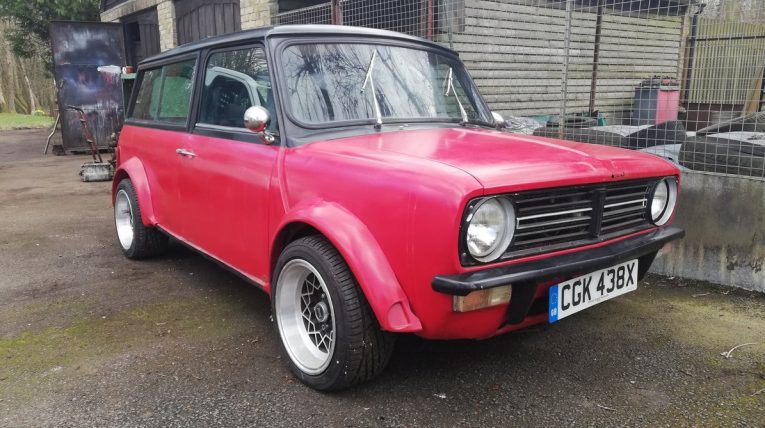 You hear the word 'estate' and other than thinking of places owned by the National Trust, you also think of big cars, right? An estate car is a bigger version of a traditional vehicle, in which you can fit many children, dogs, boxes and anything else you may need to move en masse. But does an estate have to be big? No, of course not. An estate is a way to maximise the available space. It's not a design that turns a Ford Mondeo into an aircraft carrier. It's merely a way of making a usable space even more… usable. Ergo, estates can be small. The Fiat 500 could be ordered as an estate, the Ford Anglia could and even the Triumph Herald got in on the action.
If, however, you really want to maximise a small amount of space in the best way possible, what you need is a Mini estate. Yes, Mini was of course keen to get in on the action, and it made sense, really. The car version of the Mini was, let us not forget, a saloon. The boot was miniscule (no pun intended) and it made the car quite impractical. It could carry a little bit of shopping, but that was about it. By building an estate version, bosses at Austin made the Mini as versatile as one of those knives from Switzerland. Big, rear barn doors meant you could use your Mini for high days, holidays and for buying more than three eggs and a loaf of bread from the shop. It was a revelation. Yet despite this, it was never really as popular as the saloon, and as such, they are a rare sight today. As such, when one comes up, you should pounce on it. Which is lucky, as that's what we have here.
What is it?
What we have here is a 1981 Mini Clubman estate. Resplendent in some sort of shade of bright pink with a black upper half, it sits on wide Alleycat style alloy wheels with suitably wide arches to match. It's quite an eyeful, that's for sure. But then, despite its size, the Mini has always been a bit of a 'statement' car, so why not embrace it with some big wheels and bright colours?
The advert isn't exactly forthcoming with information. However, we've done some checks on Cazana and had a little look into its history to save you some time. We can tell you it's fitted with a 1,098cc A Series engine, as you would expect. This is mated to the traditional four-speed manual transmission. The advert states the car has been sat in a garage for a number of years – from what we can see, the last time it had an MOT was 2014, which it passed with an advisory for a coolant leak. There are some past advisories, but we'll get to those in a bit. For now, what you need to know is that it's a funky, modified Mini that looks like it could be a good basis for a project.
Why is it a project?
As we touched on above, the car has been in (seemingly) dry storage since 2015 when the last MOT expired. The MOT history is okay, with nothing too horrendous to be concerned by. There have been some failures for rust, but they seem to have been addressed. They also seem (there were only two) to relate to the body, not the subframes. Which is better. Plus, this is an old Mini, so such things are to be almost expected. The brakes, in particular the handbrake, seem to have been a constant bugbear for the advisory list, but you're going to change all the brakes anyway, so it's fine.
There is some rust in some of the panels like the bonnet, and the interior is looking a bit tired. The engine is going to need a good service, and the electrics will almost certainly need looking at (the Mini wasn't great on that front when it was new). But on the whole, there is nothing here that scares us away. It could be a bit of fun. Everything you need is off the shelf, and if you do the work yourself, you could go full Mike Brewer and even turn a profit. Old-art-yer-aaand, etc.
Five things to look for:
1) Panels
The little Mini looks reasonably solid in the pictures, with the exception of some rust on the bonnet. However, it's clearly (!) had paint, so check for rust trying to burst through. Especially in the rear doors.
2) Subframes
As we mentioned, the only advisories for serious rust related to the body. However, as we all know, the Mini subframe can be a hotbed for corrosion, so give them a thorough inspection.
3) Engine
Coolant leak during the last MOT? That's not good. Is it now bone dry and full of corrosion? If so, it could be a new engine job. Not hard to find or do, but better to know going in.
4) Floor Pans
This is where the rust advisories were, so have a good look for the quality of past repairs, and also look for any rust getting in around the sills (both inner and outer) the footwells and also the rear floors.
5) Seams
If you're looking at an old Mini, you need to look at the external seams. They can rot out in a big way, and take all the rigidity of the body with them as they do. Check them twice. With a magnet.
What should you do with it?
It's going to be a costly exercise to try and take this modified car back to standard, so why not embrace the modified vibe? Keep the wheels, sort the body out, fit a nice interior with some modern touches like Bluetooth, a good stereo and so on. Fit some better, more comfortable seats and make it your own in the process. As for the rest of it, rust proof it, restore it where it's needed and then when you get to the engine, yank it out. A 1,275cc unit would give it a bit more bark, and you could make it into a proper little B-road warrior in the process. Just imagine.