1992 BMW E34 M5 Touring – Classified of the Week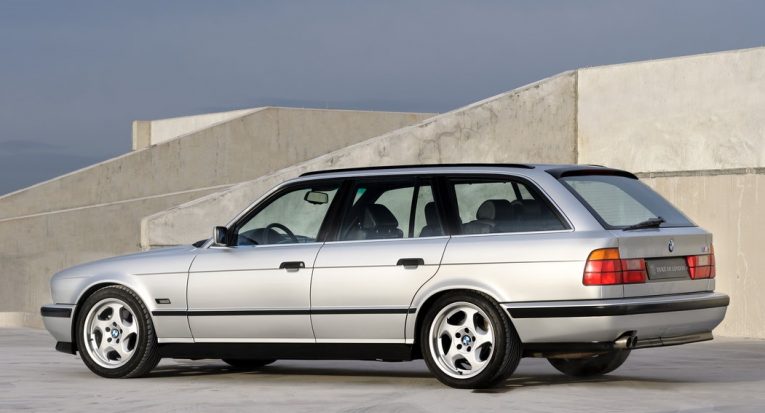 When tasked with thinking of a fast saloon car, it's only natural for the mind's eye to start scribbling down the handsome image of a BMW E34 M5. Yeah, sure, there are other fast saloons, but the M5 is the fast saloon, right? Space for five, more grunt than is entirely healthy, rear wheel-drive and by today's standards, a terrifying lack of driver aids. Yep, it is perfection. Or… is it? As much as we love a saloon here at Car & Classic (and we have a fair few) there is little to deny that as a shape, it's fairly impractical. If only there was, say, an M5 Touring version. A BMW powerhouse with the allowance for plenty of junk in the trunk. Sadly for us, there was no such thing. The Germans, however, treated themselves, and did indeed build 891 M5 Touring models. And that, on UK soil, is what we have here.
The M5 was not like every other BMW E34. A body was made, and then painted, but that's all an M5 shares with its smaller-engined peers. Instead, the M5 was plucked from the line and taken to BMW M GmbH in Garching, where it was then assembled, by hand, into the bahnstormer specification we now all lust after. In fact, it was the last production car BMW would build by hand. It took engineers two weeks, and in the process, they created legends. A car with perfect balance, over 300bhp and a chassis to die for, it was a huge success. Some 12,500 were built in saloon guise.
This 1992 car, however, is not like any of those 12,500. This is one of the 891 officially built by BMW to M5 Touring specification. This of course means it's left hand-drive, but with a light and airy cabin with more glass than Crystal Palace, it's not an issue. Being a 1992 model, it's fitted with the 3.8 litre S38 straight-six engine, which brought more power than the early E34 M5s. 335bhp to be precise, meaning it can tickle sixty in 5.9 seconds if you're good enough on the five-speed manual transmission. Never has lugging loads been so… speedy.
if you're not already scrambling for the phone in order to buy this stunner, let us offer you more tantalising details. Like the fact this this M5 Touring was ordered to Individual specification. Pretty much every option was ticked when this car was ordered, and as such it boasts climate control, double sunroof, black headlining, black leather trim, rear door blinds, heated electric memory seats, cruise control and also the Nurburgring suspension package. Finished in silver, the body has had some love over the years. The bumpers have been repainted and any imperfections have been repaired. The 'throwing star' two-piece alloy wheels have been refurbished too.
Finally, the mechanics. The engine and transmission have been overhauled, with new rings, bearings and chains. There's a new clutch, clutch hydraulics, overhauled brakes, the air-conditioning has been overhauled, the gearbox seals, the water pump, the cylinder head…  the list is exhaustive. Basically, while it may have 185,000km on the clock, the reality is this car is in far better health than you would anticipate. It has been cherished by its last owner of seventeen years, and as such, it now presents as one of the finest examples of an incredibly rare version of one of the motoring world's most sought after cars. For a mere £32,950, that's something of a bargain. Bought it yet?