1994 Dodge Viper – Auction Car of the Week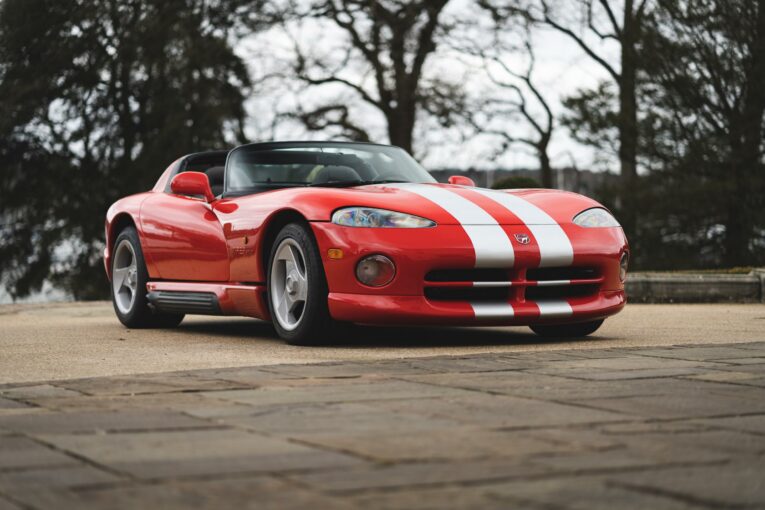 The Dodge Viper is a direct link back to the early burly brutes of American muscle. Our friends across the pond were really on to something back in the sixties when every US auto maker and its dog was cramming ever increasing capacity V8s under the "hoods" of its production cars and subsequently kicking off the muscle car craze. It was a heady era of brake horsepower figures and quarter mile times but then there was a pesky oil crisis that well and truly put the kibosh on such frivolities. With push back from the government as well as consumers who wanted smaller, more economical cars the American auto industry was forced to respond by doing away with these gas guzzling, fire breathing monsters only to replace them with, let's be honest, way more boring alternatives. Chevrolet Chevette anyone?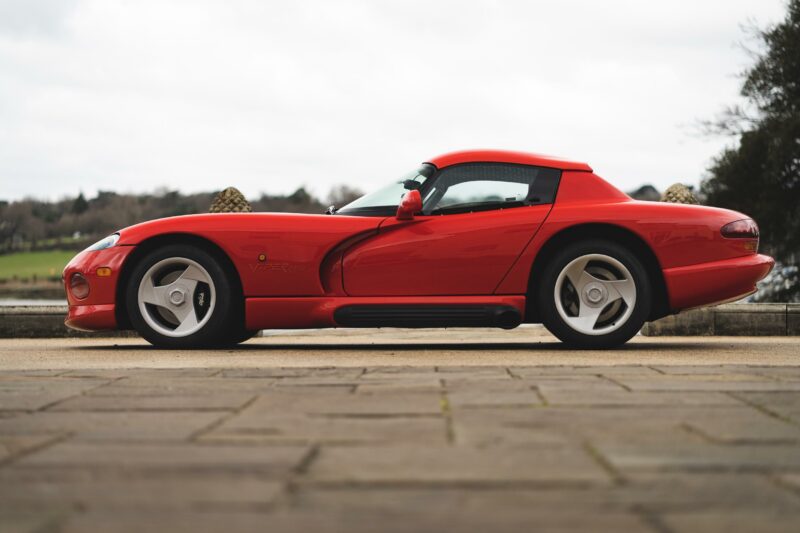 Thankfully nowadays the muscle car is back and enjoying a renaissance that began in the mid 2000s with the likes of Dodge releasing new and updated versions of its classic Charger and Challenger models for the modern age but there was a distinct gap in the muscle car timeline from the mid '70s where performance seemed to be a dirty word as far as production cars were concerned. Speaking of Dodge, here was a company that tried it's damnedest to recapture some of the zeitgeist from that most prolific of tyre-shredding times with the release of the Viper back in the early '90s.
Yes there were other attempts along the way with companies like Buick and the GNX but these were short-lived, low-production blips in the industry that disappeared as soon as they had arrived. The Viper had traction, well in terms of sales and longevity it did anyway, and enjoyed a decent production run spanning 26 years and five model generations. We've spoken before of the Americans and their propensity for wonderfully majestic naming conventions and the Dodge Viper is no exception. Fast and deadly it's a fitting moniker for a car with an 8.0-litre V10 producing a frankly ludicrous 400 horsepower driving the rear wheels and no real driver aids to speak of. Hold on to your wage packets folks.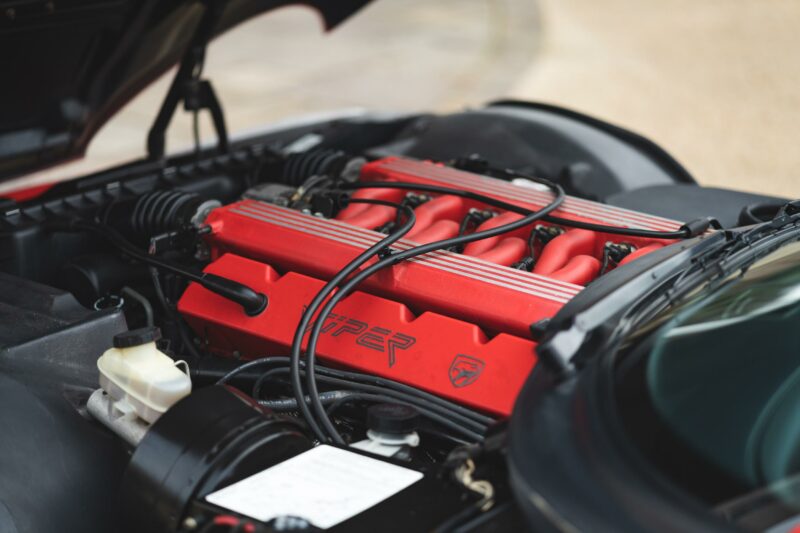 Behold, then, this 1994 Dodge Viper RT/10. A first generation (SR I) model with a mere 22,415km on the clock. That's just 14,000 miles, with every single one of them backed up by the car's MOT history. Not only that but this car is not an import having been delivered new to Chrysler UK, although it does still retain its factory left-hand drive setup. But that matters not when you're blasting around with 400bhp and 465lb ft of torque at the beck and call of your right foot, all through a six-speed manual BorgWarner T56 manual gearbox. Heaven. It's no fatty either thanks to its tubular steel frame design and fibreglass body, which means it'll hit 60 from parked in about four-and-a-half seconds. That's just enough time to realise there's no help from any ABS or traction control. You're on your own with this one which makes the experience all the more visceral. Airbags? Where we're going we don't need airbags…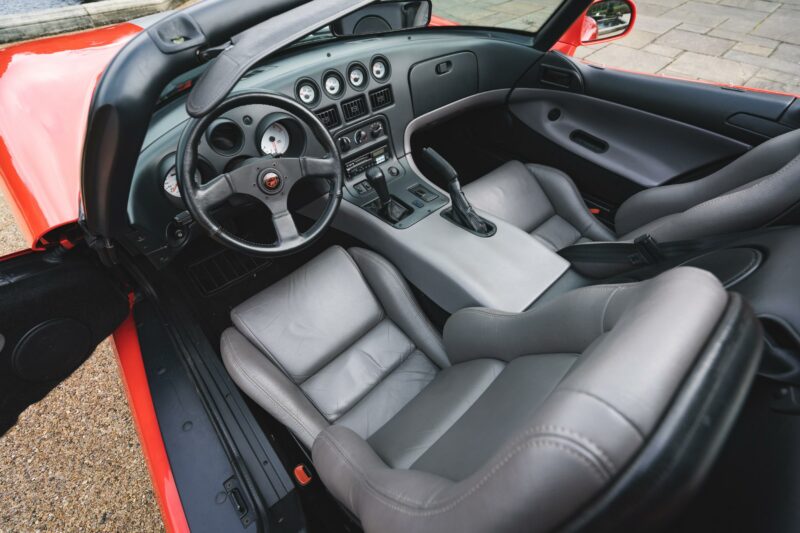 The car is in fantastic condition throughout having been well serviced and maintained and living a life of garaged comfort. The interior, though sparse and utilitarian, is practically unworn. Here is a cabin built with one thing in mind – the drive. If you want gadgets then you're looking at the wrong car. If you want exhilaration, speed and a wonderfully raucous, side-piped, ten-cylinder soundtrack then stay tuned.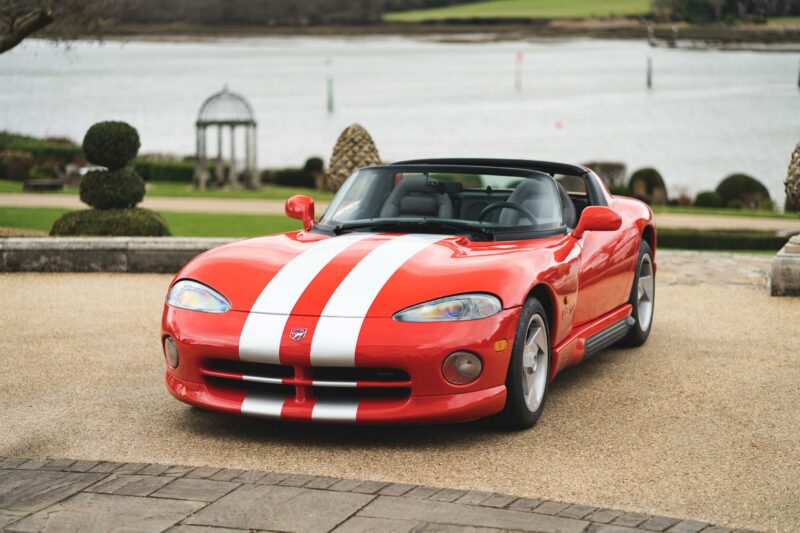 The Viper's iconic silhouette, swathed in that deep red paint with twin white stripes, is enough to make anyone sit up and take notice, whether it's roaring past (roof on or off) or standing still in the supermarket car park and the bodywork is in excellent fettle wherever your eyes should fall. We had a discussion here at Car & Classic recently about cars that can successfully pull off three-spoke wheels and aside from a handful, including the Saab 900 and 9000, it wasn't a particularly long list but the Viper manages it with aplomb. This will perennially be a petrolhead poster car.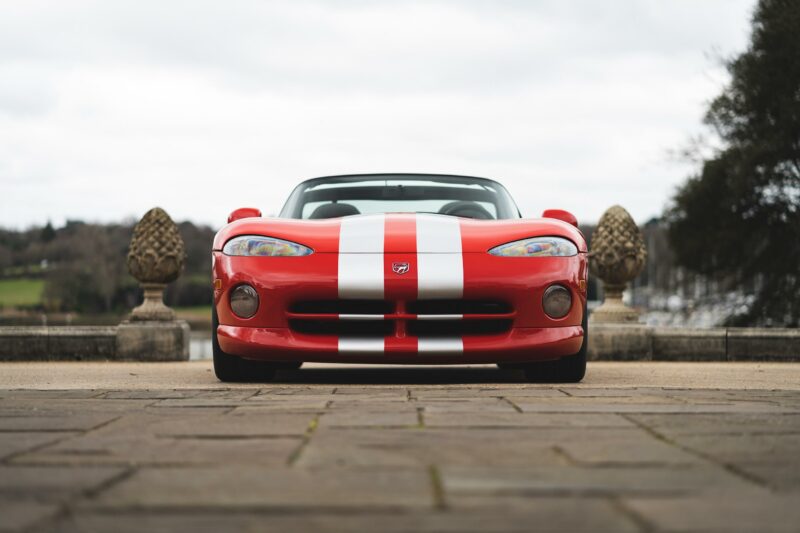 Mechanically speaking the car wants for nothing and having been fully serviced just 600 miles ago this Viper is ready to rock and roll. It idles smoothly, drives perfectly and just as importantly stops as it should. This is a rocket ship not for the feint of heart but boy if excitement is what you're after then this Dodge Viper RT/10 turns the dial all the way up to 11.