1997 Suzuki RF600R – Finishing Touches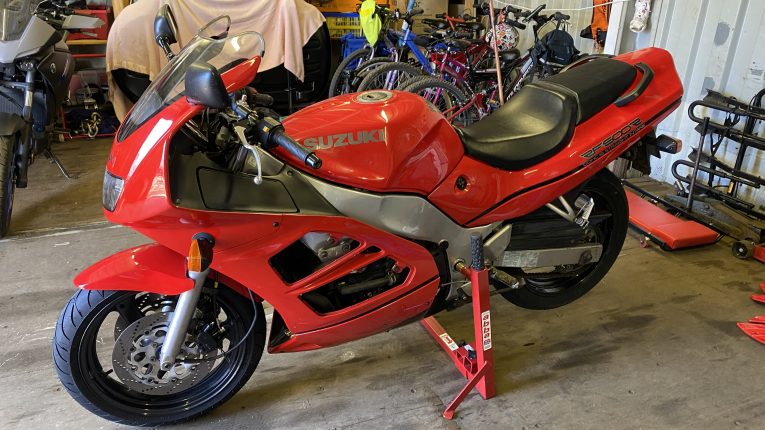 In the last instalment of the rebuild and recommissioning of our 1997 Suzuki RF600R, pretty much all the mechanical work was finished; carburettors are rebuilt (again), the brakes seem to be working well and the forks now offer some form of damping. All that's left is the finishing touches…
One of the main ones was to get some decent rubber on it. I had no idea how old the tyres were until I had a look at the date stamp on them (every tyre carries a date code to show when it was manufactured). This is a four-digit code in the sidewall, the first pair indicating the week number and the second pair, the year. Imagine my comedy double-take when I spotted 2402 and 0804 – the middle of 2002 and early 2004. That – and the shiny, wood-like outer surface – meant they definitely had to be replaced.
Cue a set of Dunlop Roadsmart III sports-touring rubber. These use multiple compounds, so the centre is harder to offer wear resistance when travelling in a straight line while the outer shoulders are in a softer compound to provide grip and feel when cornering. The groove design clears water effectively in a straight line as well as moderate and high lean angles and the stiff carcass means they respond well to inputs.
They also felt tactile and as if they would offer immediate grip, though Sean Taylor of Double O Motorcycles, the local specialist who fitted the tyres, was very clear that they need at least 100 miles of careful running in. That was after a sharp intake of breath when he saw the aged Pirelli Dragons on the rims I gave him…
With the wheels back on the bike and the mechanical work finished, it was time to start putting the bodywork back on. Before I did this, I gave it a really good clean – it was filthy underneath with years of road grime and a little oil being deposited on the bits you can't see. After a good clean outside, I went over the whole lot with Megiar's polish to bring the paint up as well as it could be, then finished it off with a coat of Muc-Off Speed Polish – lazy but very effective.
The bike had clearly been on its side at some point – there were cracks in one side of the fairing as well as paint chips on the grilles, but I decided that a few battle scars were not a massive issue and simply put it back together. And once it was all on, with the paint shining, the wheels cleaned and proper non-reflective tyres on it, it was beginning to really look the part.
While I was at it, I decided to update a few of the 20-something year-old systems. A couple of years ago, I'd tested uprated motorcycle bulbs for a magazine and had a pair of Osram X-Racer H7 dual dipped/main bulbs left over, so I fitted one to the RF. Not only do these project more light, it is also whiter so it cuts through gloom much better than the traditional yellow-tinged light from a normal filament bulb. I avoided LED bulbs since, in the same test, I'd tried one and it was simply dreadful – not enough projection of light and no discernable pattern either.
But speaking of LEDs, I also had a couple of P21-style LED bulbs left over from another project and I thought I'd try these in the twin brake lights of the RF. However, while they illuminate quicker, they are actually significantly less bright than the traditional variety, so I stuck with the originals – I'd prefer to be as visible as possible from all angles. I did swap the older 501 bulbs with LED versions, though, for the tail-light and the numberplate light, as these actually worked really well. I guess that's the difference between branded (the 501s were from Philips) and unbranded (the P21s were from ebay).
The idea behind the RF is to have some old-school fun and possibly, the occasional uber-novice, ultra-slow-group trackdays and part of the attraction is the analogue nature of the bike, with no ABS, traction control, rider modes or adjustable this and that. It's all down to the rider's ability to not get in trouble (how effective that is remains to be seen), though the 'attraction' of carburettors may wear off soon – it's been a while since I have ridden or driven anything that doesn't have fuel injection.
But one addition I did make was to ensure that I would never be caught out with no phone. I don't want a sat nav on the RF but it would be useful to know I can keep my phone safe and charged up. The bike has a handy cubbyhole under the left-hand grip that is big enough to house my phone, a slim wallet and a small bunch of keys, meaning I don't have to get all that in my pockets when scrunched up in a semi-sportsbike crouch.
I bought a 12V USB converter from Amazon and ran the wiring from the bike's battery up to the cubbyhole and installed the converter in there. This provides two 2.1A outputs, enough to charge a phone and perhaps an action camera if necessary or a sat nav if I discover I need one.
The bike is booked back into Double O for its MOT next week (as I write) and I'm hopeful it will get through. I've checked the basics and am trying to find out if emissions play a part – it smells very rich, even with the choke off so hopefully, like its rider, the old-school machine will get cut a little slack.
Let's see…