2003 Mk1 Ford Focus RS – Classified of the Week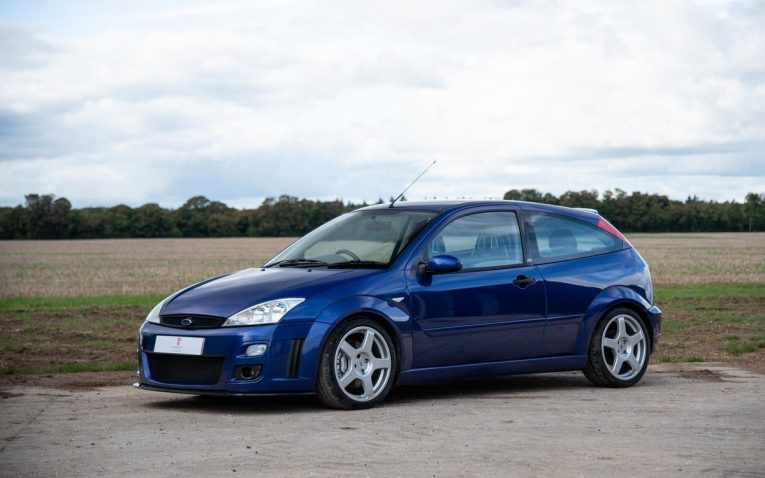 The Ford Focus RS has made a name for itself as being one of the hottest of all hot hatches out there. Turbocharged, powerful, handsome and with a chassis to die for, it is absolute perfection when it comes to making an otherwise simple car exceptional. Just as any good hot hatch should be.
Currently on a hiatus, the Focus RS saw three evolutions. However, the second and third, while great, were a bit too big and a bit too brash. The original, based on the revolutionary Mk1 Focus platform, is the one you want. It's small, it's agile and if you ask us, it's the best looking one. It's also the most exclusive. Built in limited numbers (4501) it was the car that brought the mighty RS name back, and it brought it back with some serious gusto.
Power came from a 2.0 turbocharged engine that delivered an impressive 212bhp. Unlike the Escort RS Cosworth before it, power was sent to the front wheels only. To make sure that power got to the tarmac with a bit of purpose, Ford used a clever Quaife automatic torque biasing differential. Ford also fitted Brembo brakes, 18-inch OZ Racing lightweight alloy wheels, deep chin spoiler, rear wing, Sparco bucket seats, Sachs dampers and even a big, green rally style start button. It was, make no mistake, a rally car for the road. And as is the case with all decent fast Fords, it was an icon from the off.
Now, prices are starting to climb. For a while, they dipped, which saw many Focus RS Mk1s going down the road of being modified. Nothing wrong with that, of course, but once you modify it's hard to go back to the original specification. And while more power is always appealing, we think the Mk1 Focus RS is a car best enjoyed as the designers saw fit.
That brings us neatly to the car we have for sale here, namely a 2003 (the Mk1 Focus RS was built from October 2002 through to November 2003) model that has had just two owners. The mileage is perhaps a bit on the high side for some, at 113k. However, this car has a full and detailed service history, which should serve to put your mind at ease. Plus, the mileage is moot, as you're only going to put on many more yourself. The Mk1 Focus RS is a car for driving, not just looking at and polishing.
That said, this one is resplendent in its original shade of Imperial Blue metallic, it has the factory blue and black Sparco trim, all in excellent order. It also still wears the original OZ Racing alloys. This Mk1 Focus RS is original, pure and how they should be. And it's just £13,950 which is something of a bargain for this fast appreciating model. Look at Cosworth Escorts and Sierras, both of which are now nudging fifty grand. If the MK1 Focus RS is set to go the same way, and there's nothing to say it won't, now is the time to buy.