2010 Ford Focus RS – Auction Car of the Week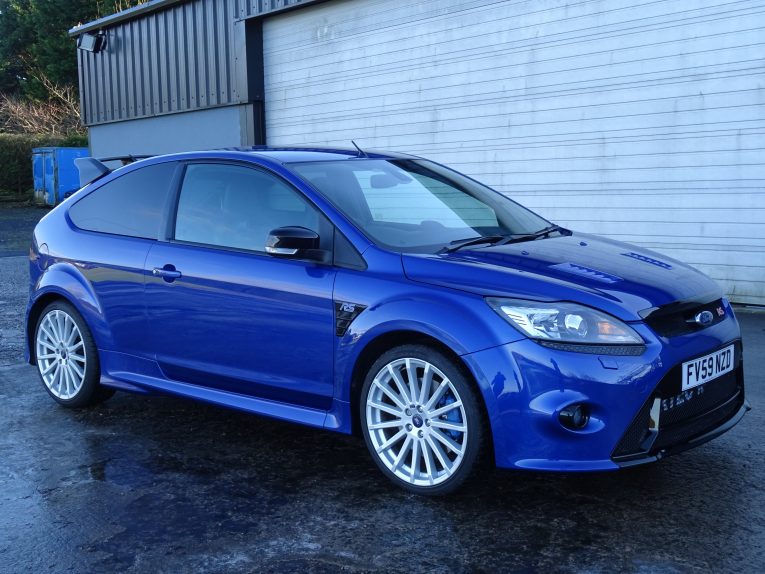 We'll get in front of this one by saying yes, we know it errs on the side of modern, what with it being a mere 11 years old. However, stick with us, as this stunning Mk2 Ford Focus RS is worth your attention. That said, any Focus RS is worth your attention, really. The Mk1 of 2003 was a return to RS greatness for Ford. It had over 200bhp, it had a Quaife differential, Sparco seats, a mean body it and it was an utter riot to drive. When Ford decided to build a new RS – no small task – it delivered with the car you see here. Launched in 2009, the Mk2 was bigger, but it was also a lot faster. 300bhp on tap, 324lb ft, a six-speed manual transmission, killer aggressive looks, Recaro seats, 19-inch wheels and the option to have it in a shade of green so bright it made Kermit look monochrome. The Mk2 Focus RS was and still is a monster, and that's part of the reason this one has made it as our auction car of choice this week.
There are other reasons, of course. You might be thinking that 300bhp is a lot of power to shunt through the front wheels. And in a modified Vauxhall Nova, that would be true. In the Mk2 Focus RS however, it was power you could use. Ford's engineers teamed up with Quaife, and developed the Revo Knuckle suspension setup along with a slick limited-slip differential. As such, the Focus RS was a 'point and squirt' powerhouse that went the direction in which you pointed it, not a ditch. Paired up with the stiffer, more taut chassis, it made the Focus RS a class leader. A glowing example of what some clever engineering could do with a front wheel-drive chassis. The driver appeal alone is reason enough for it to be here.
But wait, there's more. Any Ford with an RS badge on it is going to be a classic. These are halo models, the ones to have and the ones to aspire to. Think about all the cars to wear an RS badge. The RS1600, the RS Cosworth, the RS200, RS2000 and more. All cars that send people from Dagenham into a giddy fizz when they see one. The more modern RS cars are classics by virtue of the bloodline into which they fit. This Mk 2 Focus RS is no exception. It's a formidable car, and one that will always have an active, wanting market underneath it.
This one, however, is better than the rest. Why? Because it has covered a mere 924 miles over the course of its life. Less than a thousand miles. This is as close as you are ever going to get to owning a brand new Mk2 Focus RS. There is no other like this on the open market. It may sound like a sales cliché, but trust us when we say if you miss this, there will not be another one like it any time soon. This is it, this is the one, this is perhaps the best. It's had some tweaks, like a different intake and a different intercooler, but it's bolt-on stuff, and the original factory parts are with the car. So too are all the books and the service history. It will come freshly serviced, and will also have 12 months MOT on it.
You could buy this, put the standard bits back on it, then hide it away as an investment. You could buy it and put it to use, safe in the knowledge that unlike others with more miles on the clock, this one hasn't lived a life of being bounced off the limiter and driven hard. You could use it as a show car, concours perhaps, which it would almost certainly win regularly with a bit of work and some detailing. The choice is very much yours. What we can tell you is that no matter what you decide to do with it, you will be utterly besotted with this Mk2 Focus RS. It's an astonishing car, even by today's standards, and it's one that will never fail to put a smile on your face. For the joy alone, this car is worth bidding on.