Alive and kicking at the 2023 Classic Motor Show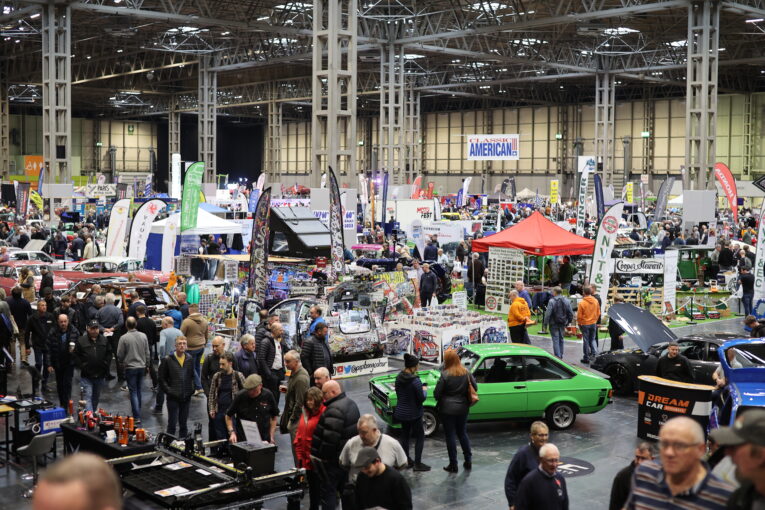 This years Lancaster Insurance Classic Motor Show has been eagerly anticipated as the showcase event of the UK's vibrant classic motor vehicle scene. With an excess of 3,000 vehicles and over 300 clubs in attendance, it was clear that by the buoyant number of advanced ticket sales and the number of attendees recorded 71,290 enthusiasts, showing an upward improvement after a couple of tough years.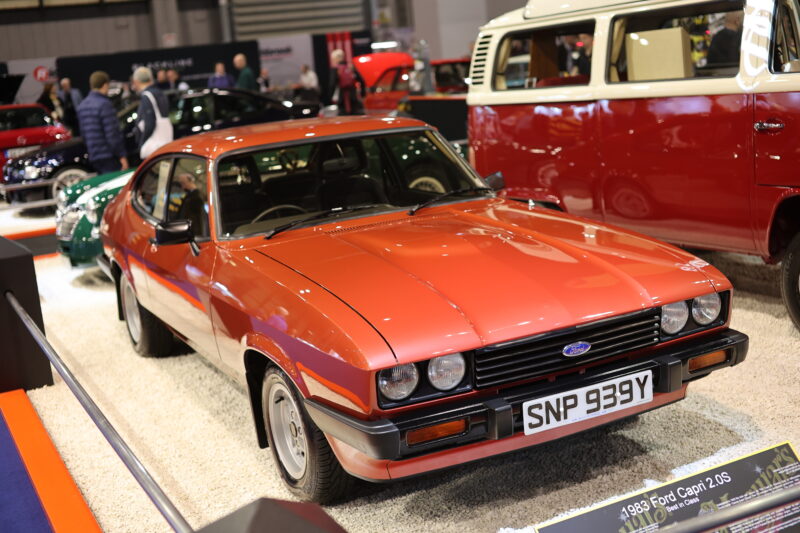 The Classic Motor Show, held at the National Exhibition Centre near Birmingham, has consistently evolved over the years and this plays a role in its continuing success.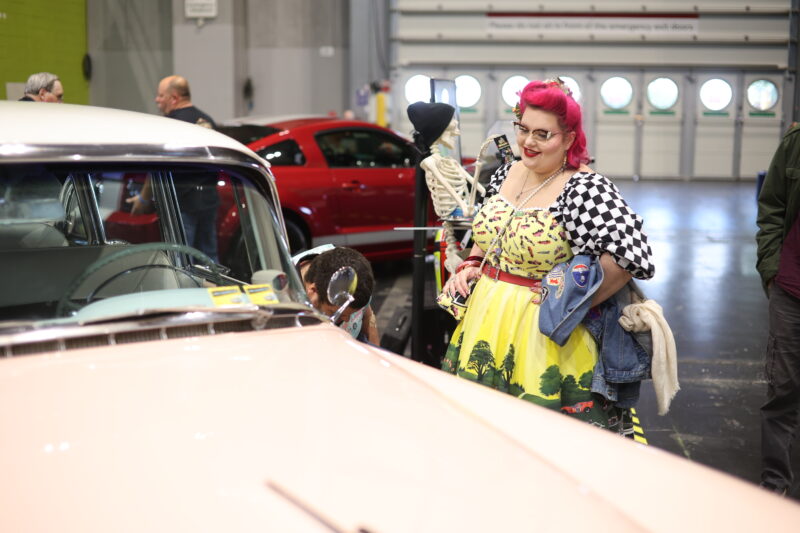 Before we get into the juicy stuff, where reminiscing and nostalgia grapple with our emotions, we'll first look into what has been happening in the background. This focuses on the efforts and delegation that ensure that the Classic Car industry continues to play an important part in the UK's motoring heritage. The Federation of British Historic Vehicle Clubs exists to uphold the freedom to use historic vehicles on the road. The FBHVC not only represents the interests of owners and clubs but is a vital connection to legislators in Government office.
Chairman David Whale held an informative seminar at the very start of the three-day event in which he set a positive sheen on the current state of the Classic Car industry thanks to the dedication and vision of the FBHVC. This entails making certain that the exemption for historic vehicles granted by ULEZ legislation is still in place, as is the rolling 40-year exemption charge for unmodified classic vehicles. The UK is one of only a few European countries to offer such an incentive, which means that the estimated 1,538,927 historic vehicle market can drive on the UK's roads with free road tax and MOT exemption.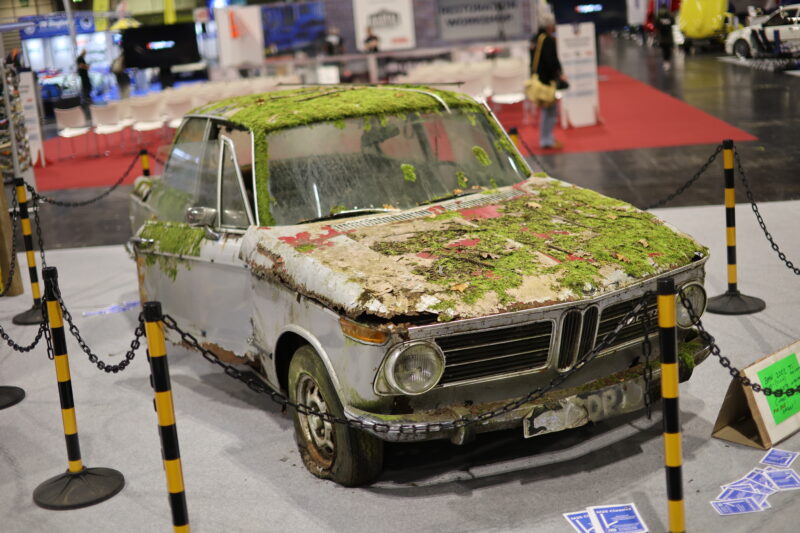 With this appearing to be secure for the future, the FBHVC also announced several notable incentives which provide a positive environmental awareness. Their latest data suggested that the average distance covered by a historic car is around 1200 miles a year, which accounts for just 0.2% of all miles travelled in the UK. On top of the lack of a need to scrap and recycle cars, the use and enjoyment of owning a classic car has to be considered a sound environmental prospect.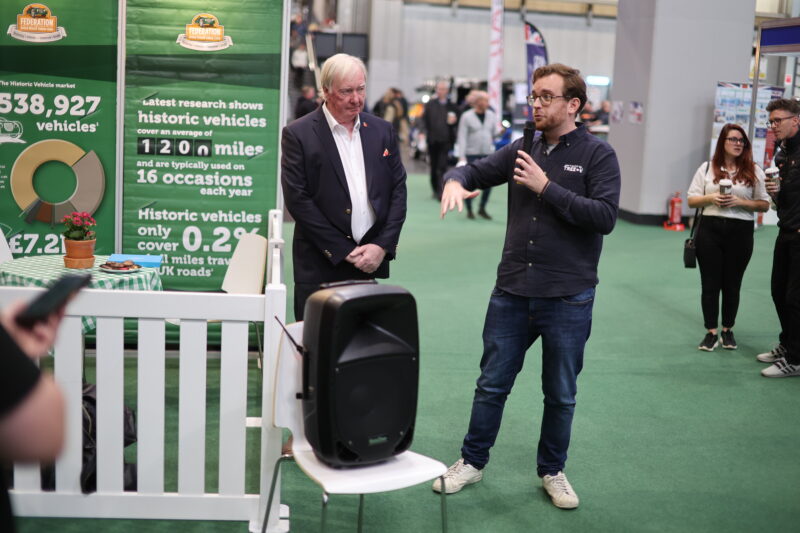 To further the FBHVC's environmental credentials, Tree-V is an automotive-focused carbon-balancing company with an innovative membership scheme that allows drivers and companies to balance the exact miles they drive. A quick explanation thanks to Tom Worthington offered a rundown of Carbon capture. As a tree grows, it absorbs Carbon Dioxide which is stored in the sap and stored in the trunk. By drawing in the Carbon it releases Oxygen via photosynthesis. Planting new trees not only filters out the Carbon but is instrumental in creating new habitats.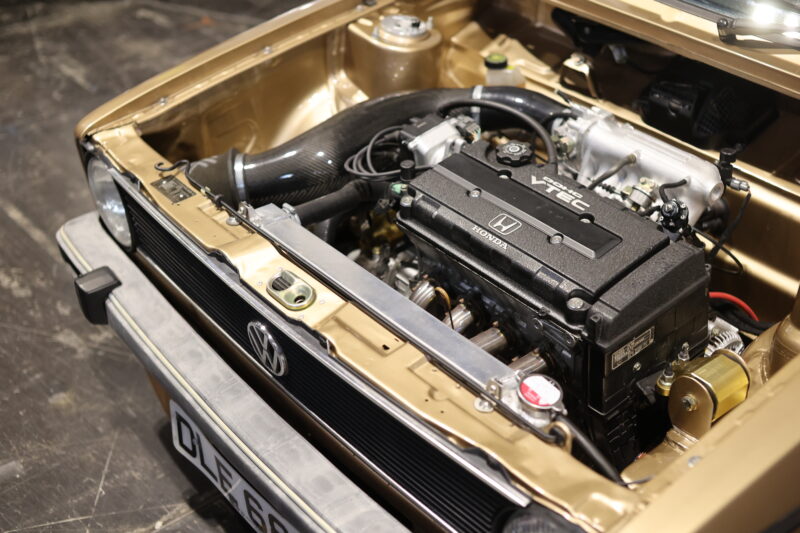 Andy Wait from MOTOL discussed the innovation and effort into making their environmentally friendlier lubricants and fuels for our cars. For example, cleaning products which often contain VOCs (Volatile Organic Compounds) are being replaced with cleaner alternatives, but more significantly is the ongoing development of recycling engine oil products. By extracting the impurities to create a base stock oil and then regenerating with additives, their NGEN range of oils offers no compromise to engine performance.
As well as these important developments, the FBHVC play a vital part in supporting the UK's visitor attractions. With each passing year, new incentives and transport museums are being built or upgraded. One example is the Wythall Transport Museum near Junction 3 on the M42. Dennis Chick explained how their museum displays over 100 years of the history of omnibus transport in the West Midlands. Housing 90 buses, the museum also carbon captures their entire fleet of running buses but also captures the vital memories that Bus transport played in our lives. With a connection to community harmony and social history, Wythall acts as the perfect day out for families and enthusiasts alike.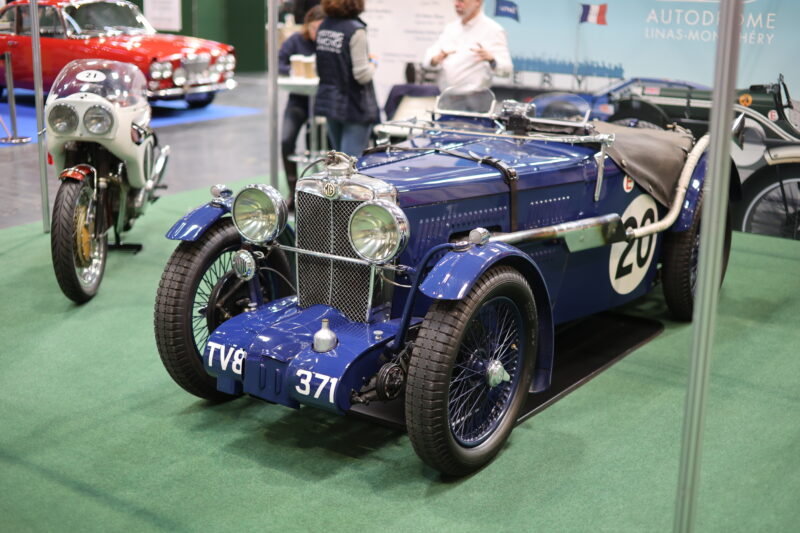 Motor sporting heritage also runs deep within the FBHVC, but it's not limited to British endeavours. Celebrating 100 years of the high-banked circuit of the Autodrome UTAC Linas-Montlhéry about 20 miles south of Paris, Clarisse Charot was welcomed to share the exciting program of events for 2024. She also spoke of the efforts of UTAC in supporting France's notable tradition of historic vehicles.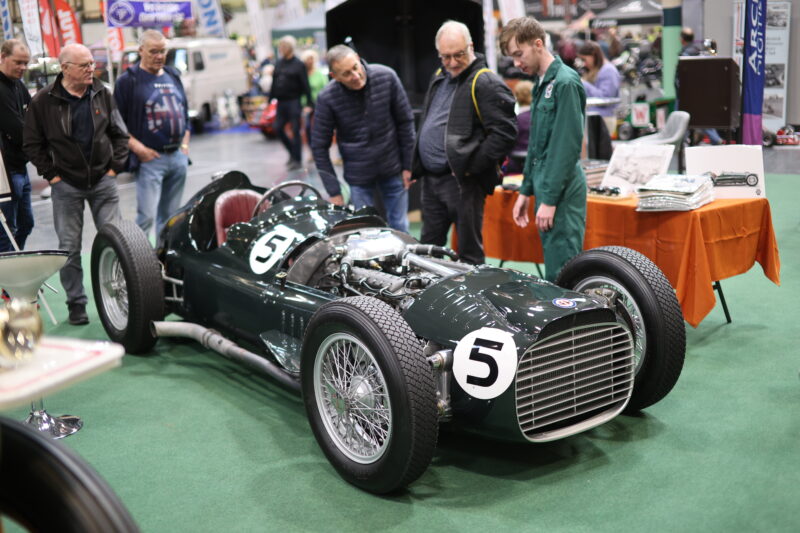 We'll round off this insight into the reach and success of the FBHVC, with the BRM V16 which was also part of the Federation village stand. One of just three supercharged BRM race vehicles still in existence, the 1947 V16 is recognised as the first British Formula One racing car. It competed in races long into the 1950s. Having previously appeared at the Classic Motor Show two years ago, it has since been raced at both Silverstone and Goodwood. It was also an opportunity to be reminded of how pivotal BRM were to introducing world-class engineers and drivers to motorsports.
The Meet the Experts stage showcase included some famous faces such as Wheeler Dealers Mike Brewer, 'Auto Alex' Kersten, Classic Obsession's Gary Mavers, and 12 times World Trial Bike Champion Dougie Lampkin. as well as Katherine Kelly and Tony Pitts who will be staring in a forthcoming 'Classic' film. We bumped into Mike Brewer several times over the weekend, who encompasses the passion and joy that cars bring to us. He candidly explained that he doesn't know anything else other than cars, admitting that DIY or gardening doesn't connect in his mind, but hand him a spanner and a Mini Cooper and he's golden. Leaping from the stage to the showcase award prize giving, we swear that there may have been several Mike Brewers at the NEC, given his active involvement with never-ending enthusiasm.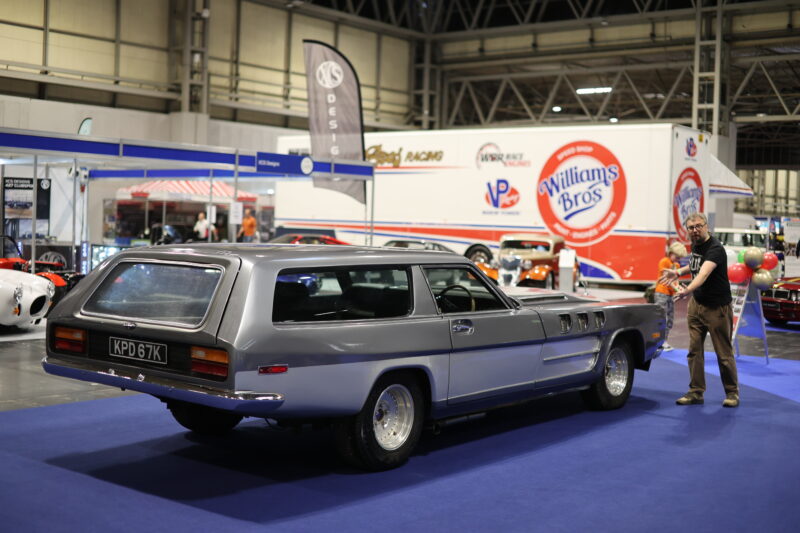 There were also plenty of new faces taking to the stage at the Classic Motor Show. Popular YouTubers such as Adam Canfield (AdamC3046), Ben Marshall (DadCars), Ian Seabrook (Hubnut) and Shahzad Sheikh (Brown Car Guy) all made their debut. We spotted Ian who was taking a breather from his busy stand as he lurked around this beast. Called The Beast, this well-known behemoth of a car belongs to Martin Overington. Its pedigree is mixed, to say the least, having first started as a rolling chassis. Under the original guidance of John Dodd, It metamorphosed into the body shape we see here, topped off with the Rolls Royce grill, which was subject to a court case. Powered by a 27-litre Merlin Aero engine, it was timed in 1973 to record a top speed of 173 mph. It has evolved over the years and can be seen in action via Jonny Smith's YouTube channel The Late Brake Show.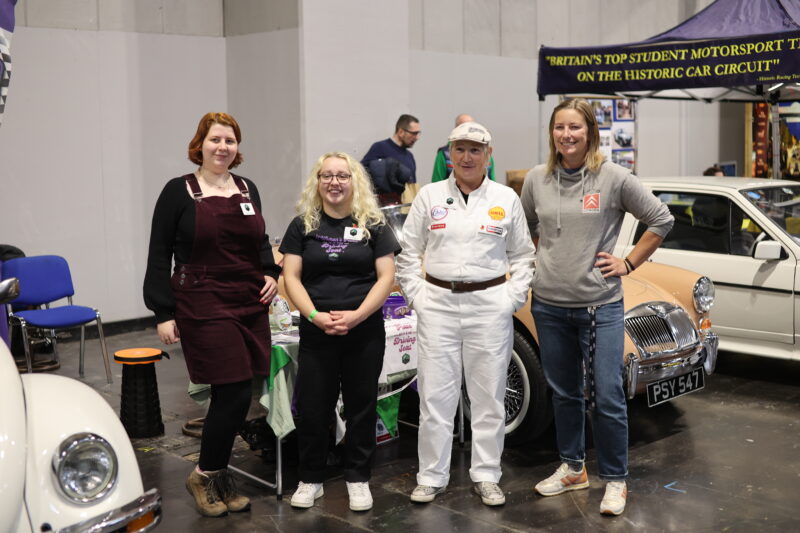 We were also delighted to bump into Katie Bushell too, fresh from winning the prestigious Radwood Car of the event back in September. She was proudly part of the recently formed Women Driver's Social Club, which was built on the back of the 2023 International Women's Day meet. Katie explained that the club offers a safe space for women who share a passion for classic cars, providing support and reassurance as well as the ability to talk passionately about cars. This was the group's first year at the NEC and the Classic Motor Show, and will hopefully encourage women to participate in a hobby that they can easily become involved with.
It was not just cars at the Classic Motor Show. We also looked at some of the vintage and classic bikes, but what really caught our attention was the large number of Japanese bikes, which, as you can see from the listed and auction area, have been rather popular in recent years. Honda, consistently ahead of the curve in their engineering ability added a turbocharger on their CX series, having established a loyal following in the late 70s and early 80s Motorcycle courier industry. When launched in 1981, it featured a complex fuel-injection system and an onboard computer. A downturn in the US economy meant less than 1800 were built, but a magnificent array of CX650's were on display to remind us of Honda's potential to try new ideas.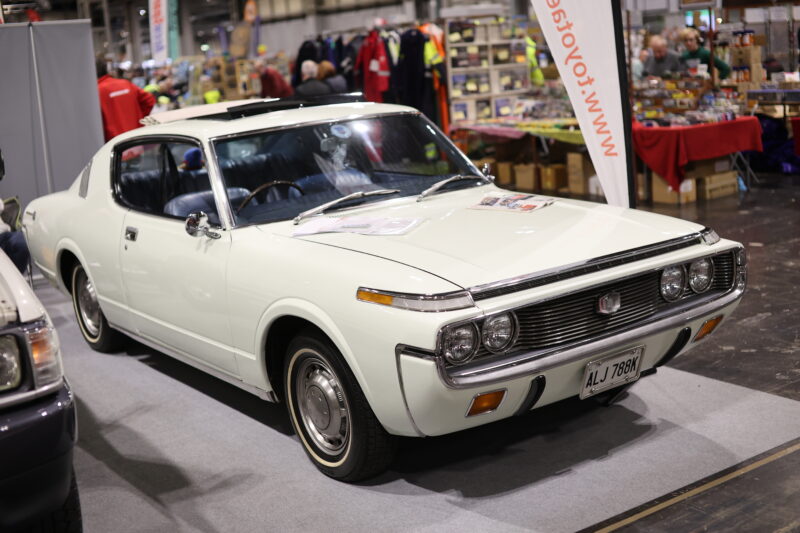 As well as bikes, there are plenty of Japanese cars to enjoy, with a healthy number of Toyota's spread over 4 separate clubs. On the Toyota Enthusiasts Club was Darren Neilson's superb 1972 S60 Crown Coupe. This was the second generation to be imported into the UK, characterised by the distinctive 'step-front' nose and wraparound indicators. Bigger Japanese cars were not common in Britain during the 1970s but their solid engineering and refinement helped pave the way for the likes of Lexus.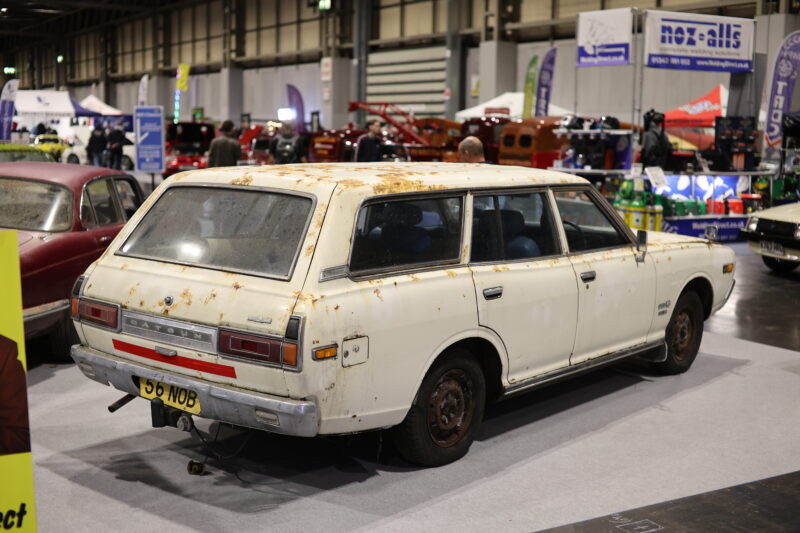 Another big Japanese car that caught our eye was this 1975 Datsun 260C with under 38,000 miles on the clock. The M25 Classic Cars and Spares are a group of classic car enthusiasts with a passion for saving and restoring classics, who always have something of interest. Likely to have been discovered in a forgotten garage, it is remarkably solid and It appears to have been retained by its previous owner since 1977. Again, UK buyers were not swayed by the impressive specification or smooth-riding six-cylinder engine and much of Datsun's phenomenal UK success of the 70s can be directly attributed to the smaller models.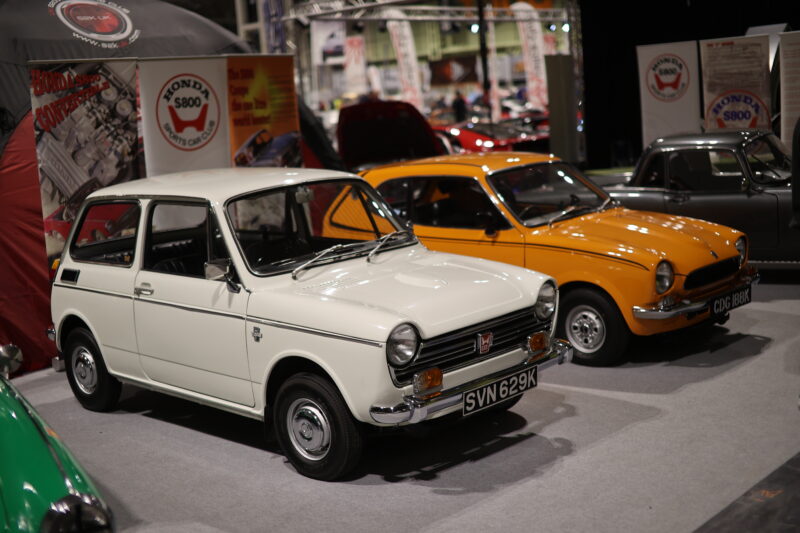 The guys at the Honda S800 Sports Car Club dropped in a Honda N600 Hondamatic and Z Coupe to complement two S800 models. The N600 belonged to a former manager of the North Yorkshire dealership where it was originally sold. The distinctive Z coupe was only imported for two years and was a fairly rare sight. Priced at £775, the same amount could bag you a two-year-old Mini Cooper S in 1973.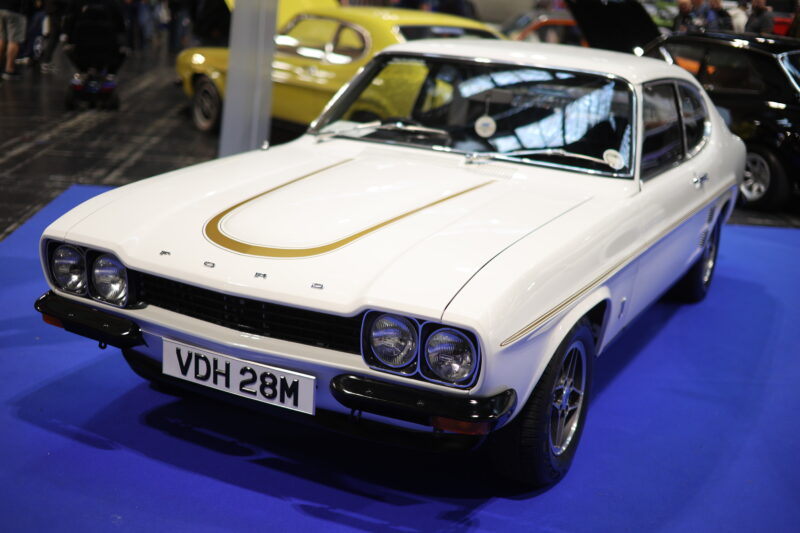 Hall 8 has long been established as a little enclave of Ford heaven, where a wide selection of models spanning 100 years of production were on display. With 43 Ford clubs represented in this hall alone, there was plenty to see and admire. One of the first cars spotted as we wandered around was Garath's Ford RS 3100 Capri, which was one of a corresponding number of RS Capri's issued to a local company. It had always been kept in good shape, but Garath decided to commit to a full cosmetic restoration. He was very keen to retain the original inconsistencies of the car which included the irregular bonnet decal design, mildly misaligned front bumper mounts and casting flaws on the alloys.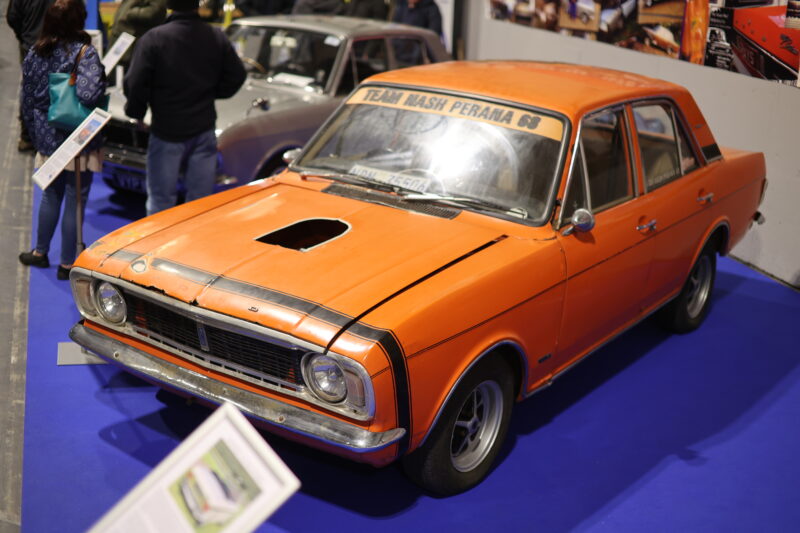 With such a high standard of cars to see in the Classic Motor Show hall, it wasn't easy picking cars for selection, although this South African Perana spec MK2 Cortina has to be worthy of a mention. Best known for installing more powerful engines into South African-built Fords during the early 70s, one of Perana's first conversions was in 1968 on the MK2 Cortina. Based on the Ford Cortina XL, it was powered by the 3-litre 'Essex' V6 engine. This particular car is one of the Gunston promotional cars, a company that sold Cigarettes and is believed to have had a competition history.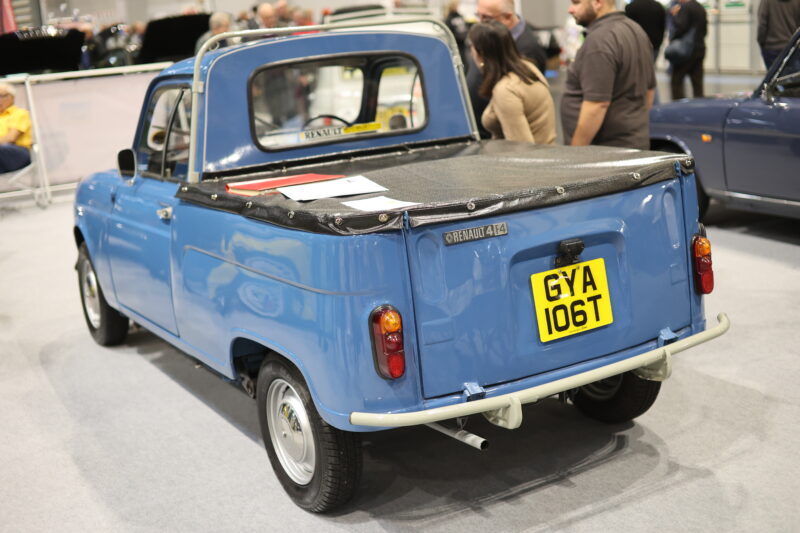 The Classic Motor Show allows clubs to display one-offs and rarities at the show, and the always well-represented French car clubs took the gauntlet and ran with some fascinating cars to highlight. Several Renault F4 spec vans were converted by MED into pick-ups for the UK market. Targeted towards private owners with gardening or farming needs, the rear deck retains the pleasing curvature of the original car with a drop-down tailgate. Only sold in small numbers from the mid-70s, it offered a new versatility to the already ultra-practical Renault 4.
It's always fun to nominate a personal favourite for the Classic Motor Show. This is where this Peugeot 504 Break Riviera comes in. This is based on a concept car which first saw the light of day at the 1971 Geneva Motor Show, it was built by Pininfarina but considering the coupe and cabriolet versions were already in full production, this elegant shooting break may have been a niche too far. Created by HC Classics using a Series One Cabriolet as its base, the original concept is believed to still exist, but for the time being this beautifully finished one-off will be more than adequate.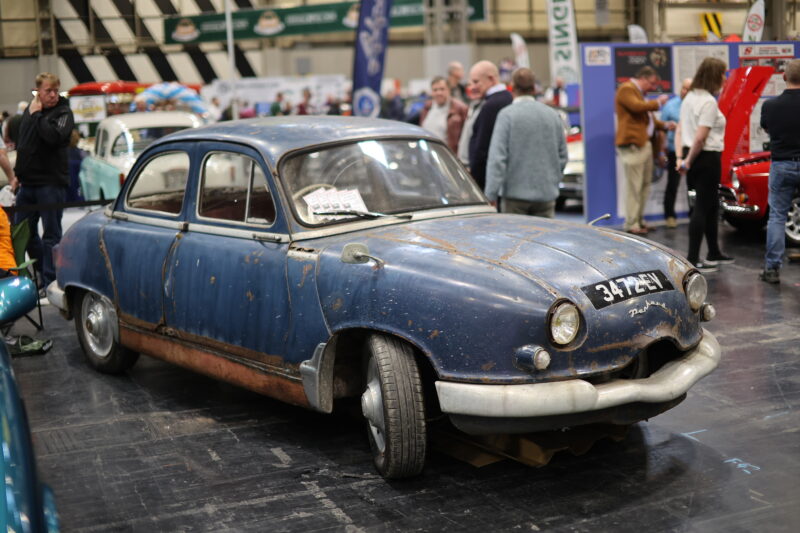 The Chester Cars and Coffee stand brought along this rare UK spec Pamhard PL17 which has spent the last 48 years in a barn. This is one of Panhard's best-selling cars, having seen production over 6 years from 1959. The brand was absorbed by Citroen in 1965 and sadly wound down production of the Panhard cars two years later. The plan is to ensure the car retains as much originality and to use as few donor parts as possible. Tall order? Perhaps. But give them a follow on YouTube via Tastyclassics and see how they get on.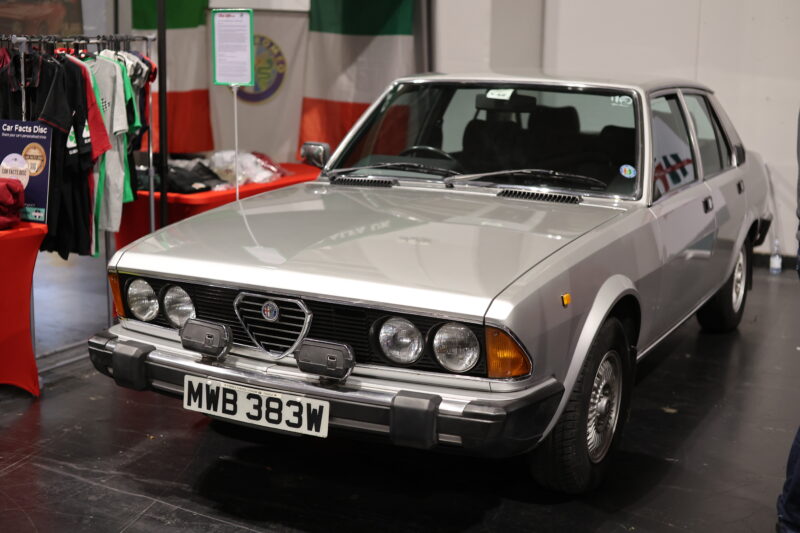 One of three big three-box Alfa saloons that was spotted at the Classic Motor Show. There were two Alfa Romeo 6's on the Club Alfa UK stand and the Alfa Romeo Owners Club also had its facelift replacement, the fuel-injected Alfa Romeo 90 on display. Both models didn't leave that much of an impression on UK buyers, despite the obvious mystique of that V6 engine and the six Dellortos. Comfortable and sure-footed, with a definable character it remains something of a forgotten gem.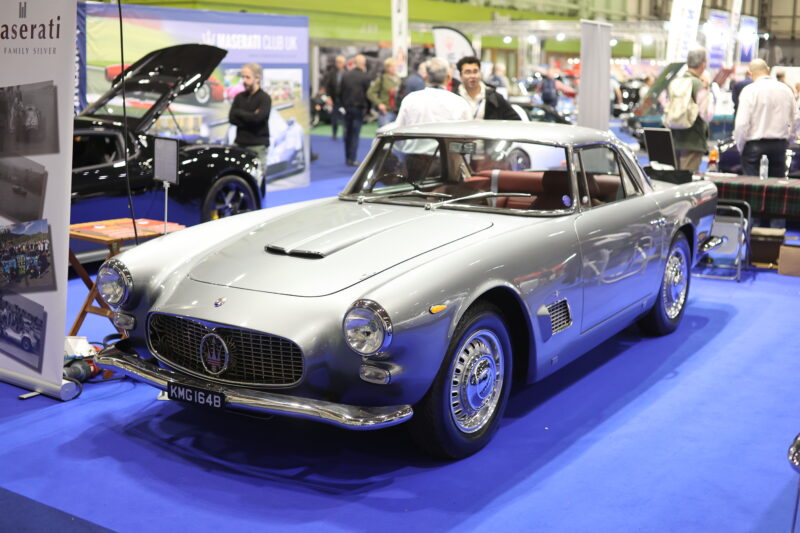 This is believed to be one of just 34 UK RHD models built, this 1964 Maserati 3500 GTI was the company's first volume 2+2 coupé to tackle the GT market. First seen in 1957, the 3.5-litre Tipo 101 engine is a modified unit sourced from the 350S race car. Designed by Carrozzeria Touring, these elegant cars offer a genuine alternative to the far more expensive Ferraris of the era. This is the car's first outing since its nine-year restoration and is believed to be the second from the last 3500 GTI built.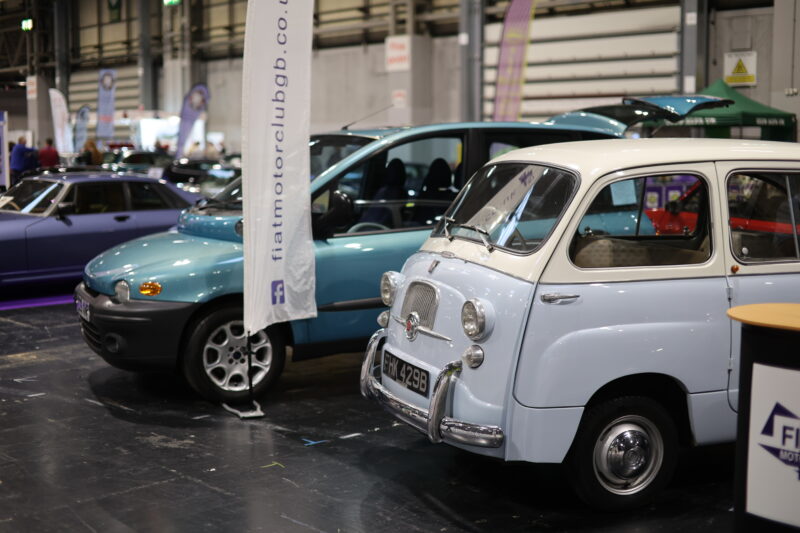 While elegance and decadence are traits often associated with the Italians, one mustn't forget how Fiat were earlier adopters of the people carriers. The Multipla was originally the Fiat 600-based 6-seater but the name became better known in the 1990s. There's no doubt that the styling is divisive, but the Multipla is a marvel in packaging and offers a spirited ride. After all, you don't need to look at it when you drive it, do you?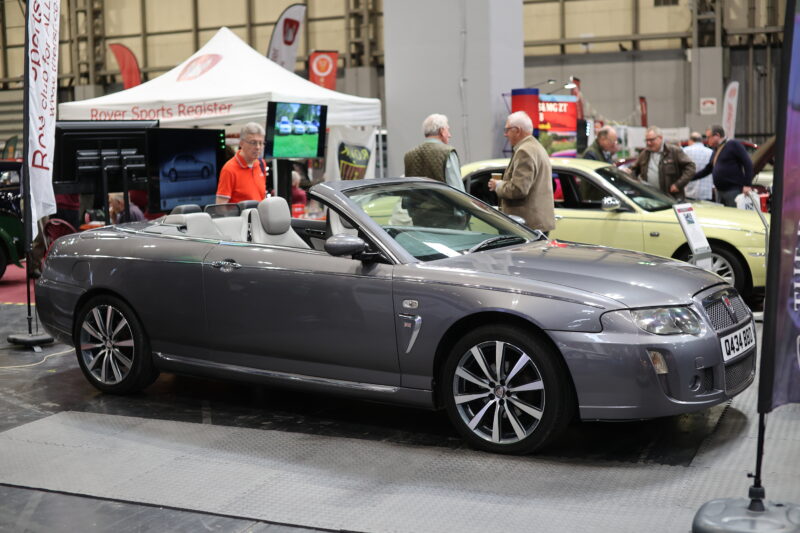 Gerry Lloyd has previously given us a very convincing coupe version of the Rover 75, as well as his more whimsical Pushme Pullyu 75. He presented his latest creation on the Rover 75 and MG ZT owners club, a convertible version complete with a retractable roof mechanism, roof deck and interior from a Mercedes E Class. Taking an estimated 2000 hours to complete, he presented us with a plausible vision of how Rover could have extended their 75 to sun-seekers.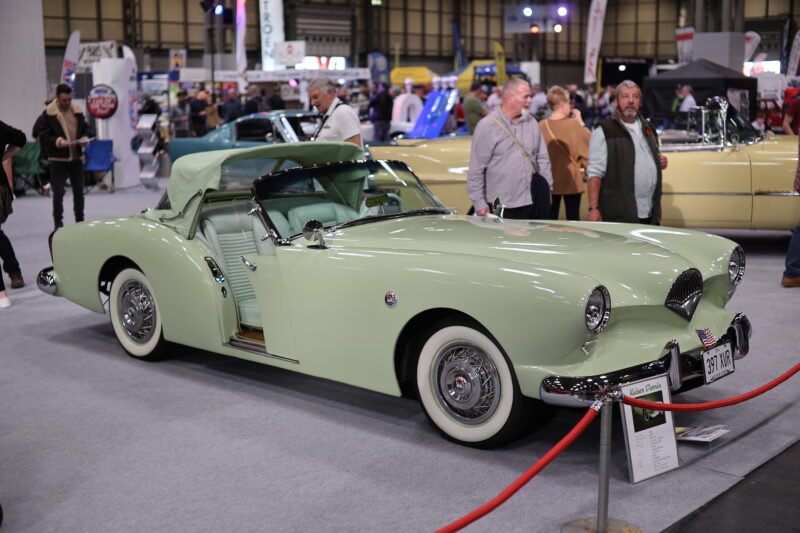 The UK has a long relationship with American cars, with more new cars being sold here than ever before, but the jet-age styling of their older cars is what excites us. Placed on the Classic American Magazine stand, is this breathtaking 1954 Kaiser Darrin. Beating the Corvette into production by one month, it is the first production fibreglass sports car built in the USA. Featuring the novel pocket door sliding mechanism, only 435 were built in its only year of production. This example appears to have had only two owners since new having once been a former museum exhibit.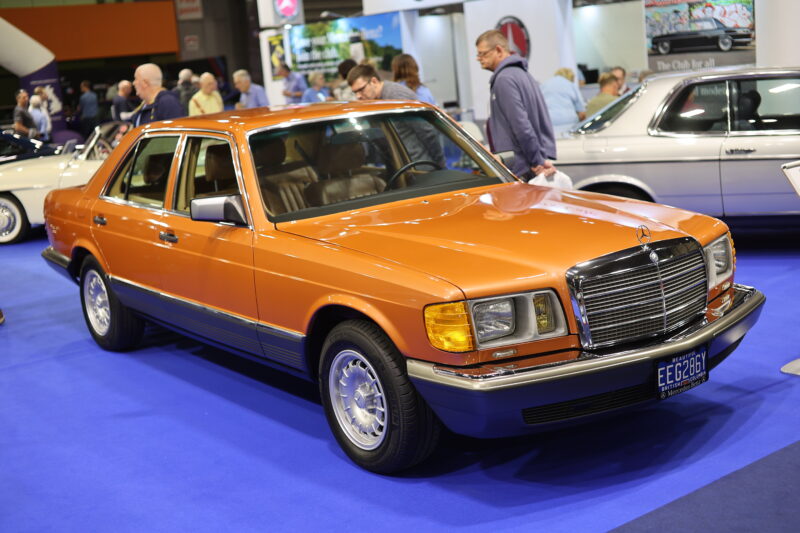 German manufacturers also have a prominent presence at the Classic Motor Show, with all of the big players displaying lavish stands and cars. On the Mercedes Benz Club stand, was a fine selection of cars, including this 1981 Mercedes 300 SD. The turbocharged fuel-injection version was exclusive to the North American and Japanese markets, oddly for Mercedes, no option for oil burners was available in Europe. The W126 series of Mercedes currently offers excellent value for money considering the riches of quality, performance, space and durability of these cars.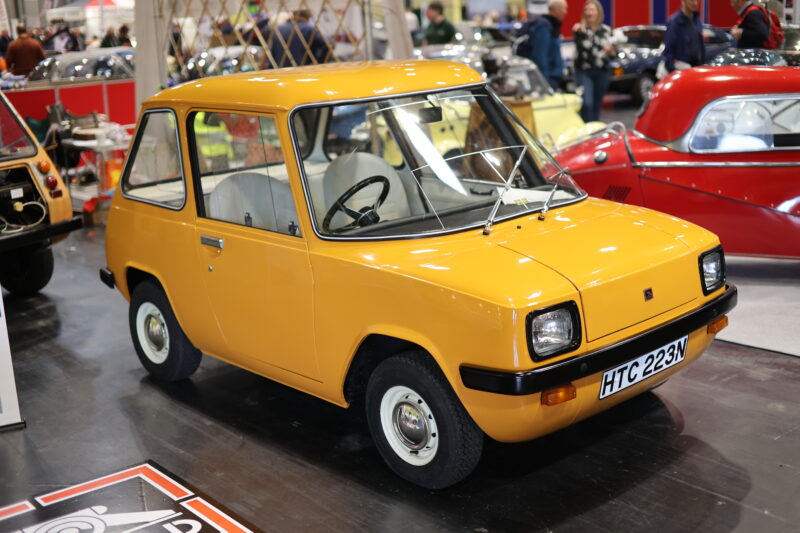 Electric cars as most will know have been around for as long as the combustion engine, but their prominence only came to fruition in the 1970s, as the fuel crisis forced the idea of finding alternatives to fossil fuel-powered cars. The aluminium-bodied Enfield 8000 was one of the first mass-market electric cars to be sold to the British public. Despite offering a top speed of 50mph with a claimed 50-mile range, its high costs meant that only 120 were made and over half of those were used and operated by the Electricity board.
As part of the rural landscape as an English longhorn cow or as a stone barn, the Land Rover continues its upward trajectory as one of the most sought-after British cars ever built. There were dozens of examples to be seen at the Classic Motor Show, but we were rather taken by this beautifully restored 1952 Series One 80" Wheelbase model. It spent much of its life in Cumbria, before moving to South Wales in the 1980s and then spent the last 30 years locked up in damp lock up. It required a complete restoration and it took Gary Jones, the owner, three years to get it back to an impressive standard.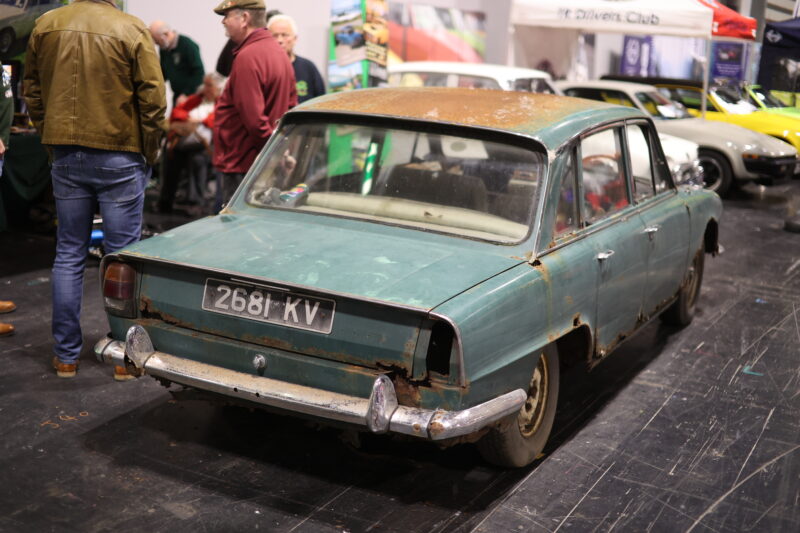 The Triumph 2000 celebrates 60 years of production this year, so it was a thrill to capture what is believed to be the very first production model off the line. The club have gone to great lengths to ensure that it is indeed the real McCoy, with glass markings helping to confirm that it is indeed the first one. The Triumph 2000/25000/2.5 Register has known of the car since 1981, and it will be subject to restoration.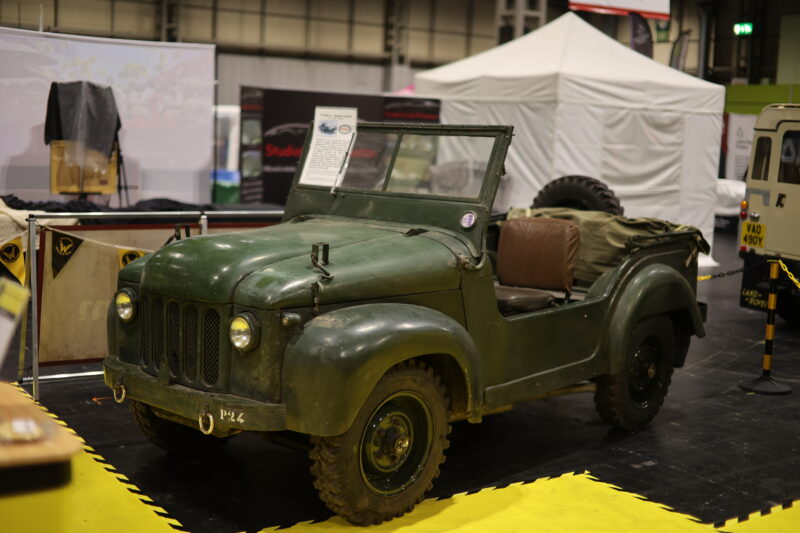 A possible adversary to the Land Rover came from Wolseley in the form of the Mudlark, who were asked to build a post-war replacement for the Jeep by the Ministry of Supply. 15 were built in 1948 and spent time being trialled by the impressively named Fighting Vehicles Research and Design Establishment. The results of the final recommendations were taken up by BMC, who went on the develop the better-known Austin Champ. This is just one of two cars out of the 15 that are known to still exist.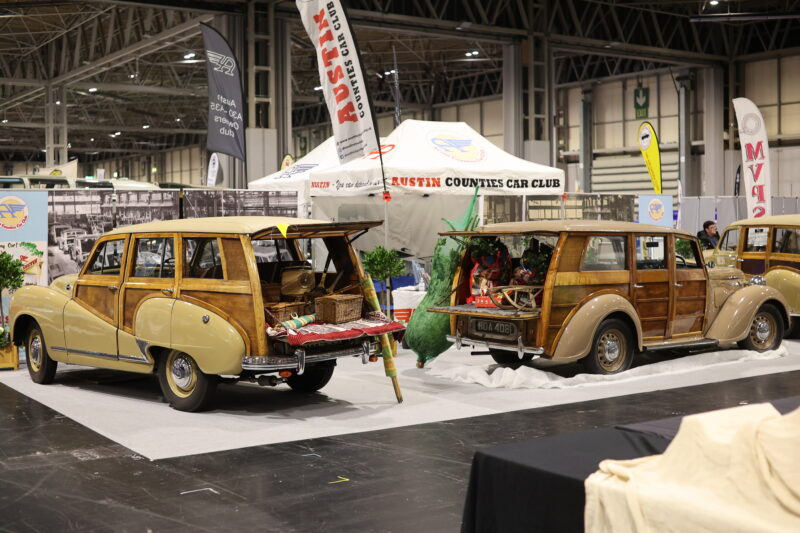 Like a kid in a toyshop, we were distracted left, right and centre and found these Austin woodies far too irresistible to ignore. The Austin A70 Hereford Countryman and the Austin Sixteen Shooting Brake both provided ample space for four people resplendent with mahogany panels and ash framing. Both were fitted with larger engines and in the case of the later Hereford could reach 80 mph.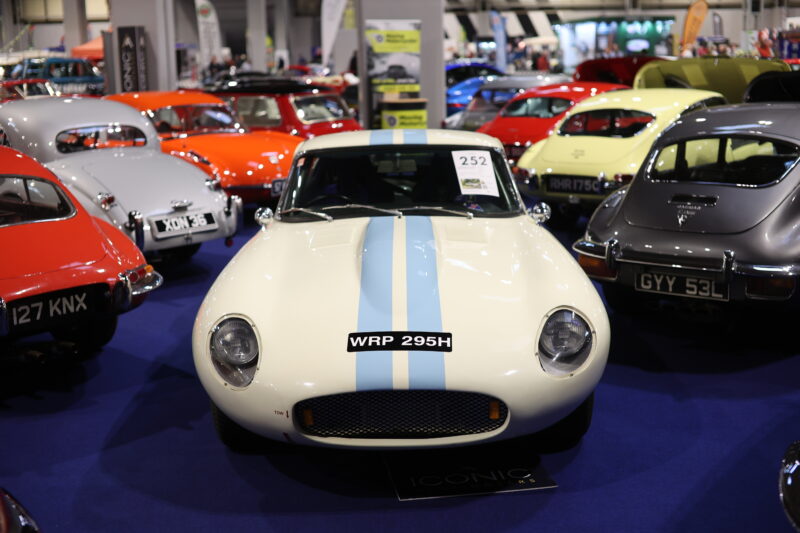 Buying and selling cars is very much on the minds of many visitors at the Classic Motor Show, with people keeping an eye on values, while others are keen to find something to enjoy. With dozens of reputable auction houses and sellers, it makes sense to seek the car of your dreams at the NEC.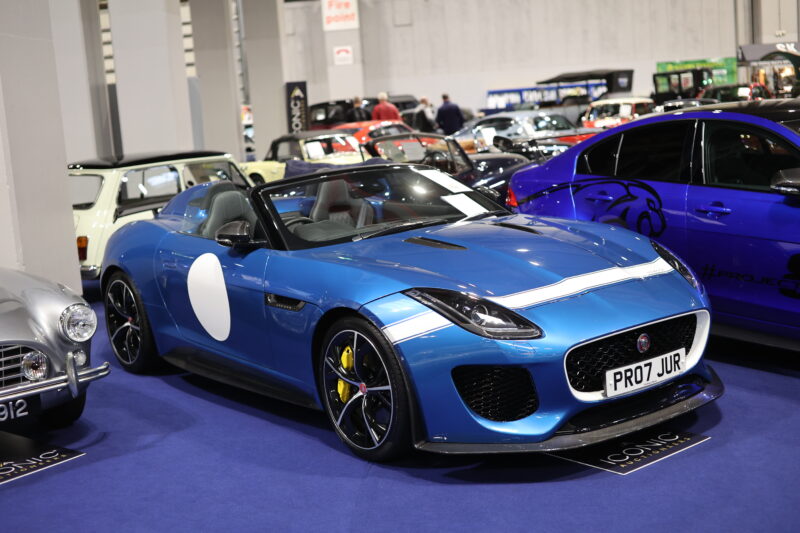 Iconic, formerly known as Silverstone Auctions, maintained its high standard of cars with over 100 quality cars. Always a good mix of the old and new, this 2016 Jaguar F-Type Project 7 is just one of 80 examples produced, with this one having just recorded 488 miles. It sold for £131,625.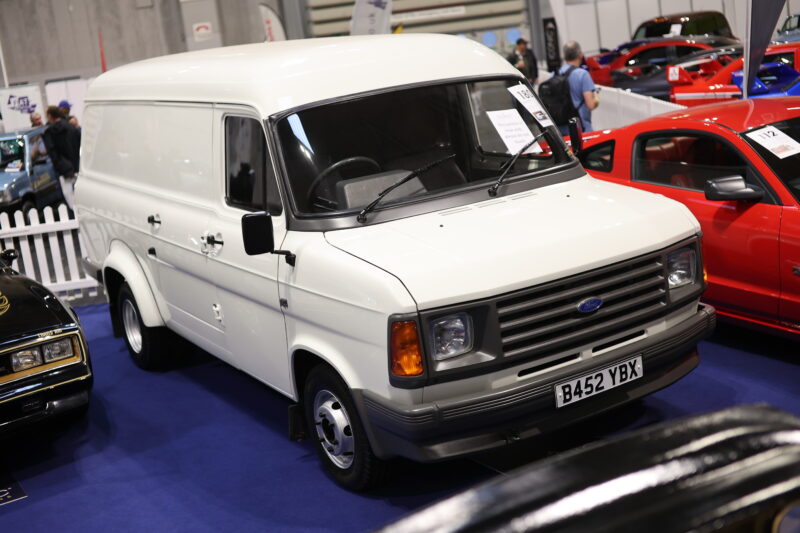 A bit more down to earth, this unrestored MK2 Transit 1984 LWB was worth an investigation. The MK2 is a facelift of the original and sold with 5 engine options, and 32 door combinations on 6 body shapes, which gave the Transit an incredible amount of flexibility. Perhaps buoyed by the idea of combining it with a trailer and an Escort rally car, it did well at £46,125 but the 18,855 miles must have also helped it achieve this healthy amount.
The Classic Motor Car Hub, which offers everything from Sunday meets, sales, storage and food, had another selection of well-heeled classics aimed at the premium end of the market but yet again we were taken by the humble and the unexceptional. This 1969 Renault 16 TS was sold with its original sales invoice from supplying dealer Old Oak Motor Co of Enfield, Middlesex. It remained in the hands of the family for 37 years, until it was passed over to a succession of enthusiasts. The car has seen several spruce-ups since but has largely retained its originality.
Like any notable classic car show, the focus is often on the dedication and commitment of the owner, and there are multiple opportunities to experience this tenacity and passion. In the heart of Hall One is the Meguiars stand, which has been hosting their Club Showcase of 'the best of the best' from the UK classic car club scene at the NEC for over 10 years.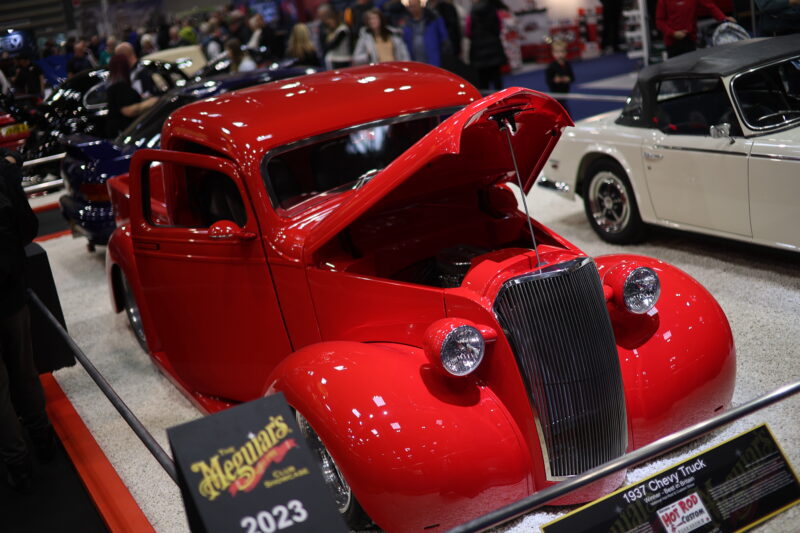 14 finalists were on display, each one finished to an astonishing standard, all picked from classic car shows over the past season. Before we unveil the winner, Several other cars were worthy of a mention, as Mike Brewer picked a selection of cars that caught his eye. Mark Barrett imported his 1937 Chevy truck 11 years ago as an unfinished project and carried out an extensive range of modifications, which included some tasteful bespoke bodywork. Having won the accolade at the Hot Rod and Custom show in June, Mark's truck was placed on the NEC stand as an insight into his fabrication and design skills.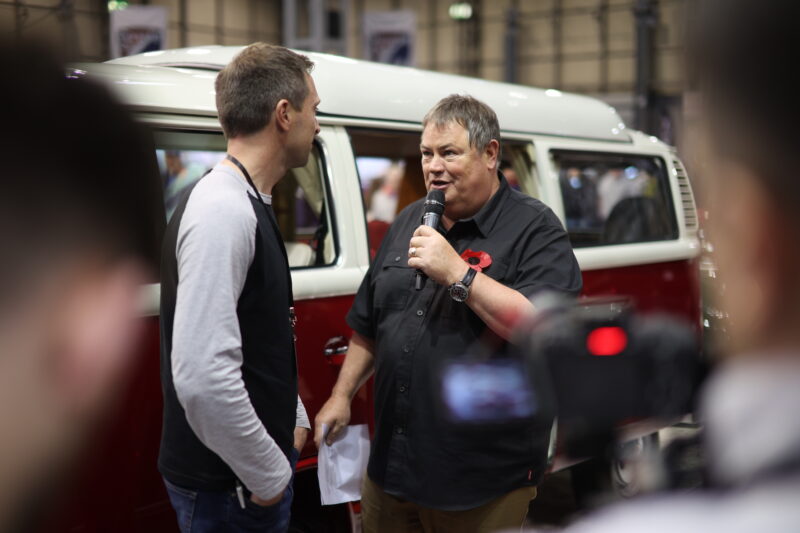 Rob Evans' 1972 VW Type 2 Danbury-converted Camper van is something of a genuine labour of love. Having first seen the van on his walks to school, he leapt on the opportunity to buy it in 2010. Playing an important part of his life, it retains so many cherished memories, with guidance and help from friends, family and professionals to get it up to this condition, Rob has no intentions of ever selling it.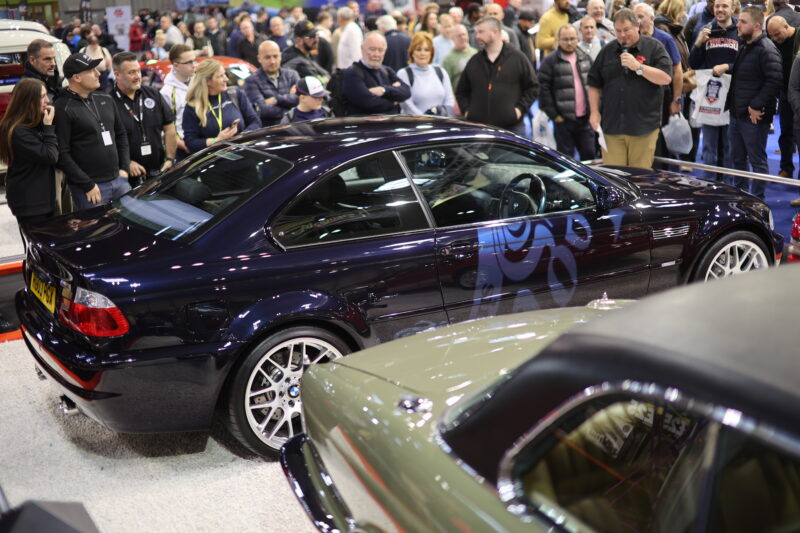 We shift up to the new millennium and admire the purposeful stance and power of Pete Godley's 2003 BMW E46 M3. Already firmly placed in the modern classic category, Pete bought the car when it was just four years old and he has done everything possible to keep its originality. This manual gearbox car was sold without a sunroof and has to be considered one of the very best in the UK.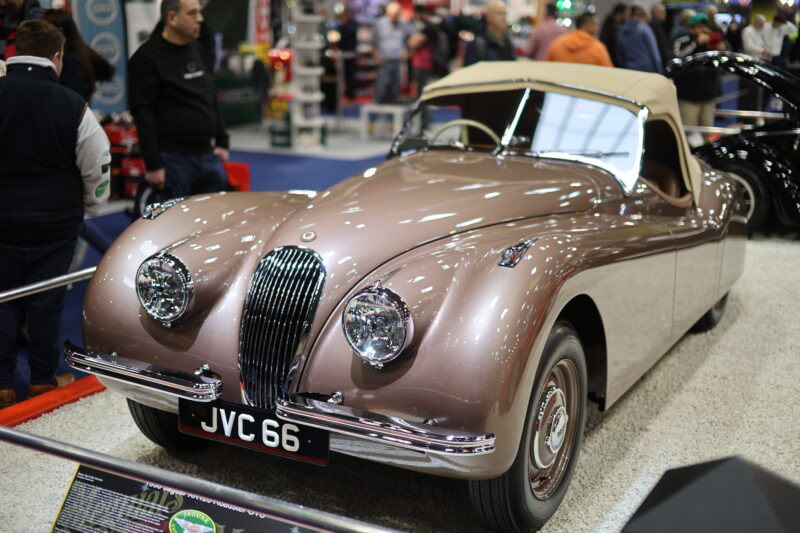 The winning car was announced to be Matt and Mike Birtwistle's 1950 Jaguar XK120 Roadster OTS. However this is no ordinary XK120, it is a pre-production model and reveals several notable differences from the production cars. Originally owned by an Australian entrepreneur who bought the car while on holiday in the UK in 1949, he saw the car at the Browns Lane experimental workshop and requested to buy it. He subsequently shipped it back to Australia, where it remained until 2007. The brothers took on the car in 2015 and it was meticulously restored over six years to the exact original specification. A truly unique example of a very desirable car and one we have to agree was the deserved winner.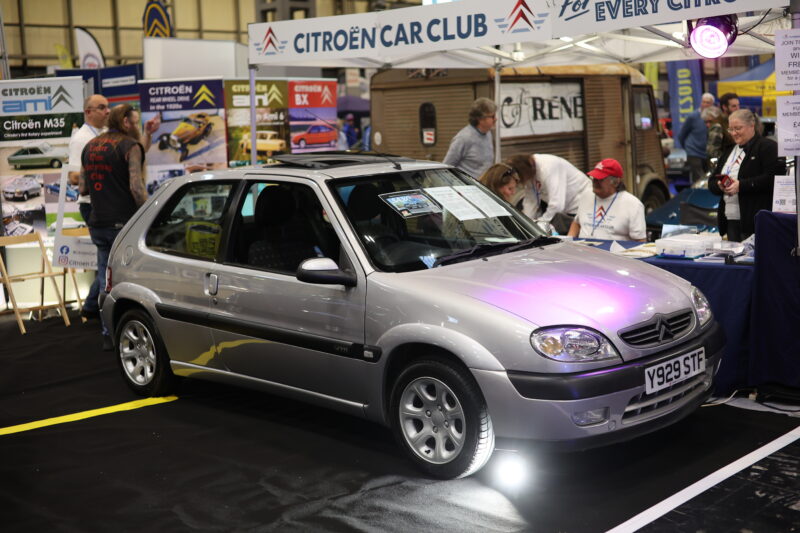 With our appetites whetted, we continue to seek more cars of interest at the Classic Motor Show. With modern classics and potential for investment on our minds, we hone in on several cars that offer that very opportunity. When first launched the Citroen Saxo VTS and the cheaper VTR models were instantly sellers. A modest on-the-road price, with Citroen often offering some substantial discounts and the bonus of free insurance placed them as one of the best-selling cars of the late 90s. Powered by the same family of engines from the Peugeot 205 GTI they were perfect for those with a penchant for cheap thrills.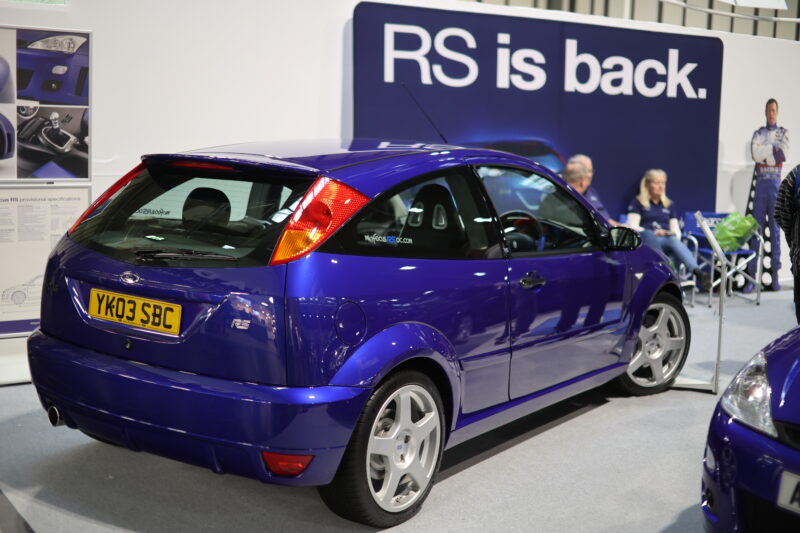 Ford's rally pedigree and continuous popularity, thanks to their straightforward and durable mechanics places them highly as worthy modern classics. It's no secret that the MK1 RS Focus is one of those cars to watch. Low mileage and original examples are already doing well on the markets, but like the Saxo VTS, it's not impossible to still find at a reasonable cost. With the ever-decreasing chance that Ford will ever market a non-electric RS badged car again, now is a good time to seek one.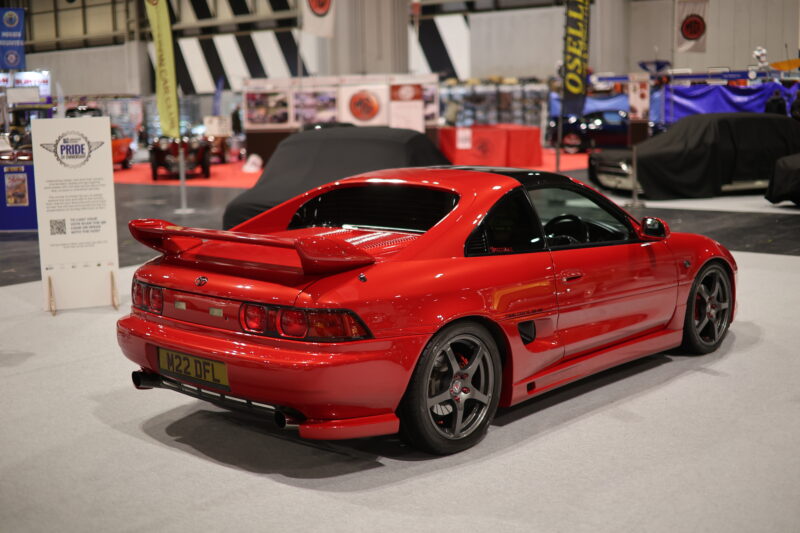 Toyota's MR2 have also reached a status where good ones are actively being hunted down. Its mid-engine layout, Toyota's legendary reliability along its decent build quality all help place the MK2 version of the MR2 as one to keep your eye on. With 10 years' worth of production, there should be plenty of good ones out there but as always, it is always sensible to find the best you can afford. The Classic Motor Show provides a welcome entry point to chat with the owners' clubs to seek those cherished and well-cared-for cars. Look for solid and original UK spec GT's, although a well-maintained JDM-spec Turbo offers even more gusto.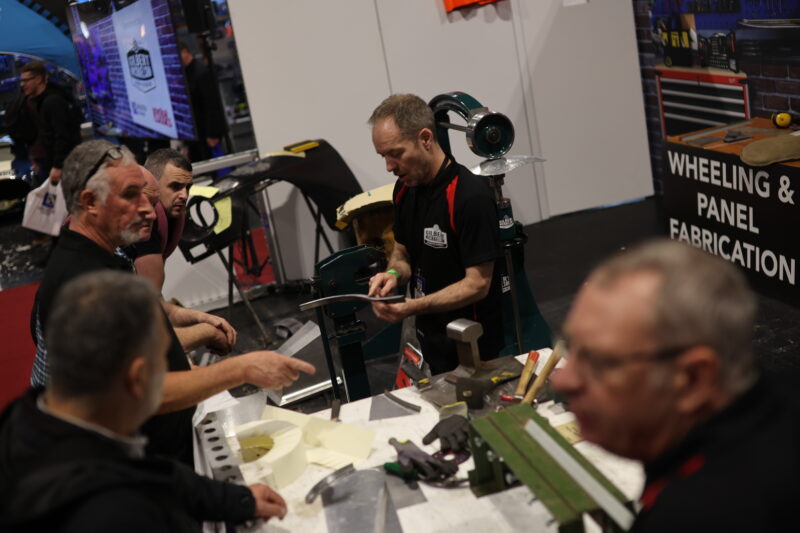 The practical aspect of the Classic Motor Show has always been a pull for visitors, with workshops and demonstrations throughout the whole weekend. This was ably shown by car builder and engineer Ralph Hosier, industry campaigner Dominic Taylor-Lane, Heritage Skills Academy's John Pitchforth and various journalists, car club members and owners with panels hosted by Danny Hopkins, Wayne Scott and Paul Cowland.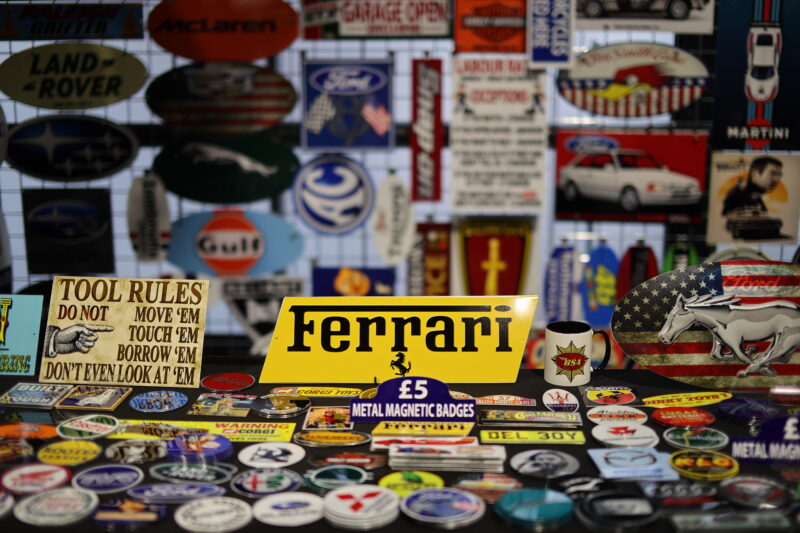 In the same hall, we are treated to many trade stands, with companies selling everything from new old stock panels to cleaning products. Interspersed with stands selling diecast, books and artwork, there are plenty of opportunities to drop subtle hints to any long-suffering partner. While not of huge interest to Car and Classic readers, the volume of furniture stands was notable too. We rested the temptation to 'test' out some rather inviting sofas after what seemed like an endless journey around the halls. No fear though, as there was one more treat to enjoy.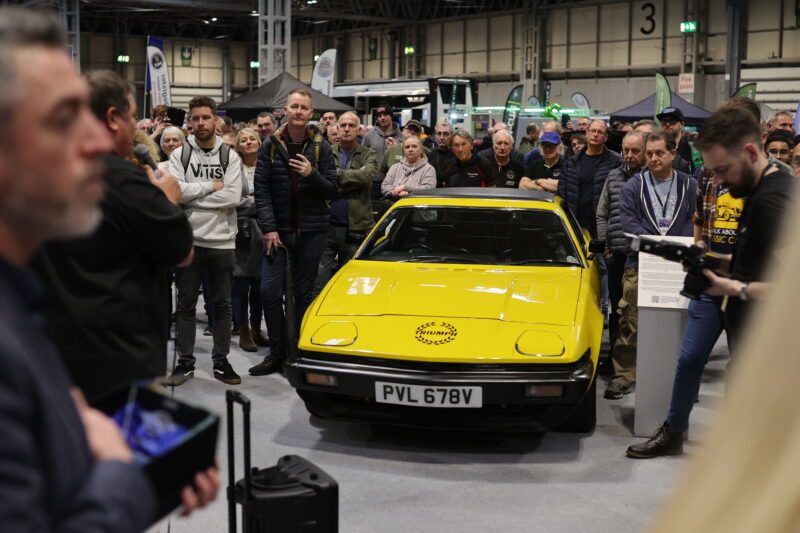 While Meguires showcase is the professional's choice, Lancaster's Pride of Ownership allows visitors to vote on who should win the most outstanding car of the display. 20 cars were placed on the stage, and again Mike Brewer was there to find out more about the cars and their owners.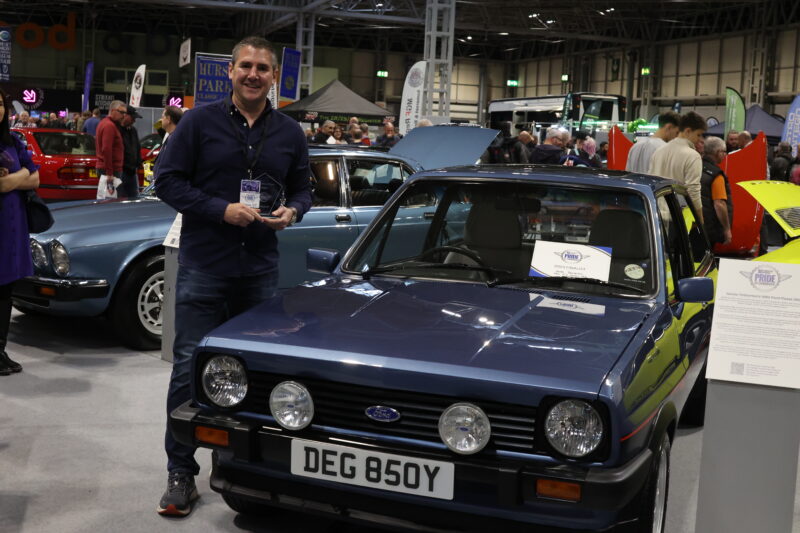 In third place was James Tetherton and his 1982 Ford Fiesta XR2, It is easy to see why the visitors voted for this car, as he explained that it was his very first car. He sold it and moved on to other cars, but the chance to buy the same car back in 2019 was an opportunity that couldn't be missed. With the keys in his hands again, he then spent another 18 months restoring it, along with some subtle engine and suspension upgrades.
In second place was another lovely story involving Liam and Ryan Rippard, who bought their 1977 Mini as a restoration project when they were just 10 years old. As a focus to distract them from ongoing health issues, they diligently brought the car up to scratch modelling it on a 1960's model. Six years later, the car is complete and at the grand old age of 16, still need to wait a year to drive it but in the meantime, it will serve as their prom car. The first of many restorations we trust.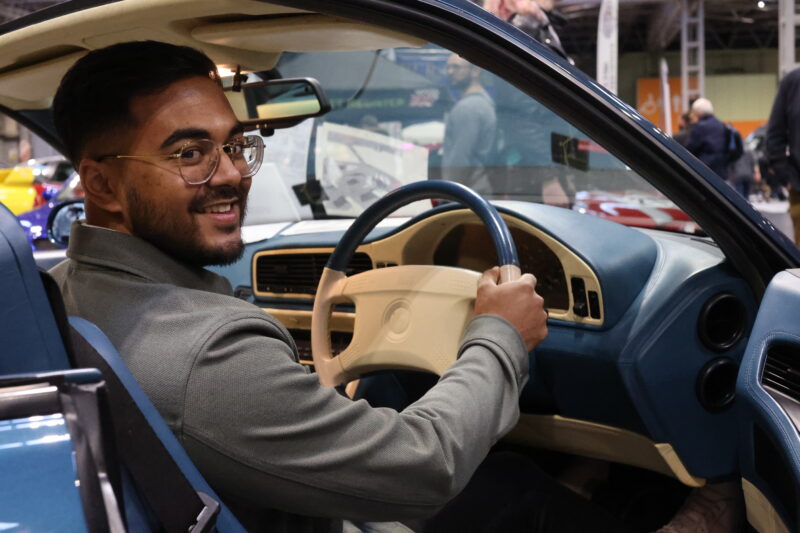 Rarity and dedication to detail are what helped Tahmid Haque win this year's Pride of Ownership. His 1993 BMW 850 CSi Individual is just one of 60 RHD cars produced. Finished in an Aqua Metallic finish and a bespoke Ice Blue with Champagne leather interior, which was hand-picked by its first owner, it was also ordered new with £30,000 worth of optional extras. Having owned several of the BMW flagship cars in the past, he told us that he bought it within two hours of seeing it online. The car has seen a fair amount of effort to bring up to its current condition and comes fresh from the Judge's Favourite Award at the London Concours event at Hampton Court.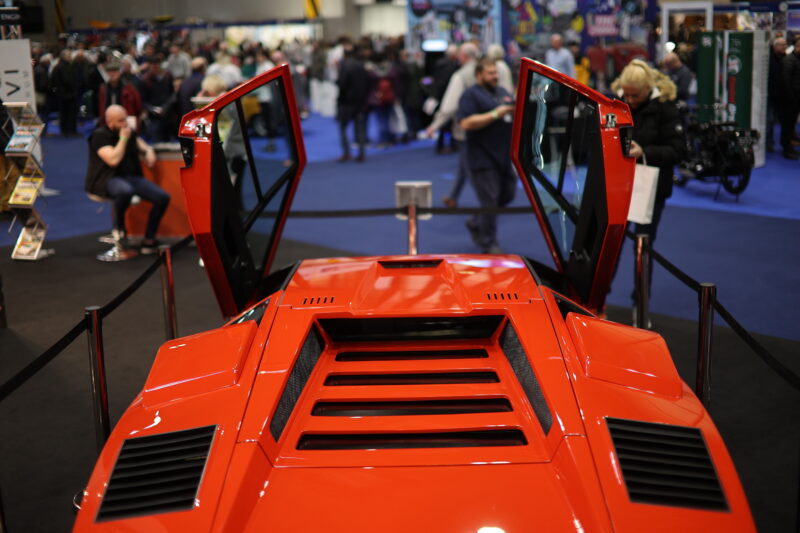 This seems to be a good place to wrap things up, although as you can see in the gallery below there are plenty of other cars that we'd love to tell you about. As the Classic Car season comes to an end, we reflect on one of the most successful years in UK events, driven by the exceptional quality of care and commitment of their owners. Next year's Lancaster Insurance Classic Motor Show will take place from 8-10 November 2024 at Birmingham's NEC but we'll certainly be back at the NEC for the Classic Car and Restoration show on March 22-24, where the promise of spring and a whole new year of classic car goodness. We can't wait!