Autostorico – Experience in a New Guise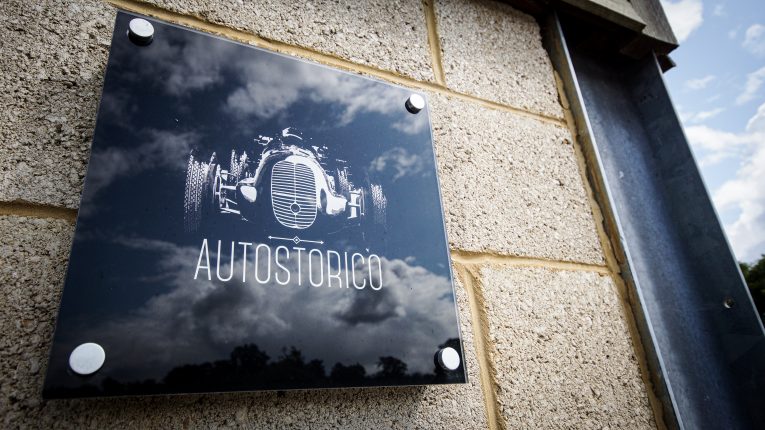 Happily, the classic car world is one that seems to be flourishing, and as it does, new dealers come to the fold and bring with them some exquisite machinery. And that's the key: good, clean, interesting stock that is always willing to tell a story. One place that is laden with cars of that ilk is Autostorico. It might be the new kid on the block, having been founded in 2017, but owner William Cullen and his team bring with them decades of experience and a passion for classic cars that is, frankly, addictive. 
When we learned about this place, we thought it only right to head up with our camera so that we could capture some of the impressive stock. You may well have seen the feature we did on the yellow Porsche 914. This was a car that demonstrated to us just how well Autostorico operates. The 914 arrived on a Friday, we arrived the following Wednesday. By the time we'd taken pictures of it, the little Porsche was sold to a new owner. Good stock, well described – it's a winning formula for successful sales. 
Walking around the impressive showroom, you can't help but be bowled over by the variety of cars in there. The XK120 Jags, the '60s Porsches, the '50s Bentleys. It's an eclectic mix that serves to fascinate and intrigue the onlooker. We can well imagine a customer coming in to see one car and being awestruck by something else – it's the petrol-filled equivalent of the kid in a sweet shop scenario. 
There's also a pleasing buzz about the place. The Autostorico team always seems to be busy, lavishing care and attention on cars, dealing with the seemingly constant influx of customer appointments and taking calls from potential clients. This isn't a building full of old cars that will sell when they sell. No, it's a proactive, bustling little place where everyone seems to be striving to make everything excellent. That kind of care is important. 
We fired our standard set of probing questions at William to find out what makes them stand out from the crowd: 
1) Who are you, and where did it all start? 
"Autostorico was founded in 2017 by myself,  William Cullen. I began my motor trade career in the '90s, working for the late Terry Cohn at The Fine Motorcar Company. Whilst working with Terry, I gained extensive knowledge of pre-war and post-war sports cars. I had the pleasure of competing in many prestigious historic events including Mille Miglia, Tour Auto and Goodwood. I also represented Terry's automotive interests at events such as Retromobile, Techno Classica and Pebble Beach Concours d'Elegance. 
William Cullen, left
After Terry's untimely death in 2001, I changed direction to pursue a career with more modern cars.
I began working for a classic and sports car specialist in 2012 where I continued to develop my knowledge. My experience gained from working for prestigious brands such as Aston Martin, Ferrari and Rolls-Royce, was instrumental in everything that Autostorico stands for today. Notably, outstanding customer service, knowledge and expertise, good value all based around unique and collectable cars.
I decided to pursue my own venture in early 2017. Autostorico Ltd was formed to specialise in the acquisition and sale of classic, luxury and performance motor cars. The company's success is, in no small part, due to the premium they we on delivering an outstanding customer experience."
2) What fires you up about classic cars?
"It's the story and history behind each car. Every classic car has different quirks and characteristics in how they look, sound, perform, handle and drive. It's the polar opposite of modern cars which have become homogeneous. Every classic car has a story to tell and a few have quite a significant story in recent motoring history." 
3) What makes you different? 
"Experience, knowledge and expertise. Autostorico is also able to offer classic and performance cars at very competitive prices."
4) How do your source your cars? 
"Autostorico only stock the very best modern and historic automobiles. We rigorously check the quality and provenance of all our vehicles ensuring we maintain our incredibly high standards. Whilst we update our stock list daily we have access to many more exceptional vehicles from private collections that are always evolving to suit the tastes of their owners."
5) What prep goes into them before sale? 
"Most of our cars for sale have been owned by serious collectors who keep them in pristine condition. However, we are happy to carry out some repair and maintenance work with our network of expert restorers, mechanics and bodywork specialists. At Autostorico, all our cars leave the showroom with MOT and full safety checks."  
6) What's a really hot car right now? 
"We have a Frazer Nash Le Mans rep, which achieved pole at the Prix de Monte Carlo in 1952 driven by Stirling Moss. That's a special car with an extensive and successful, well documented racing pedigree and history. Classic racing cars are always in demand provided the provenance is good and it has been maintained to the highest standards. We also have an SS100 Jaguar with full competition history. Both are FIA historic race accredited so that brings a whole new perspective to owning one of these fabulous motoring classics."
7) What's a car to watch for the future? 
"There has always been a very strong market for Jaguar from XK120 to XKE (E-Type Jaguar) and usable Porsches, Mercedes and Aston Martins from the 1960s through to the 1980s. These are quality cars that tend to retain and grow their value. They are also great fun to drive, rally, race and own."
8) What are your plans for the future? 
"To continue to provide outstanding service to our clients and customers whilst offering great value. We would also like to continue growing."
9) If you could keep a car from your current stock, what would it be and why? 
"We currently have a very modestly priced Mercedes Benz SL500 Silver Arrow that we took in part exchange. We regard limited edition cars of this quality as modern classics. Over the next five to ten years these types of cars should increase in value and represent a sound investment. If we weren't in the business of selling them, this one would be a keeper. Classic lines, power and brand."