Eagle GT – The Ultimate E Type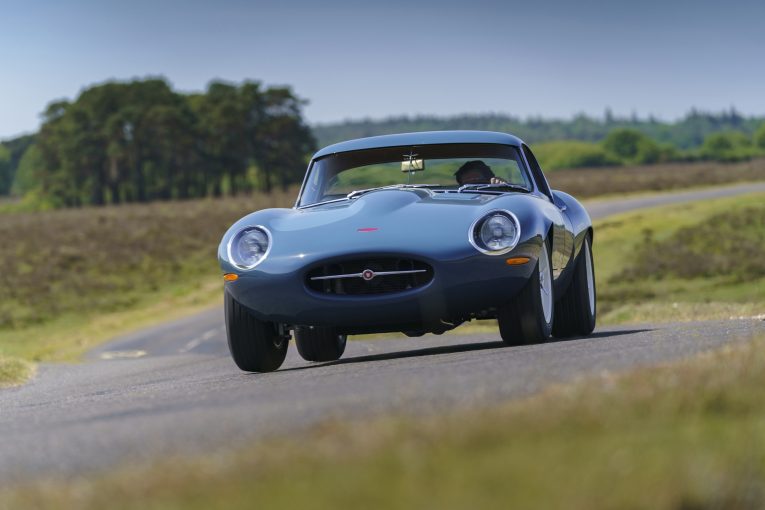 When it comes to making classic cars harder, better, faster and stronger, there are few in the game as prominent as Eagle. This British company has forged a path for itself by taking one the world's most beloved classics – the Jaguar E Type – and bringing it up to date. An Eagle E Type is not a restored car. It's a car reborn, re-imagined, and built with exquisite attention to detail. They are the ultimate expression of the E Type, but even so, Eagle has manage to push its vision even further with this, the new Eagle GT.
The question 'what's the best an E-Type can be' has been answered by Eagle. More than 35 years of E-Type experience has been focused on the analysis of every component, identifying no compromised design improvements, followed by an 8,000 hour build to create the missing model in Jaguar's E-Type evolution: a lightweight, thoroughly re-engineered to be enjoyed on the road.
"An Eagle E-Type is always an ultimate development of the model, with each variation created for a different type of driver," explains Eagle founder Henry Pearman. "Three years ago, a customer asked us to create Eagle's vision of Jaguar's ultimate E-Type, the Lightweight. The result of that project is the Eagle Lightweight GT, rigorously developed and proven and now ready for further builds."
The challenge for Pearman's team was even greater than that of creating its three other E-Type Special Editions, the Speedster, Low Drag GT and Spyder GT. "The factory Lightweight was a stripped-out racer. We wanted to retain that special feel of a '60s competition car from an incredible era in British motorsport, but with the comfort, refinement and reliability that would make it an exhilarating daily driver or long-distance GT."
The process begins with a 100 percent strip-down of an original Series 1 E-Type. Every panel is replaced with lightweight aluminium of a modern grade more suited to road use than the thin, fragile material of the original Lightweights. Specialist craftsmen invest more than 2,500 hours forming the sensual curves, then fitting them to a tolerance many times more demanding than those specified by Jaguar's Competition Department. This is where the Eagle team truly excels, as the fastidious nature of their dedication to detail is on another level. But that is the joy that comes from building cars in such small numbers – the cars can be afforded such individual attention.
The famous Lightweight profile is faithfully recreated, with subtle enhancements to aerodynamics including a deeper rear ramp angle, deeper sills (which also increase chassis stiffness and allow the driver to sit lower, improving headroom and lowering the centre of gravity) and increased screen rake front and rear with bespoke glass. Wheel arch size has also been enlarged to accommodate 16" peg-drive magnesium alloy wheels, modelled on the original Dunlop racing wheels but wider, with a little more offset and one inch taller to allow more modern tyres.
The heart of the car is Eagle's 4.7 litre evolution of the famous Jaguar XK straight six that was fitted not just to E-Types, but also to the C and D-Types that, in the 1950s, won an astonishing five outright victories at Le Mans. Factory Lightweights were specified with an aluminium block replacing the iron block of road cars, an upgrade replicated by Eagle. A bespoke crankshaft, pistons and con rods improve responsiveness and durability, while a wide-angle head, as specified for factory Lightweights, accommodates larger valves and a higher lift camshaft for improved breathing.
Peak power of 380 bhp arrives at 5,750 rpm, but the pleasure of this unit is the vast wave of torque: 375 lb ft at 4,000 rpm and a wonderfully flat curve that makes the Eagle Lightweight GT feel effortlessly fast, before an urgent, howling dash for the redline.
The Lightweight GT joins Eagle's three established E-Type 'special editions'; the Speedster, Low Drag GT and Spyder GT. Just two 'special edition' E-Types will slip discreetly from their UK workshops each year, each one the product of more than 8,000 hours of skilled workmanship and 35 years of focused, passionate, E-Type experience.
The Eagle Lightweight GT is very much a 'if you need to ask, you can't afford it' proposition, with prices expected to be well into six figures. However, if you have the means, we would keenly suggest considering one. This is British engineering on another level. It's a car built not only through impressive technical advancements, but also through passion and love for the model. And that goes a long, long way. And furthermore, this is a car that, unlike others (looking at you, Aston Martin Continuation cars) you can drive on the road and enjoy in a setting or on a journey of your choice. And enjoy you will.