Five Classic Fords for Fiesta Money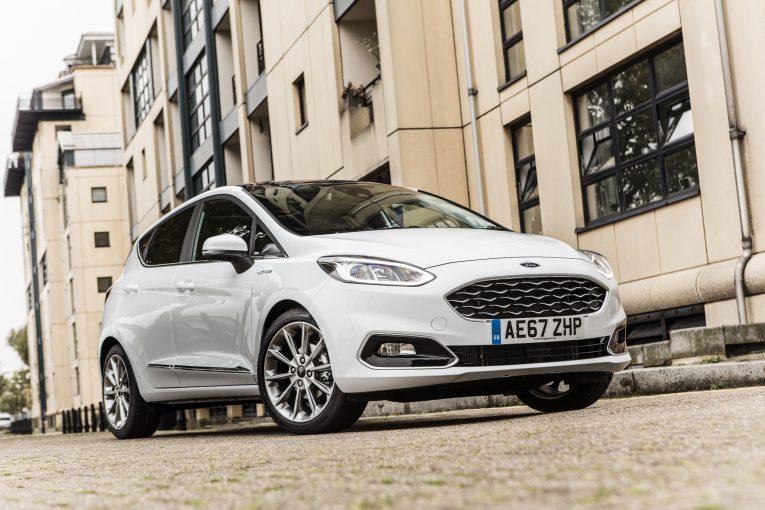 Last year, Brits bought a staggering 77,833 Ford Fiestas. That number made it the best-selling car in 2019. And rightly so. The Ford Fiesta is, as modern metal goes, a wonderful little car. It's spacious, it's practical, it's comfortable, it's frugal and above all else, it's an absolute riot to drive, especially in ST trim. The Fiesta, then, is a very good car indeed. Well done Ford. 
Of course, good though the current Fiesta is, it doesn't really have a home in the Car & Classic hall of fame. It's too new for starters. If we want a Ford, we're going to look back through the brochures of old and choose one of Ford's past greats. Which is exactly what we've done here. We've taken the £20k asking price of a new Fiesta Titanium X and hit our classified listings hard. Here's what new Fiesta money can buy you.
1) Ford Capri
It wouldn't be a Ford-based list without a Capri, but that's not to say we're being cliché here, because we're not. The Ford Capri was, famously, the 'car you always promised yourself' after all. But more than that, it was the UK's Mustang. It was our muscle car. Bodie and Doyle drove them, so what more could you need to make you want one? 
For your £20,000, it's pretty much a free choice. If power isn't on the agenda, you'll get one of the best 1.6 Lasers money can buy. Same goes for a 2.0S. For us though, a Capri should always have a V6, though perhaps controversially, we'd go for the Essex 3.0 rather than the Cologne 2.8. There's nothing wrong with the latter, we just like the torque of the 3.0. 
This stunning 1978 3.0 Capri Ghia auto would be high on our list. Okay, so you lose a bit of fun because of the 'box, but it doesn't matter. This would be a beautiful cruiser, and with that mega Signal Amber paint it'll always make a statement. 
Of course, if you want a Capri with a bit more driver appeal, the 'run out' 280 Brooklands is worth a shout. 2.8 fuel-injected V6, five-speed manual transmission, limited-slip differential, leather Recaro trim, 15-inch alloys and leather Recaro trim, it's perhaps the ultimate Capri. Prices are well north of £20k for a mint one, but a running project is well achievable. That said, this 1987 Capri 280 looks pretty good for a mere two grand over the Fiesta. 
2) Ford Escort Mk2
The Escort Mk1 is perhaps the ultimate in classic Ford chic. However, while the new Fiesta commands a decent £20k asking price, it's not enough to get you a Mk1 Escort. Or at least, not an exciting, sporty one. There are plenty of four-door and estate models out there for that kind of money. 
The Mk2 Ford Escort, which was introduced in 1974, is an altogether more exciting prospect. A case in point would be this rally-spec 1977 Escort RS2000 (though we'd question that, given flat-front 2000s are rare). However, RS2000 or not, it's hot. There's a 2.0 OHC engine, twin carbs, bucket seats, a roll cage, forest arches and a whole lot more. All for a hair under £20k. That's a lot of rear-wheel drive fun for the money. 
If you don't want to hit the rally stages, and you'd rather have a bit more comfort, there are options open to you. There is a busy import scene that sees cars from dry, hot countries make it to UK shores. A South African or Australian Mk2 Escort is a good proposition. It'll be rust free, which is a big deal. 
This South African 1980 Escort 1600 Sport needs a quick going over, but at £9,000 that's to be expected. Looking at the condition of it, you'll get it on the road with at least five grand to spare. And you could spend all that on modifications and still end up with a profit – the market for two-door M2 Escorts is as strong as it's ever been. 
3) Ford Anglia 105E
We have a lot of love for the Ford Anglia 105E, which was introduced in 1959. That was the same year as the Mini, and by comparison, the equally small Anglia was a bit old school. Rear-wheel drive, no synchro on first, saloon design. It didn't matter though, because it was still leaps and bounds ahead of the 100E before it. Plus, it was and still is a great looking, little car. The chrome, that reverse rake rear screen, the fins – it was just cool. 
For our money, the best way to enjoy an Anglia is in standard guise, and your £20k will get you the best out there, as evidenced by this gorgeous little 1964 Anglia 105E. It's got the chrome, it's got the whitewalls and it's been owned by one family its entire life, meaning it's been cherished. It only has 15,000 miles on the clock! Talk about a time warp classic.  
Of course, you don't have to have a standard one. The modification scene for the 105E is massive, with the little Ford making a more than capable circuit or rally car. As such, suspension, steering, engine, wheel and brake upgrades are plentiful via the likes of Milton, 105Speed and Burton Power. You can build a 105E into a proper little rocket. 
Or, of course, you could buy one that's already been done. Instead of embracing the circuit though, how about you embrace the mad, rad world of the 1970s custom scene? This 1967 Anglia Van, with its metal flake paint, slot mags and mean rake is straight out of the '70s, and we love it!
4) Ford Si

erra

RS Cosworth
The Ford Sierra got off to a very rocky start. When it was rolled into showrooms in the early 1980s, we simply weren't ready for it. It was too grand a departure from the familiar, boxy Cortina it replaced. The Sierra soon earned the name 'jelly mould' because of the way it looked. We really weren't sure. Then the press got hold of it and lauded it for its build, it's comfort and its space. We tentatively investigated and we soon fell in love with it. 
As with all Fords, a performance model was a must for the Sierra, mainly so it could race in the touring car championship. As such, the whale-tailed, three-door RS Cosworth was born, complete with Cosworth-developed 2.0, DOHC, turbocharged engine. Sadly though, the three-door is a fifty grand car now. The later four-door Sapphire RS Cosworth, however, can be had for new Fiesta money. 
Take this 1992 Sierra Sapphire RS Cosworth 4×4, which could be yours for £18,995. It's got leather, it's got a more practical four doors, it has four-wheel drive and because it's a Cosworth, it'll have comedy levels of turbo-lag, too! All part of the fun.
The bonus here is that apart from a stainless exhaust (which is no bad thing), this Sapphire hasn't been modified into oblivion. It's still original and pure to its roots. This is a Sapphire RS Cosworth as it should be. And with loads of work done including a full respray, there are many high-speed miles left to enjoy. 
5) Ford Fiesta
It would be remiss of us to not include the Fiesta in this list. Yes, we're comparing against the cost of a new one here, but the fact remains the Fiesta isn't just a new car. It's a classic, having been with us since the 1970s. It was 1976 to be exact, and so determined was Ford to make the Fiesta a success, it built a completely new facility in Valencia, Spain, to build it. 
The Fiesta, despite only being available as a three-door for the first two generations, was a hugely popular car for Ford. It was also the genesis of a love of speed for many. The original XR2 model was a riot thanks to a 1.6 Kent engine. However, for our money, we'd have to go for the Mk2 Fiesta XR2. Those 'pepper pot' alloys, the arch extensions, chin spoiler and the radio being at the top of the dash, not the bottom, all added up to being a cool, little car. It still looks great today. 
Of course, it's not all about speed. There is a lot to be said for buying a standard Mk1 like this 1980 Fiesta 1.1. We love the two-tone paint, and having had one owner, it's in wonderful condition. This is about as pure and as honest as you can get. And for just £6,000, it would leave you with £14,000. For that, you could get a nearly new Fiesta – then you get both ends of the age scale!