Ford Consul Capri – Cult Classic, Not Best Seller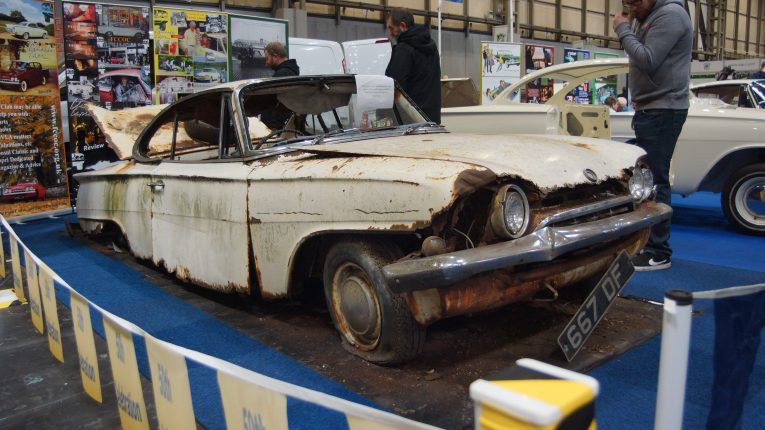 You'd think that a global automotive superpower like Ford would be a non-stop hit-maker. It is, after all, the company that mobilised the masses with the Model T. It gave the world the Mustang, which has been in constant production since 1964. And it gave us the Transit, a commercial vehicle that can still quite rightly shout about being 'the backbone of Britain'. Ford, then, knows how to build a vehicle or two. But, despite what is an enviable track record, there have been mistakes. Ideas too grand, too outlandish and ultimately, too misunderstood. Cars like the Consul Capri.
Ford of Britain had enjoyed massive success with the 105E Anglia. It was a small, nimble car that had won the hearts of many British and European motorists thanks to its styling, its price and its advanced (for the time) mechanicals. Ford, naturally, wanted to exploit this popularity, but on a grander scale. As such, it spent four years developing the Consul Classic. It was, to all intents and purposes, a bigger Anglia. But with the addition of a four-door option and being bigger, more passenger space. It should have worked. But it didn't, because by the time Ford had finished developing it, it was old hat compared not only to its peers, but also to its siblings. Ford rolled out the Mk1 Cortina at roughly the same time and, well, it was a much better car. Lighter, better-looking, more technologically advanced. It was just a better car from bumper to bumper. Yet, Ford pushed on with the Classic and with the car we're looking at here, the Consul Capri.
The first car to wear the Capri name, it was nothing more than a Classic with a far more elegant, coupe top. It was and still is a beautiful car, and as such, demonstrates that the Classic saloon wasn't that far off the mark. It just had the wrong lid, so to speak.
The Classic and the Capri were both hugely over engineered machines from a body point of view, the Capri especially. Dripping with tight folds and complex curves, the body took a lot of effort to make. It was heavy, too. The Classic was over 200kg more than the Mk1 Cortina. It was too much work for Ford, as it happened, as they farmed out the construction to the Pressed Steel Company over in Cowley. They built the complicated bodies before shipping them to Dagenham ahead of Ford painting them, fitting the trim and attaching the running gear.
Early cars were fitted with a 1,340cc engine mated to a four-speed manual transmission that could be either floor or column mounted. The early engines were woefully inadequate, and became prone to crank failure. Ford responded by binning the three main-bearing engines in favour of 1,498cc five main-bearing units.
So where did the car end up? Well, there's the thing. The Classic was indeed for the UK market. The Capri, however, was not. Instead, Sir Horace Denne, Ford's Sales Export Director insisted the Capri be an export model. A 'personal luxury car' akin to the likes of Ford USA's hugely successful Thunderbird. Confident that this little looker would be a hit, Horace was a little put out to find that nobody really wanted it. In the end, he had to concede and in 1962, it went on sale in the UK.
Being a British vehicle, you'd like to think it would have done well here if nowhere else. Sadly though, it failed to fire the imaginations or more importantly, wallets, of the UK's buying public. In 1962 Britain, we weren't ready for a car like this from Ford. It was too much, too flashy and wholly impractical. It had a colossal boot of some twenty-one cubic feet, but as it could only really seat two in any comfort, such a feature was moot. It was too ahead of its time. We just weren't ready to buy a glamorous coupe from… Ford.
It was a terrible shame. The Consul Capri was a great car, and those who did buy them fell in love. Its heft and heavy body made people feel safe. It was comfortable. The revised engine was excellent. And it also boasted firsts, like a dipped beam stalk function, and variable speed wipers. Plus, it was undeniably beautiful, especially from the rear.
Ford tried desperately to jazz it up, and employed the first use of a GT trim level in the process. The Consul Capri GT should, again, have been a hit. Released in 1963, it featured a Cosworth-developed version of the 1,498cc engine, this time with better compression, a four-branch manifold and a twin-choke Weber carb – the first time one was seen on a production car. It was more powerful, it gave the Capri the pace to match the looks, but still sales flatlined. Coachbuilders like Hooper saw potential, too, and built incredibly well-appointed luxury versions, but again, the buyers were apparent hide and seek champions.
Ford killed the Consul Capri in 1964, having built and sold around twenty thousand of them – a tiny number for such an automotive goliath. It was an embarrassment for Ford, and something it was keen to move away from. However, those who took the plunge and actually bought one were less so inclined.
As the years rolled by, the Consul Capri gained something of a cult following, helped in no small part by the actual Capri. It was still a pretty car, but it was also cheap, and that made it a favourite for young drivers. It was also popular in the custom car scene, with many finding their way to jacked-up suspension and slot-mag wheels. We, as enthusiasts, found a lot of love for the forgotten Ford.
Custom was king – Our Ed's father with his Consul Capri in the early '80s
Sadly though, the complicated design and the utilised steel's propensity to rust meant that many went the way of the crusher. Heartbreaking in retrospect, but as is often the way with these things, it was 'just' an old car at the time. It wasn't anything special. Now though, it is. The car that nobody wanted is now one of the most sought after Fords out there. Demand far, far outsrips supply, and as such, even rough cars – when they do appear on the market – are fetching ludicrous money. A mint car, on the other hand, won't give you any change out of twenty grand. Madness, but deservedly so.
The Consul Capri was a bold idea, it was a break from Ford norm and it was a great example of a company trying something new and exciting. It might not have worked, but so what? Without failure, we can't enjoy success. Which means without the Consul Capri, would we have loved the 'proper' Capri as much? Something to ponder.