Hot Wheels Team Transport – Product Review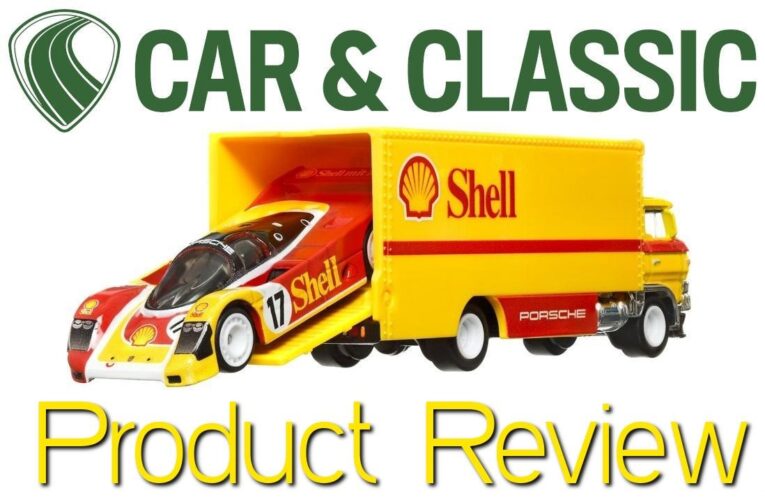 Something a bit different this week in the form of this snazzy Hot Wheels Team Transport set, a recent release from the legendary die-cast maker. If you're not familiar with Hot Wheels, where have you been? We've covered this elsewhere in the magazine, where we looked back over the history of the company combined with the popularity they hold for child and adult collectors alike. There's an appeal inherent to Hot Wheels that no other toymaker has managed to capture. It makes cool cars from the pages of history, not cars based on what's hot this week. As such, you can find all sorts of weird and wonderful machines immortalised in miniature scale. And this makes them great for parents looking to educate kids about classic cars in a fun, playful way. This writer can certainly remember toy cars being a gateway into this glorious world.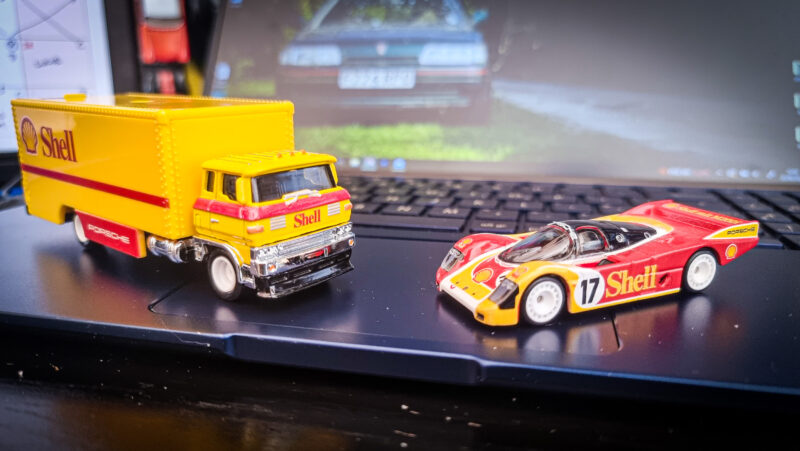 Search for your Hot Wheels here…
The Product
Seems a bit odd, calling it a product and not a toy, but here we are. Anyway, what we have here is one of the entrants into the Hot Wheels Team Transport range. In this case, the transport consists of a Sakura Sprinter box truck that plays host to a wonderfully detailed, Shell liveried Porsche 962 in the back. The models are both beautifully detailed, with plastic wheels and separate rubber tyres. chrome on the lorry, intricate livery printing and you can even see the rivets on the truck body. It's lovely. This isn't the only set in the Hot Wheels Team Transport range though. There's Nissan Skylines on flatbeds, Plymouth Cudas on ramp trucks, Mercedes, Fords, Ferraris… you get the idea.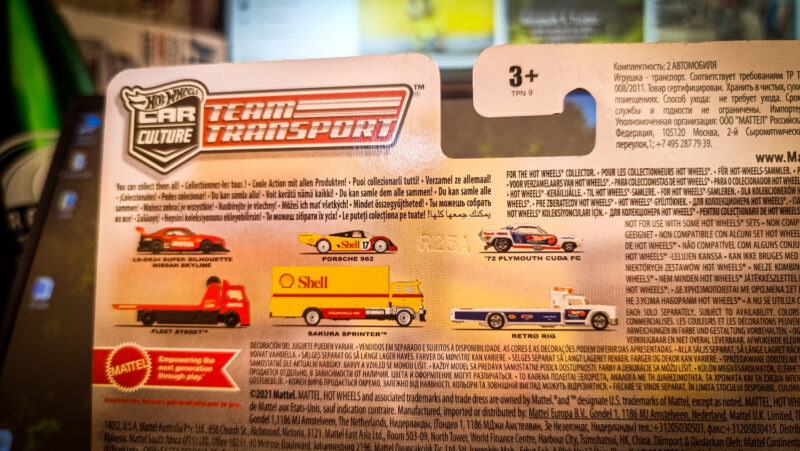 The Test
Being a grown adult, I couldn't exactly play with them, could I? Yes, actually. Though it pained me – as a Hot Wheels collector – to remove this pairing from the package, I did so and was instantly glad. They're both really well made, sturdy models. The opening back door on the truck also serves as a ramp to load the Porsche, and it clips shut so there are no accidents on the carpet motorway. I pushed them up and down my desk, made some engine noises, was instantly transported back to 1993 and with it, was left feeling overjoyed. But from a more adult perspective, these are lovely model to just gaze upon. Yeah, they're toys in the purest sense, but if you had the full collection, nobody would think you were odd. At least, that's what I tell myself with my 5,000 or so Hot Wheels. Ahem.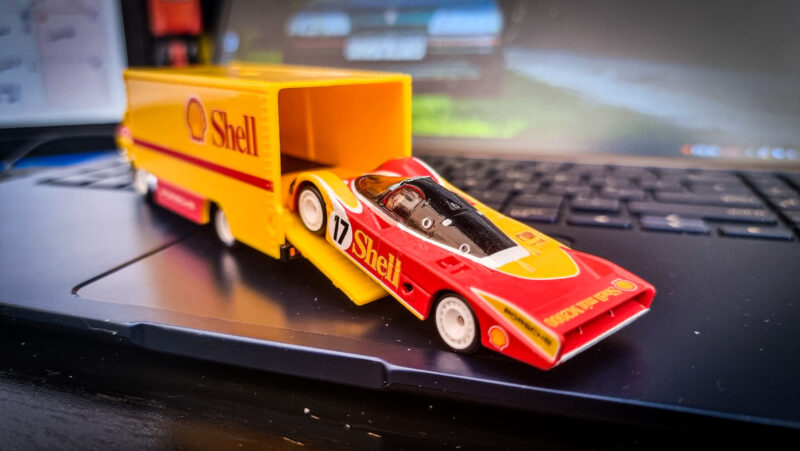 The Result
It's a brilliant, detailed, well made, well presented little set. One that any collector would be overjoyed to have. If you want this to start your collection, if you want it to add to your collection, of you just want a set like this because it's a lovely little thing to own, do it. You won't regret it. And for about £20, it's decent value for the detail, too. Plus, unlike other toys, there is always a market for cared for Hot Wheels, so you could kid yourself into thinking it's an investment. That's what I do. Especially to the Mrs.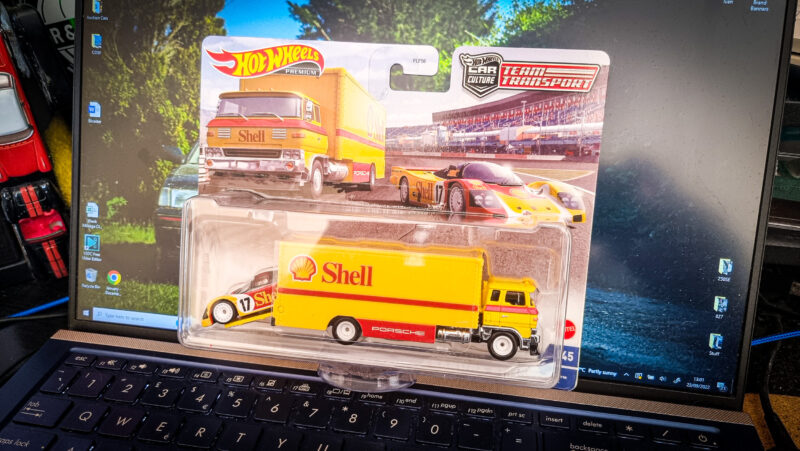 The Verdict – Five out of Five
Detailed, a bargain, fun to interact with and captivating to look at. Why haven't you bought one yet?