Mercedes-Benz 190E – Star Quality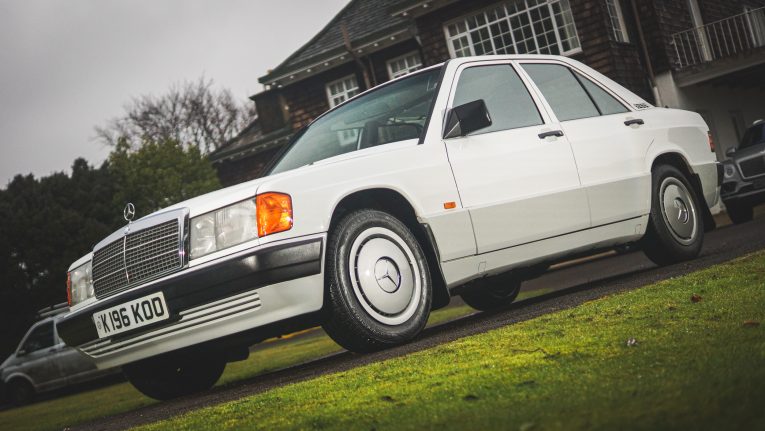 I like a nice, original classic car. You know the sort. The survivor. The classic that is still in great condition despite having many, many years behind it. Imagine then, my delight when I was sent out to photograph a Mercedes-Benz 190E that was, so I was told 'low mileage'.
I like an old Mercedes, and the 190E is no exception. It's taken it a little while, but it's on the up now. People are starting to become increasingly aware of just how good this car was and indeed, still is. Not only is it a Bruno Sacco design, it's also the car Mercedes-Benz famously ploughed over $600,000,000 into the development of. Quite rightly, it was described as being 'massively over-engineered'. And good, if excessive engineering is what we want in a modern classic, right?
I've only owned one 190; a 2.5 'Cosworth'. It was a fleeting relationship though. I rescued it from a real life actual barn (no, really), recommissioned it, put it back on the road and then immediately sold it when someone offered me a lot, a lot more than it owed me. It's one of the few cars I made money on. It's also one of just a few past cars that I remember for being built with absolute, unerring quality. The other cars that shared in this were, unsurprisingly, also Mercedes. With this positive memory in mind, I was more than keen to see what this low mileage example lined up for Car & Classic Auctions had to offer. However, I was simply not prepared for what I found.
First registered in late 1992, this humble 190E 1.8 automatic was supplied by Jacksons. That's Jacksons of Guernsey. The little island was down there, where it's generally a bit warmer and a bit drier. A good place for a car to survive. However, in order to survive the rigors of everyday driving, the car would indeed need to be driven every day. This one wasn't. Instead, that first owner used the car sparingly. I can't be sure of the reasoning behind the owner's lack of use, but I can be sure of what it's done for the car. And that's preserve it.
Of course, it wasn't just minimal use. Being stored in a warm, dry, clean garage when not in use always helps. And that's how this 190E lived. Under a tailored cover, no less. It was pampered. It was cherished. As if owned by someone who had promised themselves that one day, no matter what, they would buy themselves a brand new Mercedes-Benz. Oh Lord, etc.
By the time the car went in for its first service in 1995, it had covered a mere 6,356 miles. Hence it being three years before, you know, the first service. After that, the car was again driven sparingly and also left to slumber in its warm garage for a while. By the time it went back for another service in 2000, it had done 10,667. The garage checked it over, replaced some perishables like the tyres, then sent it on its way. By the time the car was passed to the owner's daughter, who brought it to the UK (hence the UK plates), it had covered 10,853 miles. Incredible.
Since it arrived here in 2014, it has been MOTd every year without fail. It has been given periodic services and now, having just passed an MOT in February, it stands with a mere 11,899 miles on the clock. The daughter, it seems, was as impassioned to preserve this car as her mother, and it shows. This is, bar the new tyres (because of age) and the modern head unit, a brand new car. Or as close as you can get to finding a brand new car from 1992. Oh, actually, there is one minor crack in the dash fascia (where they all go, by the interior light switch). That's it. That's the imperfection. Not one of the imperfections. The only imperfection. On a car from 1992.
And I'm not dishing out piles of editorial hyperbole here. This car is mint. It's had some work over the years, like a new fuel pump and some new fuel hoses. But they were replaced at the main dealer, for factory parts. As such, this car is, aforementioned head unit notwithstanding, in completely original specification. It is utterly, captivatingly incredible.
The body, painted in the unforgiving hue of Arctic White, is flawless. There isn't so much as a hint of corrosion. Even underneath it, the white paint is king. Broken up only by the black of suspension components, and original drainage hoses poking through. There is no oxidised orange tint anywhere. The panel gaps are so straight they'd make a Mercedes-Benz engineer need a cigarette and a lie down. The bumpers – perfect. The wheel trims – yep, perfect. The glass? It's perfect.
Pop the bonnet and you're greeted with a sea of originality. The 1.8 four-cylinder petrol engine is box fresh, to the point the original quality control grey spray paint is on the exhaust manifold. In fact, all the QC marks are still present, like the red splashes of paint on the nuts atop the suspension struts, and on all the hose clips. The dabs of paint were applied so engineers could make sure nothing was coming loose. There is even a factory product label clinging onto the top of the radiator. I'm no expert in concours cars, but this car must be only a couple of steps away from being one.
Inside, the seats look to have been barely sat in. The old 'dealer speak' of saying the rear seats have never been used could actually, for the first time in the history of selling cars, be true. The back seats are, in effect new. But so are the fronts. The lady who bought this car must have been no bigger than a Borrower. There is no visible wear at all.
The dash is clean, straight and mint. As I mentioned, there is one small hairline crack by the interior light switch. But that's all. Everything else is as it was when it rolled out of Jacksons in the winter of 1992. Sitting in it, I just had to look around. I had to be in the moment. It was a lot to drink in. This car, by happy circumstance, not by design, has survived nearly thirty years in this condition. It's truly remarkable.
If I had the means, I would be bidding on this myself. But alas, I suspect this no reserve 190E will sell for a figure beyond my means. But deservedly so. The classic car world is awash with adages about things being rare, or representing a once in a lifetime opportunity. In the case of this 190E, however, they're true. This is a once in a lifetime find. This car is museum quality. No, it's not a 2.6, it's not a 'Cosworth' but so what? It's a stunning example of what was arguably a true high point for Mercedes-Benz quality. It's an important slice of automotive history. It is one of the finest, most perfect cars I have ever seen – and I've lived a life exposed to classic cars.
I don't know what the future holds for this car, nor can I control it. As much as I'm a fan of using old cars, I feel this one has transcended that now. It should be preserved as it is. It wouldn't look out of place in the Mercedes-Benz Heritage Collection, or in any automotive museum. Or maybe it should be driven, I just don't know. What I do know is that whoever does buy it is going to have what, in my opinion, is one of the best 190E Mercs in the world.