Motorcycles Off-Roading – Quite Painful Indeed!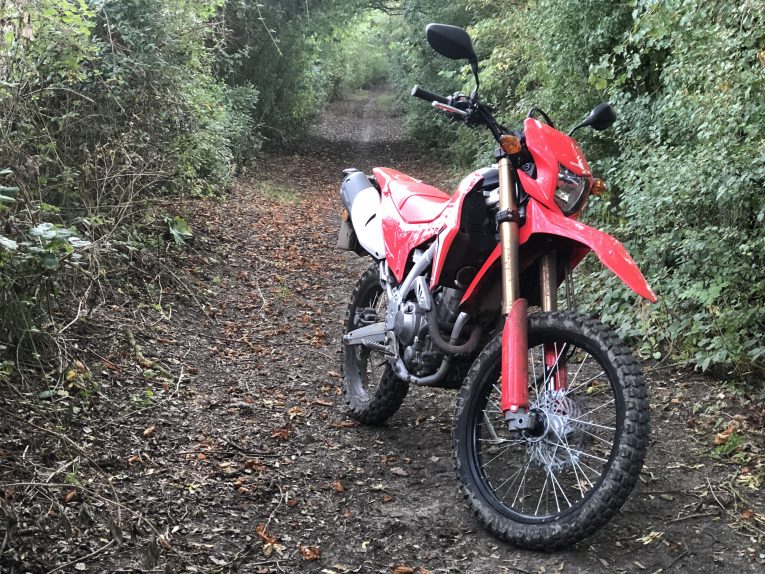 I'd been riding a Suzuki V-Strom 1000, a big adventure-bike-style tourer which, although it looked like it could hold its own on the Dakar rally, was more aimed at long-distance road use than mud-plugging. I'd tried a brief foray off-road but luckily (as hindsight showed me), the day I picked saw too many ramblers and horse riders on the trail I'd chosen to be able to go far. 
Then a colleague got himself a Honda CRF250L, a road-legal dirt bike, and offered it to me for a weekend. I found a couple of easy green lanes on my way home from work and enjoyed my very first tentative steps off-road – all three miles – with a couple of cheeky Facebook snaps en route. 
Another friend, who virtually grew up riding off-road – he has done various enduros and rallies, including the Weston-Super-Mare beach race and the Tuareg Rallye across Morocco –  saw my Facebook post and gave me a call. "Do you fancy going out for a couple of hours on Sunday? I'll show you some of the lanes around us…" He lives 20 minutes from me, so that sounded like a brilliant idea. 
Bright and early on Sunday morning, I rocked up to his place and off we went. A few miles on public roads before we reached the start of a nice, wide muddy trail. Disappearing into the distance, the wide and hard-packed track looked perfect, snaking its way through the last of the summer's tall grass and gradually yellowing crops. Away we went… 
The little single-cylinder Honda was doing well, keeping up with his BMW G310GS, which he had modified with various off-road specific parts (he runs Rally Raid which, as the name suggests, specialises in off-road bits). In fact, before long, he suggested I go in front to set the pace and he would follow. 
Soon enough, the hard-packed and wide tracks got narrower and started to show evidence of the passage of Land Roverists – a pair of deep ruts cut into the soft clay, roughly nine inches below ground level. I hadn't had any off-road training – I've read various features about it and they all say stand up and let the bike move around under you. Look as far ahead as you can, particularly when you're in a rut and not directly ahead of the front wheel. 
That's grand but it's almost impossible for a novice who finds himself at the bottom of a gigantic canyon-like rut with edges obscured by overgrown grass. And therefore, it wasn't long before it all went south; the bike went one way, I went the other and for the first time since I was a kid trying to jump my Raleigh Grifter over a plank of wood, I hit the deck. 
And like when I was a kid, I did the instinctive thing and put my hands out. Luckily, I was wearing proper kit and the gloves had scaphoid protectors – padded areas on the inside of the hand-designed to protect the scaphoid bone from impacts, as well as sliding. I didn't think I was going fast – a brisk walk/slow jog maybe but I still fell off the bike. 
John, my mate, arrived alongside and asked if I was OK. Luckily, I was. I'd been nursing a trapped nerve in my right shoulder for a while but it appeared to have survived and once I'd flicked the engine kill switch (instinctive – they don't like running when they're on their side) I dusted myself down and stood up. "I wouldn't have been going that fast myself," John added, less than helpfully. 
I reached down, grabbed the rear subframe and the front forks of the bike and lifted it upright. And immediately tore a ligament in my left forearm. Brilliant… 
Anyway, it wasn't long before we were back on wider trails, then small roads, then we were pulling into the car park of a local reservoir favoured by mountain bikers and dog walkers. We had a cuppa and a slice of cake (pretty much any motorbike ride for pleasure involves tea and cake) before saddling up and "heading back…" as John put it. Good… 
However, the way back involved more rutted clay tracks. After, that is, I managed to fight my way through a homicidal gorse bush. I was trying to get around a locked gate (see the section on where you can ride) and, as the CRF250L didn't have any handguards at the time, each time I tried to pass the steel post, the left-hand grip got stuck in the bush and it pulled the clutch in. I eventually managed with a combination of brute force and luck and we carried on. 
This time, John took the lead and I rode at my own pace. Pretty much on my own until we reached a junction, where he would be waiting to direct me. At one point, the path turned a sharp right-hander and the front wheel dropped into a rut with the bike stalling as it tried to climb out again. Instinctively I put my left foot down… into thin air. It dropped into another rut and down came the bike again… this time on top of me. The trapped nerve wasn't so lucky this time… 
By this point, I'd had pretty much enough. A gaggle of proper off-roaders, all neck braces and wheelies, came storming past me as I limped my way forward to meet with John again. "You OK?" Yes, fine thanks. Internalise the pain… 
We carried on for another half hour or so before we eventually emerged onto a tarmac road I knew was close to where we'd started and we headed back to his place to debrief and say farewell. 
At the time, I vowed I'd never do it again – I'm too long in the tooth to bounce if I fall. However, having had time to mull it over and spend a bit more time chatting with people, I find myself wanting to go off-road again. Not on narrow, rutted clay tracks but on wider, more open tracks across the country. Thetford Forest, for example, on the Suffolk/Norfolk border is supposed to be lovely – wide, picturesque tracks with a sandy base. John goes there regularly, as does my colleague from work. John also has a full-weekend ride, 70% off-road/30% on from Bedfordshire to Wells-next-the-Sea in Norfolk and back. 
Other colleagues have travelled part of the TET – the Trans Euro Trail, a 51,000 off-road trail from Africa to the Arctic Circle, running through most European countries, including the UK. And of course, anyone wanting to get serious about off-roading should join the Trail Riders Federation, dedicated to responsibly enjoying riding in the countryside. 
Me, I'm going to get myself along to an off-road training course so that I can enjoy the loose without hurting myself. In the meantime, I find myself scouring the ads looking for a project bike to revitalise while the world is locked down. I'm quite liking the look of this Bultaco…
…this Yamaha XT500…
…or this Yamaha DT125LC…
Messing about on BOATS – Not the wet kind
If you want to go off-roading on a motorcycle, you can't just head for your nearest footpath or bridleway. You can ride on BOATs – Byway Open to All Traffic – provided you adhere to any posted restrictions, such as not riding between certain times, usually to preserve the tracks in the wet, winter months. While you might be off-road, legally, these are treated as public roads so you must be insured, taxed and on a legal, road-worthy bike. You also have an obligation to be considerate to others who may be using the BOAT – that includes car off-roaders (who will generate the dreaded ruts), walkers, horse riders of cyclists. The excellent www.bywaymap.com shows byways and the corresponding Ordnance Survey maps to buy to find the exact start and end points but most councils will also have an online map or list of its public byways and their location.