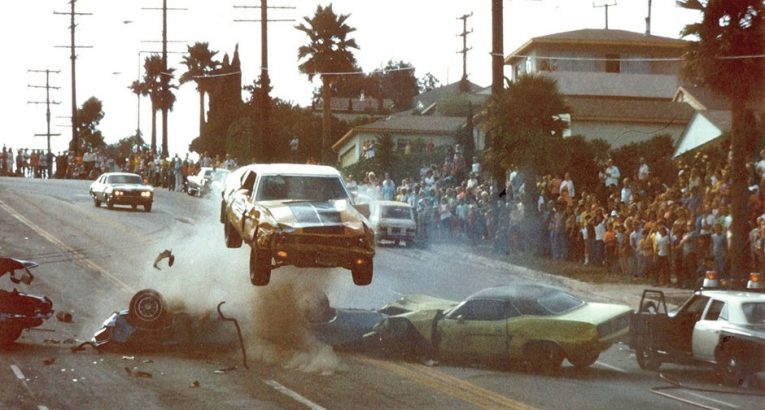 Cars, as we have covered often in this series of features, can often be the stars. Sometimes, the cars in a film end up being even more famous than the actors that drive them. You probably can't remember the name of the young man who bought a 1958 Plymouth Fury in Christine, but you remember the car, right? And it was Arnold Cunningham, by the way. Yep, movie cars resonate, they stick with us and as such, some cars find themselves winning leading automotive roles on the regular. Cars like the Ford Mustang, for example. Yep, movie Mustangs are a big, big deal.
For as long as there has been a Mustang, there have been films in which they are showcased. Hundreds of films and hundreds of Mustangs, in fact. Sometimes these movie Mustangs have been the star of the show, other times they have only managed to land a bit part or a cameo. But no matter how big or small the role, they have always grabbed our attention. But here's the thing, out of all the movie Mustangs to ever grace the silver screen, which one is the best? Well, we've tried to decide below, with ten of the finest movie Mustangs to ever hear the word ACTION!
10) 1966 Mustang convertible – K-9
1989's K-9 is one of those films you might have forgotten about, but you shouldn't. Not only is is a great dog/buddy comedy action movie starring Jim Belushi at the peak of his powers, it also heavily features a 1966 Mustang convertible. It's a bit tired and a bit battered, but it still sees lots of action. It jumps, it slides and it even gives chase to a W126 S Class. It's proof that even if your Mustang is a bit down at heel, and even if a large Alsatian has eaten a good portion of it, it still has plenty to give.
9) 2014 Mustang GT500- Need for Speed
There's a bit of online conjecture about this one, as to whether or not it was a GT or a GT500. It's a moot point though, because by the time it fired up, it was something far more impressive. Keen to cash in on the 50th anniversary of the Mustang, Ford created a lead car for the 2014 big screen version of colossal videogame franchise, Need For Speed. The car, which was a bespoke creation, featured impossibly big wheels, flared bodywork and, oh yeah, an all aluminium 5.8 supercharged V8 with 900bhp. Yup. That'll do it.
8) 1971 Mustang Mach 1 – Diamonds Are Forever
You can't have a list of movie cars without including James Bond, and this list is no different. We were going to go with the baby blue convertible in Thunderball, but instead decided to go with the rubber 1971 Mach 1 in Diamonds Are Forever. Why rubber, you ask? Well, the big scene that features this car sees James popping it up on two wheels so he can get through a narrow alley. Classic Bond antics, right? Well, yes. But he sends it over onto the right-hand wheels. Then, out of shot and possibly induced by Roger Moore's eyebrow, it somehow flips onto the left-hand wheels before exiting the alley. Magic.
7) 2006 Mustang GT – Death Race
In a number seven on our list of movie Mustangs is the 2006 GT driven by Jason 'Mumble-growl' Statham in 2008 guilty pleasure, Death Race. If you've not seen this cinematic, um, masterpiece, let us fill you in. The plot is deep, multi-layered and complex. Or the opposite of that. Convicts have to race to the death in a bid to be released. Our man Jason has a Mustang, which has four tons of iron on the back, and yet still manages to… move. Look, it's a movie, you have to suspend your disbelief a bit. A lot. Completely.
6) 1967 Mustang coupe – Le Marginal
Never heard of 1983 French action flick, Le Marginal? No, neither had we until we were looking for car chases on YouTube (what, everyone does that, right?). When we found the chase from the film, our eyes and our ears were delighted, as they were presented with one of the most angry movie Mustangs to ever exist. It sounds utterly filthy, and the French stunt coordinators (including the legend, Rémy Julienne) weren't easy on the old brute. It takes a beating, but it never gives up!
5) 1967 Mustang fastback – Fast and Furious: Tokyo Drift
In the world of The Fast and the Furious cars seemingly have no monetary value, which is why Sean's father simply gives him – despite the fact Sean is a bit of a reprobate – his 1967 Ford Mustang fastback. Then, in a matter of montage moments, said Mustang is fitted with frankly awful alloys wheels and a frankly brilliant Nissan RB26 engine with a turbo so big it could make an ocean liner do a quarter mile in 10 seconds. It's silly, but fundamentally, it was real. They built an RB26-powered Mustang, and that's why it's in at number five on our list of movie Mustangs.
4) 1969 Mustang Mach 1 – John Wick series
The frankly magnificent 1969 Mach 1 Mustang featured in John Wick and Joh Wick 2 is worthy of such a high spot for two reasons. Firstly, the car is ground zero for everything that happens in this film series (along with the puppy). It's stolen, and John wants it back. So John gets it back, in spectacular fashion. And secondly, because of the stunt that sees this big bruiser leap from a building, sideways. It is, make no mistake, one of the coolest shots of a movie car, ever. You're going to watch the above .gif at least thirty-seven times, trust us.
3) 1967 Shelby GT500 – Gone in 60 Seconds (2000)
With the exception of perhaps John Wick's car, the Shelby GT500 featured in Nic Cage's 2000 take on Gone in 60 Seconds is the best looking Mustang on this list. Or Shelby. But it started out as a Mustang, so we're including it. We're also including it because most of the stunts with the exception of the bridge jump were physical, and also because the car was created by Chip Foose in just seven weeks. Plus, it has spawned an entire industry based around building replicas of it. That's no small thing to achieve.
2) 1968 Mustang GT390 – Bullitt
You knew it was coming, but we're willing to bet you didn't think it would be number two. It is though, and given the company, that's nothing for it to be ashamed of. The 1968 GT390 driven by Steve McQueen in 1968's Bullitt was that star of the show. Literally. The film was actually fairly 'meh' and would have been long forgotten were it not for the epic Dodge on Ford, then Ford on Dodge chase. Plus, has a car changing gear ever sounded as sexy as it did in this? No, is the short answer.
1) Mustang Mach 1 – Gone in 60 Seconds (1974)
And in at number one is the yellow 1973 Mustang Mach 1 from the original Gone in 60 Seconds. Why? Well, this cult classic was made on a real shoestring, and with real peril. The stunts were all real, and rumour has it that the production only had two Mustangs. Between shoots, the films writer, director and lead, H. B. Halicki would work on cars to earn money to keep the film going. He would also work on the Mustangs to keep them in the picture. Furthermore, he broke a leg and ribs when he hit a post at 100mph. The shot stayed in the film. And finally, the jump at the end of the film was real, was performed by Halicki and saw the Mach 1 travel 128 feet at over 30 feet high. He compressed ten vertebra in the process. The Mustang, while bent, still ran when it landed. How is that not deserving of the number one spot?