R-Reforged – Continuation Cars Can Hit The Road…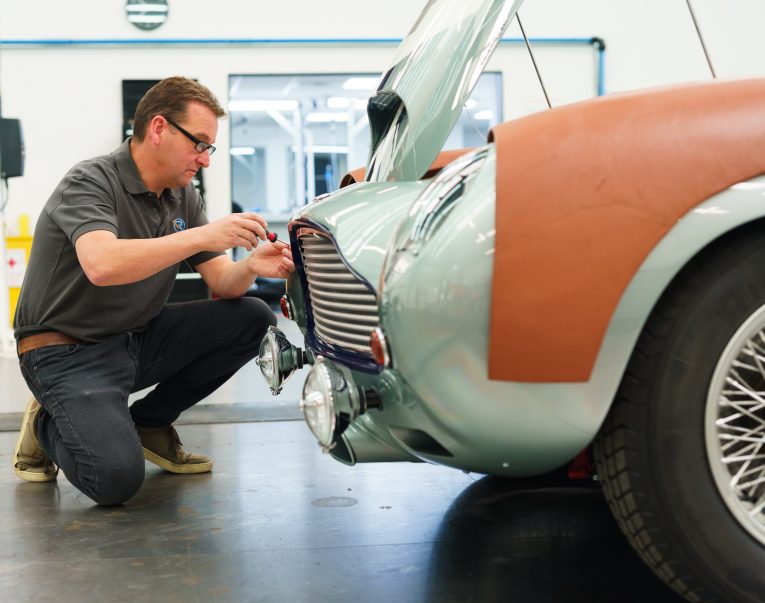 UK's Individual Vehicle Approval (IVA) compliance service expands R-Reforged's inspection and registration service for bespoke, low volume cars
Opportunity to enjoy cars such as the Aston Martin DB4 GT Continuation on the road
R-Reforged has extensive experience acquiring local equivalent approval for bespoke cars in other countries
There has been a lot of excitement of late around so called 'continuation' cars. These small-run, hand built machines from the likes of Aston Martin, Jaguar, and even Land Rover are, at their core, heritage vehicles. However, they are built today, from scratch. They're not restorations, they are entirely new cars built in the same way as they were when they were launched. And this, of course, is wonderful, as it's a means to get a brand new classic car, so to speak. However, there is one issue in that these cars are, more often than not, nothing but big toys. Unable to to be driven on the public highway.
This isn't the fault of the manufacturers, it's more of an issue caused by precedent and legislation. You see, as these company build modern, cutting-edge cars, they have standard to meet. Sadly, the continuation cars fall short of these modern must haves. And because of that, it looked like these specials cars would be nothing more than track toys or static exhibits, which would have been a crying shame. Good job, then, that R-Reforged has stepped in to give these cars the credentials they need to hit the open road.
For each car, R-Reforged will now develop and fit bespoke parts to pass the Individual Vehicle Approval (IVA) test before registering the car for full UK road use. The IVA compliance service will be available for all continuation series, limited production and one-off vehicles, as well as electrified classic and performance cars.
IVA involves checking that vehicles meet the modern environmental, driver and pedestrian safety requirements laid out in European legislation and applies to imported as well as low volume vehicles. Whilst the UK's IVA maybe accepted in other countries under 'mutual recognition' agreements, R-Reforged has extensive experience acquiring local equivalent approval for bespoke cars such as Ferrari 599 Zagato, Aston Martin DBR2 racing car, Land Rover DEFENDER WORKS V8 70th EDITION and Lamborghini Gallardo Zagato Spyder.
"By being restricted to private tracks, owners haven't been able to extract the full pleasure of driving a newly-built classic," says R-Reforged's head of engineering Adam Donfrancesco. "With our service, it's possible to enjoy these special cars on the road. Alongside compliance, R-Reforged's IVA service incorporates other changes to make these cars more versatile, usable and undoubtedly provide a better return on investment when they can be used and enjoyed every day."
Seven of the 19 DB4 GT Continuations have already been sensitively upgraded with a fully reversible kit that incorporates over 60 changes undertaken by R-Reforged. Each respects the original design whilst meeting the stringent standards required to gain approval. Modifications incorporate a smoother octagonal wheel nut, E-marked side and rear windows, new trim parts with smoother radii to minimise sharp edges and upgraded lighting – including the addition of discrete side repeaters along with a retractable fog lamp. To meet pedestrian safety standards, other modifications include replacing the 'slashed' exhaust tips with rolled versions and the removal of the front fog lamps. Inside, as well as changes to the steering wheel, instrumentation and fitting an immobiliser, the roll cage receives a trimmed, matching leather cover.
One of the most significant challenges R-Reforged faced was to achieve modern EU emission targets with the period engine design. To solve this, R-Reforged developed an integrated silencer and catalyst system. Combined with engine tuning and changes to the fuelling system, converted Aston Martin DB4 GT Continuations now meet UK emissions standards, enabling them to be enjoyed on the road. The meticulous process takes up to 10 weeks, including arranging the IVA test itself. It is then returned to the customer complete with a tailored 'campaign case' to store the exchanged parts, ready to revert the car to its original factory configuration if ever required.
Highlights of the changes to DB4 GT Continuation, all fully reversible with no bodywork changes needed, include:
Octagonal wheel nuts with spares supplied
Michelin Pilote X tyres
Discrete side repeaters
Retractable rear fog light
Upgraded headlamps
Wing mirrors – mounted without needing to drill any new holes in the body
Removable custom leather trimmed roll cage padding
Padded steering wheel and horn press
E-marked, scratch-resistant side and rear windows
Instrumentation changes, including custom Smiths gauges
New exhaust with integrated catalyst
Fitment of engine bay panels to prevent dirt ingress
Bespoke overlay wiring loom
Activate reversing light function
All-important number plates!