The Fast Fords You've Probably Never Heard Of…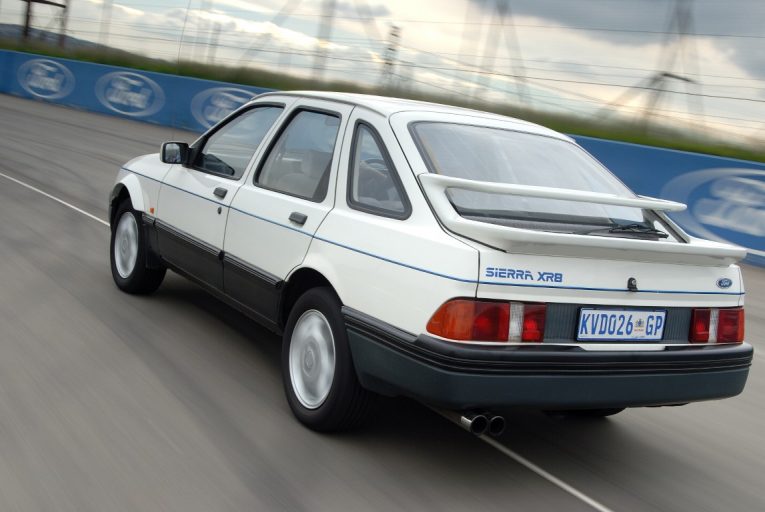 Fast Fords, heck yeah. We love a fast Ford almost as much as the people at, well Fast Ford. Many of us grew up with the XR2, XR3i, XR4i and the RS models. Okay we didn't necessarily own them personally, more friends of friends and some bloke down the road, but we wanted to and we lusted after them in dealerships everywhere.
Today many of them are fetching strong money, the market buoyant with people who wanted one as a teenager and can now actually afford to buy one. But it's very possible there are a whole load of fast Fords you've never heard of, and quite a few of those were made in the Rainbow Nation, South Africa.
In the 1980s South Africa was doing its own thing in good ways and of course, bad. The bad was the reason for some of the good though because Apartheid and global sanctions forced Ford to develop some of its own performance models on local soil.
Unofficially the first performance Fords in the country wore the Perana name, produced by Basil Green Motors and sold through a limited number of Ford dealerships. The first was a 3.0 litre Essex V6-powered version of the Cortina Mk II before Green performed his magic on the Escort Mk I.
Probably the most famous Perana though was the Capri, which used the 5.0 litre V8 from the Mustang and could reach 168 mph. It was so well received that Ford South Africa actually built it on their own production line. Not surprisingly, the Capri Perana was quickly adapted for racing and it won national saloon car championships in 1971 and 1972.
When the Cortina Mk III came along, Green did his thing and created a Perana version of that too before taking his hand to the luxury Granada, yes really, a performance Granada. Officially it was called the Granada V8 but enthusiasts still call it a Perana even though it wasn't. It used the Windsor V8 engine and had a top speed of 129 mph and could sprint to 62 mph in just 7.8 seconds. Global Ford boss, Lee Iacocca was so impressed with the Granada V8 that he bought one himself and had two shipped to Europe to look at producing them in Cologne, but sadly for the European market that never happened.
Green went on to produce Perana versions of the Escort XR3 and the Sierra Sapphire but by then it was really just about tuning rather than major engine and engineering changes. However, the Perana name made such an impact in the country that Basil Green was even inducted into the SA Hall of Fame to join great names such as Nelson Mandela and the golfer Gary Player.
Throughout this period though and despite an evident partnership, Ford was a bit jealous that it was missing out on the market for powerful performance models and so in 1980 it introduced the Cortina XR6 using the Essex V6 engine. Then in 1981 it went one better with the XR6 Interceptor, a car which had more than just a seriously cool name. It was extensively re-engineered with triple down draught Weber carbs and revised suspension, all of which was done with a view to homologate the car for circuit racing.
The Cortina's legacy came to an end of course and it was replaced by the Sierra, but Ford was not going to settle for just Ls and GLs, oh no, it wanted muscle and power, lots of power.
Officially Ford divested from the country in the early '80s, handing operations over to the South African Motor Corporation (Samcor) and one of the first things they did was to create something that made people sit up and take notice. That came in 1984 when big daddy rolled into town, the Sierra XR8. Like so many iconic models, such as the Volkswagen Golf GTi Mk1, the XR8 was something of a passion project for engineers who did much of the development work in their own time.
Port Elizabeth-born Brian Gush has recently retired from his position as Global Motorsport Director for Bentley Motors in Crewe, but in his former life in the 1980s he was the Chief Engineer on the XR8 project in South Africa. At the time the V6 was losing ground on the track and so what do you do? You drop in a V8 instead. Gush and his team again turned to the United States, shipping over a Mustang 5.0 litre V8 motor with a four-barrel Holley carb which produced 216 hp and 374 Nm.
The standard Sierra could not cope with the power, so Gush says they had to grab a five-speed gearbox from the Granada as well as its diff before machining a unique propshaft and driveshafts. That meant more changes and so they created new front and rear cross member subframes, a new radiator, fibreglass grille and new headlamps. Then things got even more interesting because they needed it to be able to stop – always useful – and so searched for better brakes. In the end they used rear callipers from the Porsche 914 and Ferrari 308 and bolted AP Racing 4-pot callipers on the front.
And let's not spoil things by forgetting about the spoiler. The XR8 featured the double wing from the XR4i, although only after the engineers persuaded the planning department that the spoiler made it faster on the track. It's unknown whether it really did but good on them for getting it through.
In the end, Ford engineered 96 new components for the XR8 and modified a further 150 from the XR6 for it.
Eventually the project was given final approval by Ford Special Vehicle Operations and none other than Ford's global vice-president, Bob Lutz, flew out to South Africa to sign it off. He signed a cheque too, ordering a pair of XR8s that were shipped to the US, one for himself and another to go on display at Ford's global headquarters in Dearborn, Michigan.
In the end only 252 cars were produced between 1984 and 1988, all capable of reaching 62 mph in 6.95 seconds and with a top end of 144 mph. While Henry Ford said you could have the Model T in any colour as long as it was black, the XR8 was only available in white with a blue Ford Motorsport triple go-faster stripe down the side.
There were plans to do a second production run of XR8s but in order to do so, the team at Ford tried to use the rear brake callipers from the Volkswagen Golf GTi, but after plenty of negotiation, VW eventually said no.
The XR8 was the real headline grabber, but Ford had also used its experience with the Cortina XR6 to developed the Sierra XR6, under the rather uninspiring project name of "Toni". Again it used the Essex V6 motor manufactured at Ford's engine plant in SA developing 150 hp and 236 Nm. Production ended in 1992 but in 1993 the company produced the Sierra 3.0i RS with a fuel-injected engine producing 157 hp and 260 Nm. Around 500 were made during its three year lifespan, a period which also saw Ford officially return to the country in 1994 as a shareholder in Samcor before taking full ownership in 1998.
Over the decades Ford South Africa has produced a number of models for the rest of the world, including the popular Cortina and Sierra P100 pick-ups, as well as the latest generation Ranger and its performance Raptor version, but when production of the 3.0i RS ended, so too did the era of great South African fast Fords. A shame, but as they say, better burn out in a blaze of glory than simply fade away.