YENVINE Bike Phone Mount – Product Review
Satellite navigation has been around for a while now and we think it's safe to use a big word like "multitudinous" when it comes to describing the sheer number of devices available. From Google Maps to old school Tom Toms there's a satellite navigation system for everyone and most people have used it in some form or another when trying to get from A to B – and often via C, D and E too – making these types of maps incredibly useful. Gone are the days of having your passenger navigate using paper maps, which is a sad thing in itself, but that's for another article. Long easy right, maybe…
When it comes to classic cars there are numerous roads you can take (pun very much intended). You can swap out the old, original stereo for a fancy flip out screen that has some kind of mapping system installed or you can simply stick your smart phone to the dash using your mount of choice and away you go. With motorbikes, however, things are not quite as simple. With the exception of various Harley Davidsons and the infamous Honda Gold Wing, the majority of motorcycles don't have stereos, so option one above is out. That just leaves some kind of mounting setup for your handlebars then.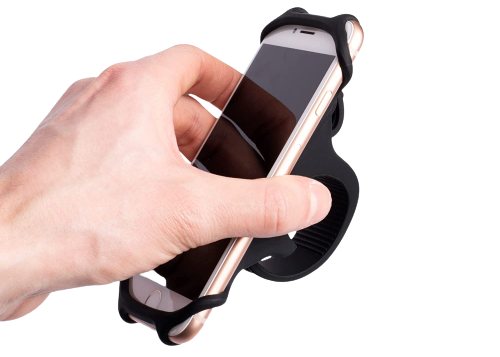 Yes you can buy motorbike specific systems that mount neatly onto your steed but if you want to use your smart phone for navigation, as we do, you'll need a corresponding gizmo. The trouble is there are countless mounting options to choose from. A simple Amazon search for the words "motorcycle phone mount" brings up 18 pages of results. And that's a lot. So, with that in mind we thought we would pick one that sounded good and would suit our needs.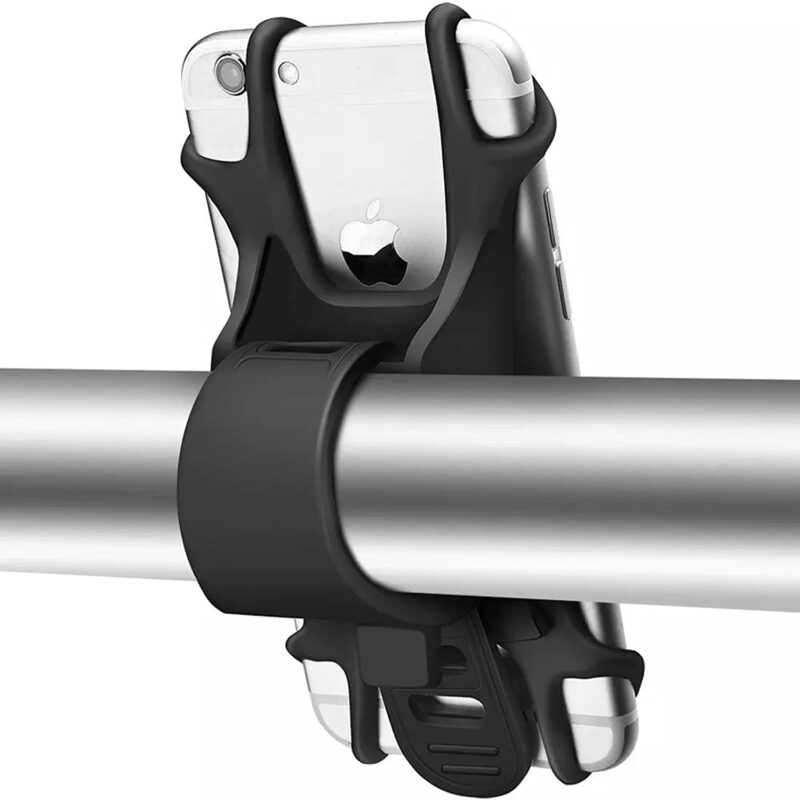 Get your YENVINE Bike Phone Mount here.
The Product
In contrast to the more complicated solid mounts out there the ENVINE Bike Phone Mount is made of durable silicone which wraps around the bike's handlebars, much like a watch around your wrist. The non-slip silicone can absorb shocks while firmly gripping your phone. We chose this one partly because it fits phones with screens between four and six inches but there are other options on the market for larger devices.
The flexible phone cradle avoids any scratches or damage to the screen and is incredibly easy to install and remove from the bike. Not only that but the silicon bands only fix the edges of your phone or device, leaving the screen free so you can scroll, tap and navigate your apps easily. You can also access all of the buttons and the audio jack without removing the phone from the mount.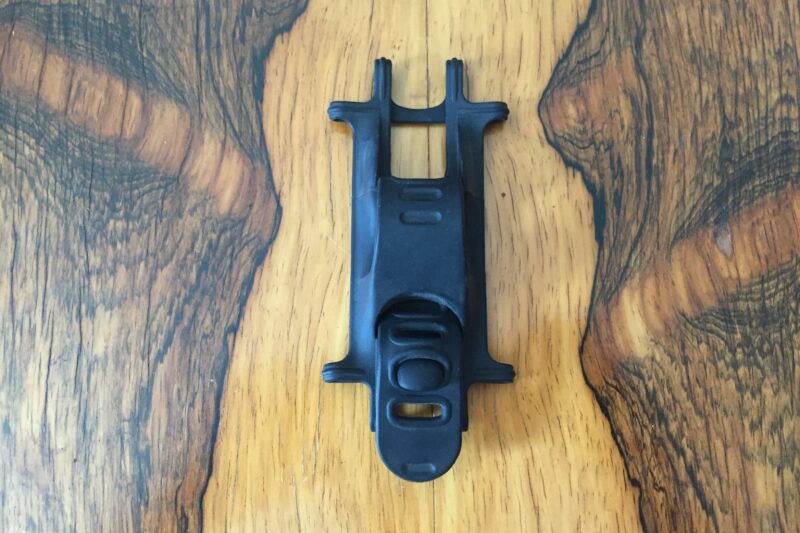 The Test
We recently took a trip into south east London from Peterborough and with myriad one way systems, bus lanes and whatever else the government decided to throw our way we thought it necessary to utilise Google Maps (note: other mapping systems are available) to successfully get us to where we needed to be. This, then, was the perfect test for our new mount. With a mix of motorway riding at high (we mean legal, obviously) speeds and city filtering over manhole covers and speed bumps it would be a baptism of fire for the ENVINE Bike Phone Mount.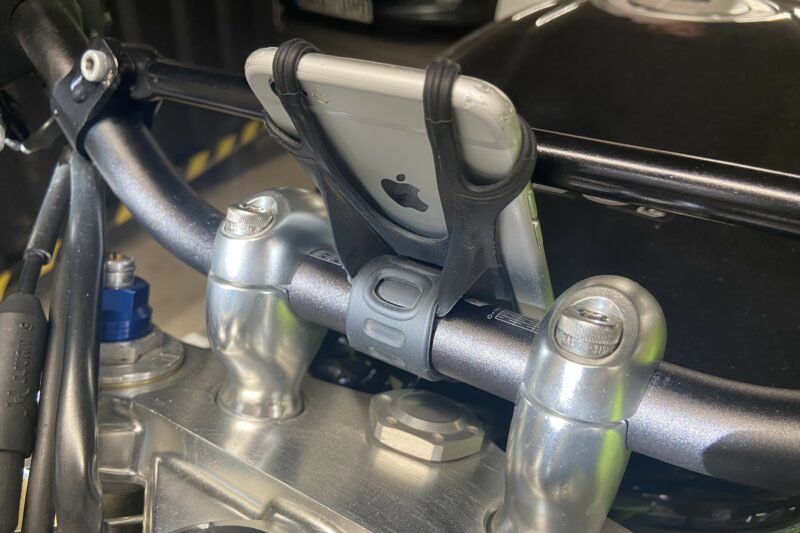 The Result
Installation to the handlebars was easy, despite us having fitted braced Renthal motocross bars to our Triumph Speed Triple 1050, and the phone then easily fitted into the cradle after a little stretching of the corners. Everything felt snug and not only did the mount and phone stay put, they didn't budge an inch, remaining exactly where we placed them before setting off. The screen was easily accessible and viewable for the entire two hour ride and at no point did we feel that it was going to come loose or that we would not be able to see where we were supposed to be going. During riding the silicone acts as a damper and keeps vibrations to a minimum and when having to stop for fuel en route it was easy to simply remove the phone from the mount and re-install it, even with bike gloves on.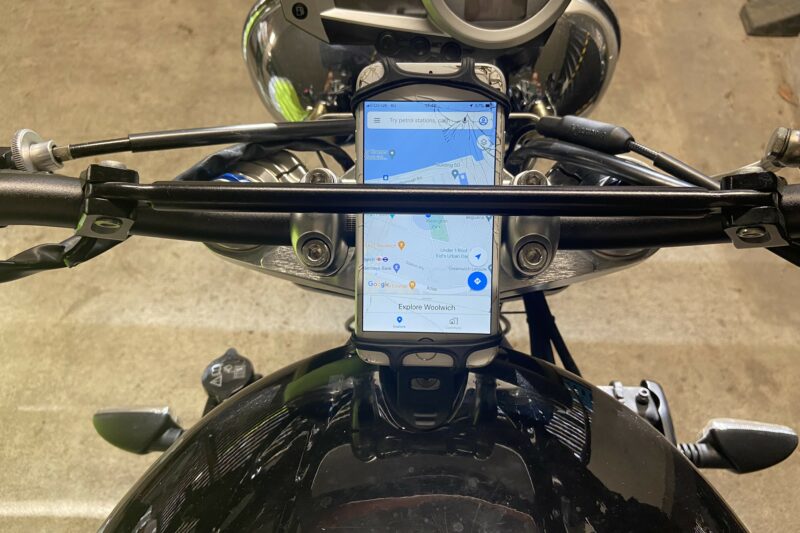 The Verdict – 5 out of 5
The ENVINE Bike Phone Mount is a great bit of kit. We love its simplicity and the ease at which it goes on and comes off the handlebars. There's enough faffage as it is when it comes to motorbike gear and so not having to mess about with an overly complicated mounting solution is a blessing. If you're looking for a motorcycle phone mount that is cheap, easy to use and super secure then you can do a lot worse than this little beauty. It will also work on your bicycle too. Double whammy. Get one.