1960 Ford Popular 100E – Project Profile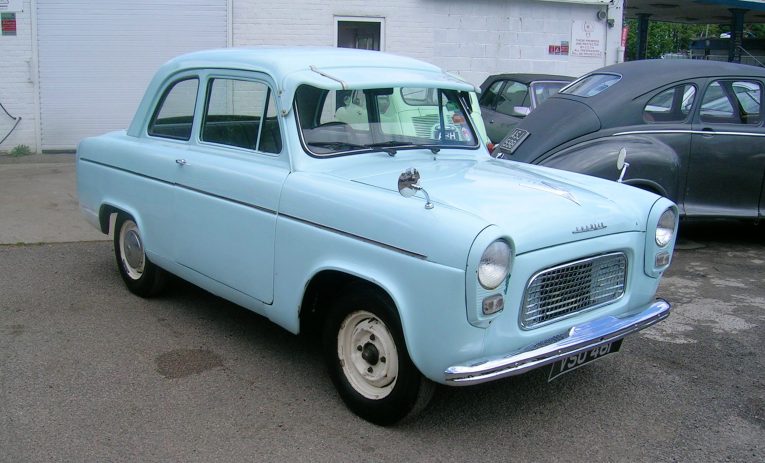 There are few companies in the automotive world as good at badge engineering as Ford. Walk into a dealership today and you can get seemingly limitless versions of any one car. You want a basic Ford Focus? No problem. You want a fast one? They have it covered. What about one that just looks fast? Not an issue. How about one that is so laden with luxury trim and modern tech it could make a Bentley blush? Step into a Vignale. Ford loves a bit of money for the same rope. And it's not a new thing, as this cheeky little 1960 Ford Popular goes to show.
The 100E Ford Popular was not a new car in the traditional sense. Instead, it was Ford's way of getting more mileage out of the old Ford Anglia 100E body. The Anglia, however, also shared its body with the Prefect. Confusing. But, it worked, as even though the Popular 100E was an old design in 1960, it still sold. It was, ahem, very popular. Sorry.
And that bleeds through to the classic car world today. The 100E is loved no matter the trim level. Two-door cars, which is what we have here, are arguably the most sought after. They're just cooler somehow. Plus, you don't really need a four-door model, unless your rear-seat passengers are Borrowers. Yep, it's a cool little Ford and one that is brimming with potential.
What is it?
As we mentioned above, what we have here is a 1960 Ford Popular 100E. It's apparently been in dry storage since 2002 and is being sold as a 'stalled' project, as it's in bits. However, don't be put off, as it looks to be a very solid and honest example. The Popular was a more basic offering than the other cars in Ford's 1960 showroom. However, it wasn't stuck in the past. The 1,1172cc side-valve engine was a stronger unit than before. The car had hydraulic brakes – though they were drum all round. With only 36bhp, it was no hot rod – it could just about crack 70mph – and it was basic, with no frills. The body trim was minimal, and the interior was very basic (though options for more equipment like a radio were offered). It was and still is a basic, but ultimately very charming little car. And one that still has a huge following.
Why is it a project?
As we touched on above, this is a project that was started but not finished. So we can strike Magnus Magnusson off the list of being a potential owner. Though speaking of which, the seller does say that this little Ford has only had two owners in the past, which is a remarkably low number given its age.

It looks to be remarkably solid. There is no scary-looking rust to be observed at first glance, and everything looks to still be standard specification. Some work has been done to the rear valance, which looks like it will need revisiting. And the engine, while present, is in a state of disassembly, so you can bank on that needing a rebuild (there are no plugs fitted, so it will almost certainly have locked up due to corrosion).
The interior looks excellent. In fact, we suspect the seats have been retrimmed, as they look like they need nothing more intensive than a good wipe down. The piping is still a bright white! The door cards look excellent, too. As does the dash and steering wheel.
On the whole, it looks like a very solid, very original little car. The panels look good, the panel gaps too. There is no obvious damage, no rust as we said, and it looks to be largely complete. This is most definitely a worthwhile project.
Five things to look for?
1) Rust
It's a Ford from 1960, so rust is something you need to look for. In the case of the 100E, the floors, the bulkhead and all the underside box sections are where you need to have a good poke about.
2) Parts
The car comes with a whole host of parts, but are they the right parts, and is there enough there to put it back together? You're going to need to buy engine stuff, but still doesn't hurt to see what's already there.
3) Engine
Now, we're just speculating here, but there are no spark plugs in the engine. Even if the car was stored in the driest of dry places, this is still going to mean a high chance of the pistons having welded themselves to the block. Worth inspecting, as the engine could be junk.
4) Paperwork
The car comes with some paperwork, which is sure to make for interesting reading. There is an old style V5, but no mention of a new one. Worth seeing what's there, as you don't want to end up with a car that's going to be a nightmare to register.
5) Trim
The car looks to be pretty complete, bar the obvious lack of rear bumper. But how good is the trim? Will it be okay with being removed and put back, or has it had its day? Trim can be hard to find for these little cars.
What should you do with it?
Now, you could go down the route of restoration. Certainly, the 100E is a rare little car and as such, it would be nothing but delightful to see this one back in working, original fettle. However, let us not forget that the scene for modified old Fords is nothing short of massive. And of all the old Fords, the 100E is one that responds very well indeed to some modification. You don't need to go mad. Modern suspension, disc brakes, lower it and fit deep steel wheels with dog dish hubcaps. Put a more lively crossflow engine in it, maybe with a spicy cam and a pair of tin-40s. It could be a proper little street machine.