1998 Marcos Mantis – Classified of the Week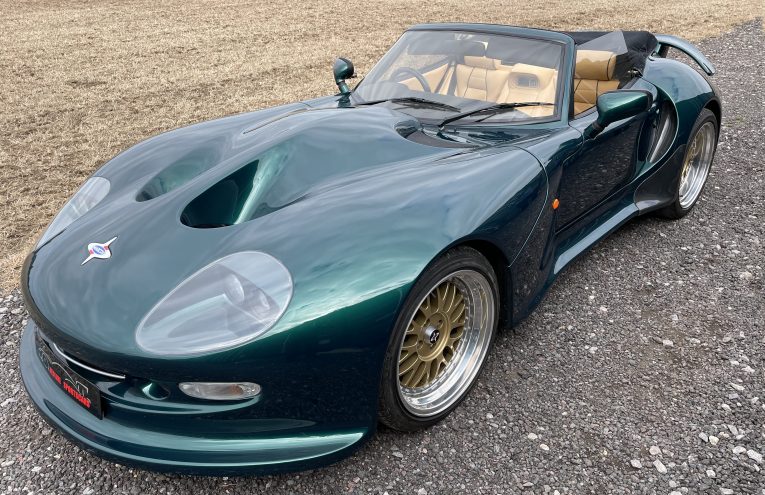 Are you of a shy and retiring disposition? Do you like to stay out of the limelight and avoid attention at all costs? If you're nodding along, then we have some bad news, as this rather brutish 1998 Marcos Mantis is, with absolute certainty, not the car for you. Sorry about that. If, though, you like the idea of driving down the street and leaving a sea of snapped necks and dropped jaws in your wake, this is the car for you. It's loud, it's bright, it's unashamedly shouty and it is, as a direct result of all that, utterly brilliant.
The Marcos Mantis has been around since the late '60s. This one though, is a far throw from those early cars. It has a passing resemblance and it bears the same name, but that's about it. The company behind it, Marcos, was founded by Jem Marsh and Frank Costin, and they had high hopes of producing rakish, elegant sports cars to rival the best out there. It was a company full of ambition, but very little success. Founded in '59, it went into liquidation in '72, then was reborn again in '81 (by Jem Marsh) but this time the company offered the cars as kits rather than turn-key. That all changed in '92 though, when the company started building them again.
By the late '90s, and no doubt fuelled by the social appetite for excess, things were getting a bit bonkers. But, alarmingly, the Mantis you're looking at here isn't the maddest, baddest one Marcos built. There was a supercharged version with 500bhp, and also an LM. They weren't holding back. Really though, this 1998 Mantis with its naturally-aspirated 4.6-litre Ford V8 is more than enough. It packs a mightily impressive 327bhp, all of which is delivered to the massive rear wheels via a Tremec 5-speed manual transmission. It's a brute of a car, even without the GT's supercharger.
Just look at it. It's almost a caricature of a car with its excessive lines, those huge split-rim alloys, the big rear wing and the unapologetically large bonnet and side vents. It's a car built with apparently little restraint or subtlety, and we love it for that. We also love it because it's a proper GT car. Sure, it's fast, but this is a machine devouring miles in surprising comfort. There are swathes of tan leather, there is air conditioning, a stereo, electric windows and even electrically adjustable pedals. Very plush.
Incredibly, the 1998 Marcos Mantis featured here has covered a mere 6,300 since '98, and that's great for you, but criminal for the car. This brute needs to be out on the road, being used, being enjoyed and being celebrated for just how bonkers it is. It's an event of a car. Noise, power, speed and the kind of 'in your face' attitude that is lacking from modern cars. Priced at a mere £34,995, it's also a bit of a bargain, too. You could spend twice that on a Ferrari or Porsche, and then still be left with Ferrari or Porsche running costs. This Mantis, however, has a Ford heart. It's easy to maintain, you can use it regularly and it will always reward you if you feel like giving it a bit of a kicking. It is, in many respects, the perfect sports car. It is certainly more exclusive that many Porches and Ferraris, that's for sure.