Aston Martin V8 Virage Volante – Classified of the Week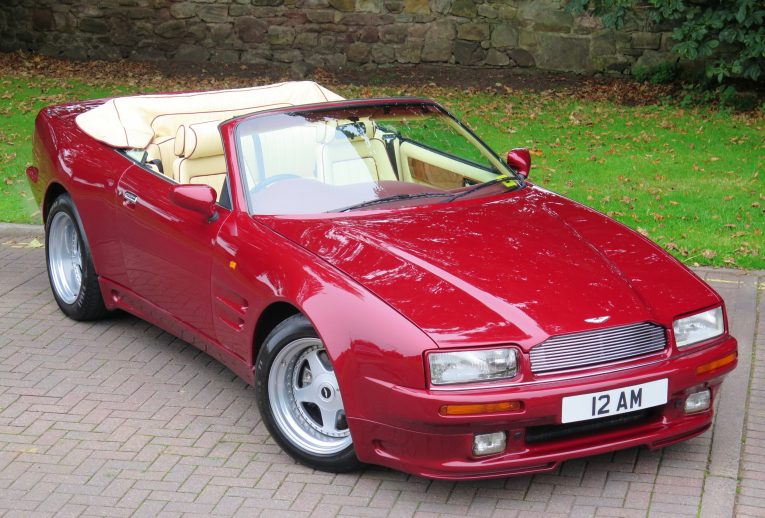 There's something so wonderfully 'right' about a car that is unapologetically in your face. There are cars like the three-door Sierra RS Cosworth with it ludicrous rear wing, or perhaps the early Renault 5 with the engine in the middle, for example, that embrace the bonkers and run with it. And that's very much the case with this week's classified of choice, because there is nothing subtle about a wide-body, V8, Aston Martin Virage Volante. Big, brash and most deliberately in your face, this car makes no apologies for what it is. It's a British muscle car, a bruiser but also a cruiser thanks to the automatic transmission. This one, with its bright red body, roof and cream over red interior is perhaps somewhat louder than the rest, and we love it.
The Aston Martin Virage was the company's leading big coupe. But as with everything Aston, there was a need from the buying public to see one with no roof. So, in 1990, one year after the launch of the coupe, Aston unveiled the strictly two-seat Volante version. The response was good, but there was a grumbling about the lack of seats, and so a year later it reappeared as a 2+2. In 1992, engineers at Aston turned the wick and built a more aggressive version, this time with a 6.3 V8 rather than the 5.3 as per the car fitted here. Known as the 'Works Service' package, it brought with it wider arches, deeper skirts, spoilers and those stunning and super wide OZ split-rim alloy wheels. While all this was meant for the 6.3 version, Aston soon made a 'looks only' package, and that's what the car you're looking at here has.
The Virage Volante was, however, a victim of bad timing. The early '90s were not a good time for 5.3 and 6.3 litre V8 supercars, and as such, sales were slow. Fewer than 250 were produced. As such, finding one today can be a big ask. Finding one as good as the example you're looking at here is near impossible. If you have ever wanted one, this has to be it.
The Virage Volante we have here has covered a paltry 32,000 miles over the course of its life. It is finished in stunning metallic red with matching red roof, while the interior is a joyous assault on the eyes care of swathes of red and cream leather along with acres of deep, luxurious red carpet. It has full service history, as you would expect, and even has three sets of keys. It's as close as you can get to owning a new one in all honesty.
Sure, it might not be the 6.3, but come on, a 5.3 V8 is still a capable lump with more than enough power to hustle the big Volante along. It's still around 330bhp with some 364lb ft of torque. The silky smooth ZF automatic transmission takes all the work out of driving, leaving you to enjoy the V8 noise and the wind in your hair. This car is a bright, bold celebration of just how bonkers Astons of old can be. Sure, it's £100,000, but remember, this is a statement car that conforms to no formula, and exists because Aston wanted it to, not because it needed it to. Who doesn't want some of that in their garage?