Four Cars Ripe for the Restomod Treatment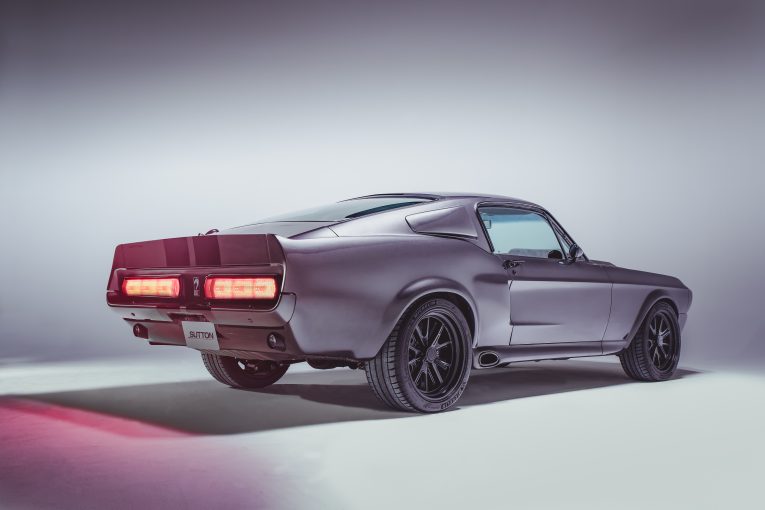 The restomod scene is alive, well and vibrant. There is big money in the world or restoring classics with a modern twist. You know the kind of thing; keep the lines and the style, but incorporate modern electrics, engines and design ideas to bring said classic bang up to date. Admittedly, it's not for everyone, but that's fine. What matters is that there is a booming industry based around it. Any industry based around any classic car is a good thing.
The Singer range is perhaps the perfect example of restomod style
Economics aside, there is also the artistic expression. We love seeing what these artisan companies can do with an old design. The only problem, to our mind at least, is that it seems to be the same cars that are subject to these works. Old Porsches, Mustangs as above and Range Rovers. But why just them? There is a vast, varied and exciting world of classic cars out there, and some of them would be absolutely astonishing if subjected to the restomod treatment. It's with that in mind that we've plucked five of our favourite candidates for a restomod makeover. Some modern flare in these classic shapes would make for very exciting machines indeed.
1) The Rover P6
When the Rover P6 was launched in 1963, it was already a car of the future. Rover had only recently found its taste for flair, thanks in no small part to the P5B. However, the P6 was leaps and bounds ahead. It was a sharp, angular, mean looking sucker that rode like a magic carpet and, in V8 guise, had some serious muscle. The looks were wildly futuristic for 1960s Britain, and as such, we flocked to it. We all wanted a slice of this brilliant car.
The P6 is the perfect car for the restomod treatment because it still looks clean and fresh today. It's an old car, make no mistake, but it still cuts a dash. It still works in our modern surroundings. Other cars from the '60s are rolling anachronisms, but the P6 is not. A restomod P6 won't look like an old car dolled up. It'll look modern.
What would we do to it?
Tesla Model 3 could give up its silky smooth electric powertain
The P6 was all about comfort and ride quality. Even today, the P6 still offers an astonishingly comfortable ride. As such, we'd focus on that. New suspension, air more than likely, with complete driver-facing management.

As for the powertrain, it's controversial, but we'd yank the volts out of a Tesla Model 3. The P6 would be fast, it would be silent and it would be environmentally sound.

The interior would get the full works, bespoke re-trim, air conditioning, Tesla control interface to bring modern controls and so on.

Externally, modern LED lighting built into the original units, bumpers ticked in closer to the body, bigger billet alloys wheels cut to mimic the Rostyles of old.
2) The Ford Capri
The Mustang is often on the receiving end of restomod treatment, but what about the Ford Capri? It was, after all, the European Mustang. Or so Ford would have us believe. Plus, there is such a strong case for the Capri to be built this way. We can walk into a Ford dealership and buy a new Mustang. It's a big, two-door car with a big engine and rear wheel-drive. That's what the Capri is!
The Capri was a car we all wanted back in the day, and then it fell from favour in the '90s, when it was seen as a bit cheap and uncool, especially compared to hot hatches that were winning hearts at the time. But now it's back in favour, with prices getting well into five figures. But five figures for old technology? No thanks, we'd much rather have the classic looks of a Capri, but with some more modern underpinnings. We're going to need a Capri, a Mustang and a grinder…
What would we do to it?
The Mustang's 2.3 Ecoboost engine would be more than enough for a Capri
First things first, we're going to need a Mustang, but not a V8. While the 5.0 modular unit is great, it's probably too much for the Capri. Instead, we'd go for the 2.3 EcoBoost. It's smaller, lighter and still packs well north of 300bhp. We'll take the six-speed manual transmission, limited slip differential and all the brakes and suspension, too.

Inside, well, we've already ripped the engine out of a Mustang, so let's have the seats, the dash and all electronics along with the air conditioning and modern entertainment stuff. Line the car with decent grad sound deadening, black alcantara details like headliner and door cards. Lovely.

Externally, we think the same metallic green as the Bullitt Mustang wouldn't go amiss. We'd lose the bumpers and smooth the bodywork, too. Then some 15 inch split-rim alloys in style similar to those of the 280 would do the job, but no bigger. Capris look silly on big wheels.
3) The Riley RM
We adore the Riley series of cars, but the Riley RM has to be the pick of the bunch. Long, flowing lines with perfect proportions, it's a stately but elegant looking machine that just begs to be brought into the 21st century. And thanks to enthusiast owners, a lot of the research and legwork has been done, with BMW engines being a known possibility over the 2.5 Riley engine originally fitted.
The problem, if you will, with cars of this vintage is that they can be a bit of a handful to drive. It's a very different experience to that of driving a car from the '70s or '80s, let alone a modern car. If there was a way to give the Riley some modern underpinnings with the associated ease of use, you would have a wonderful machine on your hands.
What would we do to it?
If the modern BMW straight-six engines are good enough for Morgan…
We'd choose a turbocharged BMW engine from one of the company's modern offerings. If these engines are good enough for Morgan to use instead of V8s, they're good enough for our Riley. We would of course mate this up with all the suspension, brakes, steering and rear axle/differential. Plus, we would take the automatic transmission, as one shouldn't manually change gears in one's Riley.

For the interior, we'd capitalise on the wiring harness of the BMW and fill the luxury innards of the Riley with Bluetooth, air-conditioning, wireless charging and so on. The Riley was a flagship luxury machine, so it makes sense to add modern luxury functionality.

The interior trim would be bespoke from top to bottom. High quality, soft leather for the seats, doors cards and dash. We'd have a bespoke digital dash unit which could be programmed to show period dials – a nice mix of new and old. We'd acquire seats from something befitting, like a modern Bentley or Rolls – comfort is key.

Externally, a more modern colour would help. A nice candy red with black, or a bright blue of some description. Modern wheels but in a retro style would be needed for the BMW hubs, but they would be a nice nod to the modern underpinnings. Other than the addition of some subtle LED lighting, we'd actually leave the rest of the Riley as-is. It's a pretty car.
4) The Mercedes-Benz W123
There are some classic cars that are just timeless, and the Mercedes-Benz W123 is one of them. On paper, it shouldn't be so charming. It is, after all, nothing more than a traditional three-box saloon. However, there is something utterly beguiling about it. Something effortlessly cool, if you will. A W123 would look at home outside a trendy London bar, just as much as it would outside a chocolate box cottage in the Cotswolds. Not many cars can do that.
The W123 is also a car with incredible build quality, to such an extent that you honestly could use one as your everyday transport in 2020. A formidable engineering achievement, the W123 while brilliant, is perhaps one of the most fitting candidates for the restomod treatment.
What would we do to it?
C63 mechanicals would be far more at home in the classic lines of a W123
Mercedes-Benz never officially offered the W123 with a V8, and that seems like a crying shame to us. As such, our restomod Mercedes would lean into the world of performance with the 4.0 V8 bi-turbo engine from the modern C63 AMG. With 476hp and 650Nm, it would make light work of shunting the W123's mass around.

As with the other cars here, we would also take the rest of the running gear from the donor car and apply it to the W123. Brakes, suspension, transmission (auto, naturally) and wiring harness would all go on the classic car.

Unlike the other cars, the interior would be pure stealth. Mercedes-Benz got it right with the W123, so we don't want to change that. The only hints would be subtle additions like climate control, wireless charging and probably a dash binnacle from the donor car, but carefully fitted into that of the W123.

Externally, a deep metallic black would work well with all the chrome polished to a high shine. We'd shorten the bumper mounts and bring the bumpers closer to the bodywork. We'd also sit the car on the flat-faced alloys of the C63, serving as a subtle hint to what lies beneath.