Mountney Classic – Car & Classic Visits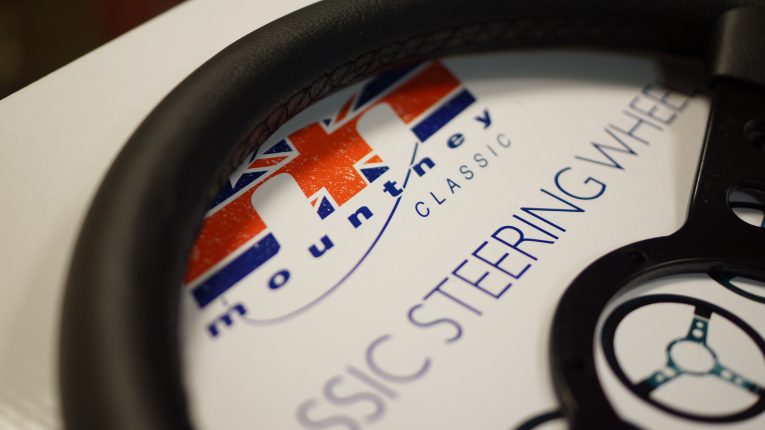 Back when I was growing up, desperately waiting for my 17th birthday to roll around so I could start my driving lessons, I was already building the ideal car in my head. It was a Mini, that was for certain. My best mate had one, and so did his two brothers. I wanted to be a part of the club. But there was no way my Mini was going to be standard. It would have a stage one tuning kit, a centre exit exhaust, arch flares, a decent stereo and of course, a better steering wheel than the standard item. There was only one option for me, and that was a leather-trimmed Mountney item. 
Once I passed my test and the Mini became a reality, the steering wheel was the first modification. I remember fitting the new steering boss and I vividly remember hand-tightening the shiny new bolts with the supplied Allen key. Sitting in my car, my motoring independence in front of me, I wrapped my hands around that wheel and it was exciting. The car was a major bag of bolts, but I had that wheel. 
The classic car world may pretend that it only goes weak at the knees for the Moto Lita wheels of the world, but what's the 'every man' appeal of those? The Moto Lita, while lovely, isn't a steering wheel many of us have grown up with. The Mountney ones were, though. Think about the Mountney range of wheels and you'll soon be alerted to a world of outstanding ubiquity, at least within the classic car world. Modified classic, competition classics, kit cars, 4x4s, all have and still do sport these iconic, British wheels. And that's special. 
I wanted to know a bit more about this popular brand so I headed up to Mountney HQ in Banbury to find out what was what, and when I did, a world of products opened up to me.
Sitting in a quiet corner of a Banbury industrial estate is the HQ for Mountney Ltd. An unassuming building, you'd have no idea how much good stuff lies within those walls. I'm greeted by Dan Kimpton, who is the Business Development Director for the company, and also the son of Mike Kimpton. It's the two of them that have brought Mountney to the position it's in today.

It all started in the 1960s when Albert Mountney set up the steering wheel company. The company's products were a welcome addition to the shelves of many a motoring retailer, and soon the demand was so great that Albert needed help. This came in the form of Mike, who by this point had set up the very successful Kimpton Marketing, and as such, was in a prime position to take the business forward. But therein was the issue.

Dan tells me that his dad, Mike, saw the potential of Mountney and was, frankly, somewhat frustrated. The demand was huge and Mike wasn't having to work too hard to get people to buy Mountney products. He desperately and passionately instilled in Albert that investment was needed. Staff, machines, tooling, all of it. The demand was there. But Albert wasn't convinced. He just wanted a nice, little company and to one day retire. Mike continued to try and sell him on the idea of expansion, which culminated in him asking to buy the company. But alas, Albert said no. After four or so years, the two went their separate ways. 
Never say never though, as in the early '90s Albert got back in touch with Mike and after some careful consideration, he chose to buy the company. Mountney Ltd was born. And what a time to be born it was. The '90s were representative of car culture at what some would say its peak. Dan tells me how he fondly remembers being a teenager back then, working on the marketing stands for Mountney at classic car events, and Max Power shows and the like. The products were so popular and so highly regarded. The business was, quite simply, booming. 
And herein lies the key to why. The guys at Mountney are aware that Moto Lita and the like are out there, but they're not trying to compete. Mountney has a special place in the market, a place where their products are aspirational but also attainable. In reality, that's probably a better business model that Moto Lita – people pining after your wares isn't enough. You need them to actually buy them, too. 
Since Mike took over the business, it has diversified significantly. The parent company is still Mountney, and the bread and butter is still the vast range of steering wheels, from motorsport parts through to thin-rimmed, elegant wood wheels. Then, there are the classic parts, the badges, the gear knobs, the chrome trims, all the stuff any good classic needs. All are designed in house, too. 
The other arms of the company stretch into the world of roof bars and towing equipment, which Dan admits has been highly lucrative for the business. The Race X side of the business, while booming in the '90s and early '00s heyday of modified cars, now takes a quieter position. Though modified cars are still catered for with a range of products such as air filters and G Max suspension. 
And then there is the stuff you don't know about. Mountney is responsible for a number of steering wheels that you'll find inside some very special, high-end limited-run cars. Real bespoke, luxury stuff. Dan and the designers work with these manufacturers to deliver exactly what they want, rather than them having to settle for a generic wheel. It's an important side of the business, one that shows how approachable and diverse they are. 
The landscape may have changed within the motoring world, and it will continue to do so. But no matter what, we're always going to want a decent steering wheel to interact with. Mountney is a company that understands this, and it's a brand that will be here until the designers decide we don't need steering wheels anymore, which is hopefully a very, very long time away.