Scalextric – Slots of Fun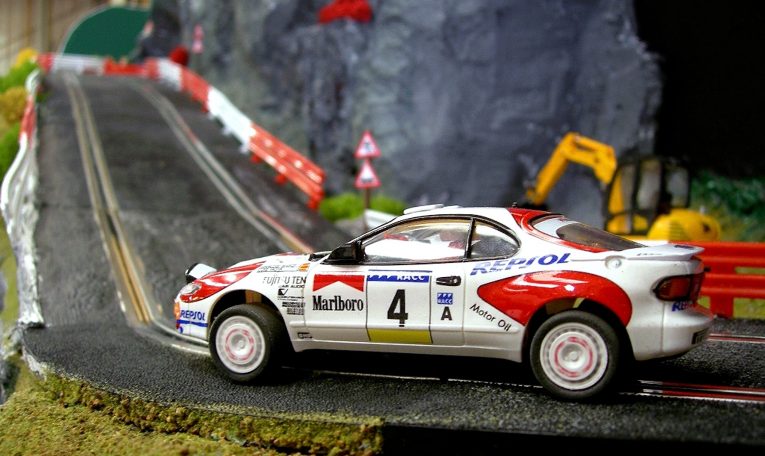 Scalextric has been around since the '50s, and as such, it has become a household name synonymous with small scale vehicular fun. As a giddy child, you may well have launched a 'Might Metro' off the track and into the skirting board, much to the chagrin of the family cat or your father's passing ankles! You may have been thrilled at the thought of having a night race, and gleefully watched the tiny headlights and functional brake lights activate as you carefully feathered the handheld trigger throttle. And maybe that's where your memory ends, a pleasant chapter from your younger days. But why let it end there?
The world of Scalextric is more advanced, diverse, detailed and exciting than it has ever been. The cars now available are exquisite in detail, the digital control mechanisms offer realistic throttle control, the additional kit you can buy will allow you to build a small scale motorsport world, and the excitement is no less in scale than it was when you were young. Now is the time to get back into Scalextric, and here are the five things you need to do it.
The first thing you're going to need is a basic Scalextric set, and we'd suggest this American Police Chase set because, well, it has a police car complete with flashing light and audible siren! It also has classic cars in the form of an AMC Javelin and a Dodge Challenger, the track has loads of kit like barriers and narrow sections, and the layout is more interesting than the traditional oval or figure of eight. There is even a jump to contend with, so some skill will be needed to win the chase!
One of the biggest joys of Scalextric is the fact you can buy more track and build your own layouts. More than that, you can also recreate the layout of your favourite real world circuits, but in the comfort of your living room. You're going to need curves to do that though, unless you want a really, really long track (though there's nothing stopping you from creating the Mulsanne Straight in your lounge). This pack of curves will get you well on the way to creating your own unique tracks.
The world of Scalextric cars is one you can easily lose yourself in. The cars that come with the track sets are okay, but they're more within the realm of being toys. Standalone cars and car sets lean more into the arena of being scale models, but ones you can actually race. Like this McLaren set of cars from 1996. The detail is exquisite and as such, you'll lose yourself in the racing action. Just be careful with these – you'll be upset if you launch one into the skirting board at full chat!
Are you even racing if you don't have a Dunlop bridge? Donington, Silverstone, Brands Hatch, Castle Combe and now your living room floor. They can all share in this most iconic of motorsport fixtures. Adding this to your Scalextric time will make it all the more realistic. And let's face it, we're all about the detail, right?
If you're going to go racing, you need some spectators, and you can indeed buy packs of teeny, tiny people to flank your Scalextric track. But they're not all going to want to stand, some will want to sit. And that's why you need this grandstand. It's made from laser cut wood, it's a doodle to build and it will give all your fans somewhere to cheer from. Well, you can imagine them cheering, they're not real people. This isn't The Borrowers.