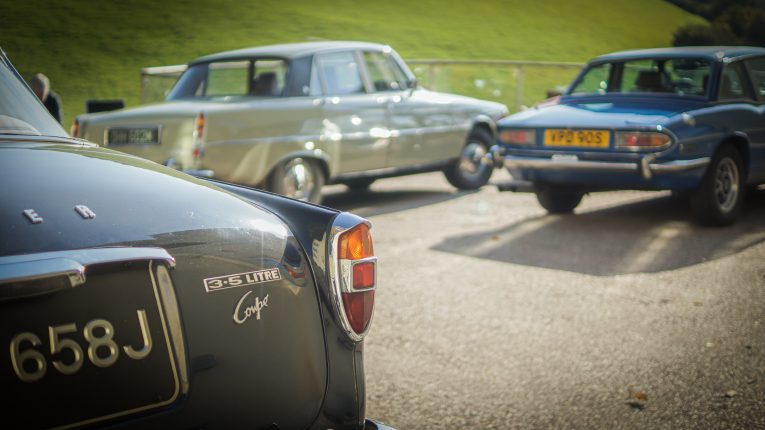 It's not uncommon in our world to encounter people that have a collection of classic cars. After all, the classic car world is rich and diverse, and within it there are cars that engage and excite for a varied number of reasons. We, as classic car lovers, often end up with more than one because we want old cars, but we want different things from them, different adventures and different experiences. This is why we collect. And if you're reading this and you have a collection of classics of your own, more power to you. 
Paul Compton is a man who also adores his classic cars, as evidenced by his five-strong collection. Looking at these cars, if won't take you long to spot a theme. There's an Eagle E Type Jaguar, a Rover P5B and P6, a Triumph Stag and also an Austin Maxi. Paul, then, likes British cars from around the 1970s. However, that's not the theme here. What connects these gleaming machines is something far more impressive than the factories from whence they came. What connects them is that they're all absolutely original. No one car has ever seen a welder or been parked in a spray booth. No panel has been removed, no seat has been re-trimmed, no glass has been replaced. These cars are all survivors. Remarkable. 
Talking to Paul about this obsession with the original, he explains that while he has the utmost respect for restorers and restored cars, they just lack something for him. When you restore a car, you take away its heritage and its journey, you reset the clocks as it were. Cars that have survived are inherently more captivating, especially when they are cars that perhaps shouldn't have survived. 
An old Porsche, an old Aston, you expect cars of that ilk to live on because of their exclusivity and standing. But an Austin Maxi? While a good car in its day, there is no escaping the fact that it's just a 'car'. A Maxi isn't something you associate with desire, but here we are, looking at one that someone has cherished and cared for. And that is so captivating and with it, wonderful. We know why an Aston from 1965 has been cared for – it's an Aston. But with the Maxi, we can't help but lose ourselves as we try and adopt the mindset of the original owner. What were his reasons? Why did he love it so? It's a fascinating thought experiment. 
It turns out the Maxi was bought by a serial Maxi hoarder. He bought the car new, used it sparingly and then put it away in the garage of one of his properties. But it wasn't just parked. It was lifted onto blocks to save the suspension, the interior was covered, there was some real thought put into it. Apparently, the same chap had other Maxis at other properties, but this 1750HLS was the finest one. Sadly, before the car could ever be reunited with the road, the owner passed away, leaving the Maxi to find its way to auction where Paul bought it. 
With a mere 6,000 miles on the clock, it's a true timewarp machine. The engine bay is still rich with the protective factory wax, the interior still smells of the '70s, the seats in brown velour are unspoiled and free of marks. It's incredible. 
What about other cars in the collection? Well, there is the Rover P6 3500. Again, this car is completely original, and wears a meagre mileage – just 55,000. It's filled with rare and immaculate herringbone trim, the original dealer sticker still clings to the rear window and the original, untouched paint of the exterior is flawless. 
This car, Paul tells us, was actually bought via Car & Classic. Deciding he'd like a P6, he set about searching for one. It was the advert's wording that caught Paul's attention, with talk of it being the best P6 there is, and the only reason for sale being poor health. The seller was confident too, with a request for a 10% non-refundable deposit and an absolute insistence on no offers being made. It seemed like an honest car, and with such low mileage it would be a welcome addition for Paul. 
He called the seller and was told more about the car. It had been garaged all its life, though the owner was keen to point out he opened the garage up on sunny days. It wasn't used in adverse weather. It was serviced regularly. It was perfect. Paul bought it, but not without some more advice from the previous owner, who told Paul the P6 had to be run on 'proper' fuel – he gave Paul directions to a suitable petrol station! 
The Triumph Stag has perhaps the most distressed past. It's only had a couple of owners, the first of which was fastidious about the car's upkeep. Paul even has correspondence to the garage in which the original owner states "I don't wish to sound old womanish, I don't want the car left out in the rain". You just don't get people doing that with a BMW 1 Series! 
That first owner doted on the car before selling it to a chap who bought it for his wife. Sadly though, she wasn't a fan of the glorious Triumph, complete with that wonderful-sounding Triumph V8. As such, the poor car sat in a garage, unloved and unused for some twenty years before Paul rescued it. 
Of course, having lay idle for so long, some work was needed. The rubber elements of the engine had to be replaced, a full service was carried out front to back, the cooling system had to be cleaned and recommissioned and some new tyres were fitted. Other than that though, this V8 Stag is every bit the car it was when it left the factory. It has a mere 17,000 on the clock. 
The Rover P5B was another car found in the Car & Classic listings, though this one came from a dealer. However, it boasted just 37,000 miles (including 13k from the first owner over a span of 26 years) and like the other cars here, has never been restored. Given the mileage, this car is arguably the most 'lived in', but for us, that just adds to the charm. This car has a bit of life to it, the leather has been broken in, the buttons have been pushed, the engine has settled in. It's a lovely old thing from front to back and is a credit to those who have owned and cherished it over its life. We look at the P5B with admiring eyes now, but remember, like everything else, this was just a 'car' once. It would have been worth nothing at one point, yet still someone cherished it. Wonderful. And a reminder that no matter what stage a car may be at in its life, someone will be willing to care for it. 
The final car in the collection is the V12 Eagle E Type. This Series 3 roadster is again immaculate and unrestored, and for Paul it represents the 'sweet spot'. By this, he means the car was 45 years old when he bought it, and it has just 45,000 miles on the clock – that's a thousand miles a year, a number Paul believes is just enough to keep everything moving without piling on the mileage. According to the vendor who sold the car, "this one has been on peacock feathers all its life". Looking at the condition of the car, we'd be inclined to agree. 
Frankly, we would have happily featured any of these cars individually. Each one is worthy of such exposure. The fact that they are part of one man's collection, however, makes the gathering truly spectacular. We love Paul's passion for the original and we applaud him for being a curator of these cars. And we also agree with Paul wholeheartedly that survivor cars are perhaps some of the most enigmatic out there. They've been there in the background through cultural, political and social changes. They've survived when their peers have been relegated to the knacker's yard. They live today with stories that other classics can only dream of, and that is truly special.