Topdon TC001 Thermal Imaging Camera – Product Review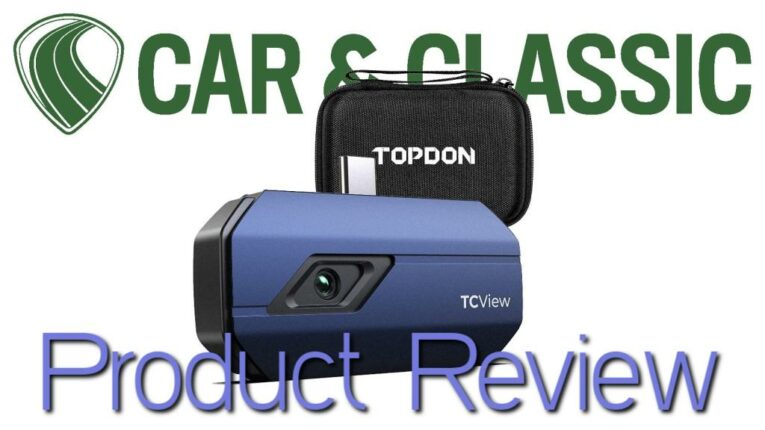 If you've ever seen the Schwarzenegger classic Predator (and you should have because it's one of the greatest '80s action films ever made) then you'll be acutely aware of how thermal imaging works. In the movie it allows the antagonist – a particularly nasty alien hunter – to track its prey (Schwazenegger's character Dutch and his crack team of hard-nosed mercenaries) by using infrared technology, like that of the Topdon TC001 thermal imaging camera, to identify potential living targets so that it can dispatch them in increasingly gruesome ways. In the end Arnie manages to outwit the Predator by covering himself in mud, thereby negating his foe's advantage because it can no longer detect him using its advanced vision.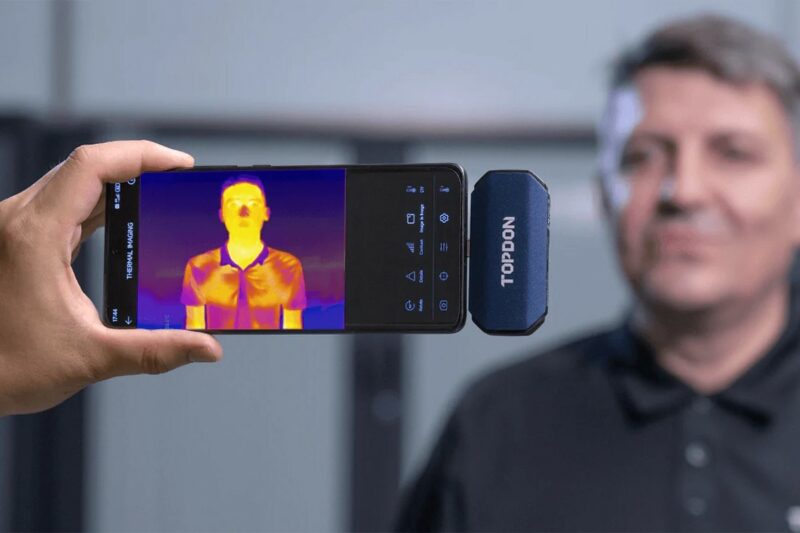 But what the hell has this got to do with classic cars we hear you cry. Well, the same principles can be incredibly useful when attempting to detect and diagnose potential over-heating problems with your engine, exhaust and brakes as well as the overall effectiveness of your cooling system. As we all know, old cars are generally not as efficient as more modern fare. Parts like radiators and thermostats also degrade, becoming less effective at keeping your pride and joy cool and therefore running optimally. Thermal imaging can detect any issues and also help to assess how good of a job you've done with any heat dissipation mods you may have installed; exhaust wrap, heat shielding, silicone hoses and the like.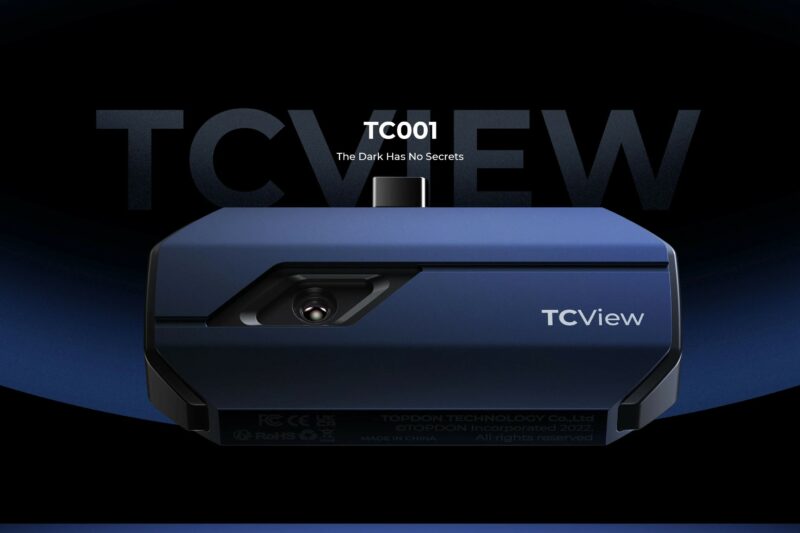 Get your Topdon TC001 Thermal Imaging Camera here.
The Product
Topdon have been providing quality automotive diagnosis and calibration tools since 2009 and its TC001 thermal camera is just one in a wide and varied range of devices. This portable camera effectively turns your Android smartphone, tablet or Windows laptop into a powerful thermal imager, powering itself from whichever device it is attached to. With a resolution of 256×192 pixels, the TC001 can produce a thermal image with incredible clarity. Weighing in at just 30g and measuring 71x42x14mm the TC001 is a compact tool that offers great mobility, if a little flimsy feeling. We certainly wouldn't want to drop the thing but it's astonishing how much tech can be packed into such a small device. The TC001 has a wide, adjustable temperature range of -20℃ to 550℃ and can also data log to provide the high, low, and average temperature of objects in its field of vision over a period of time and generate a waveform graph. Bundled with a protective carry case and USB lead it's ready to roll straight out of the box.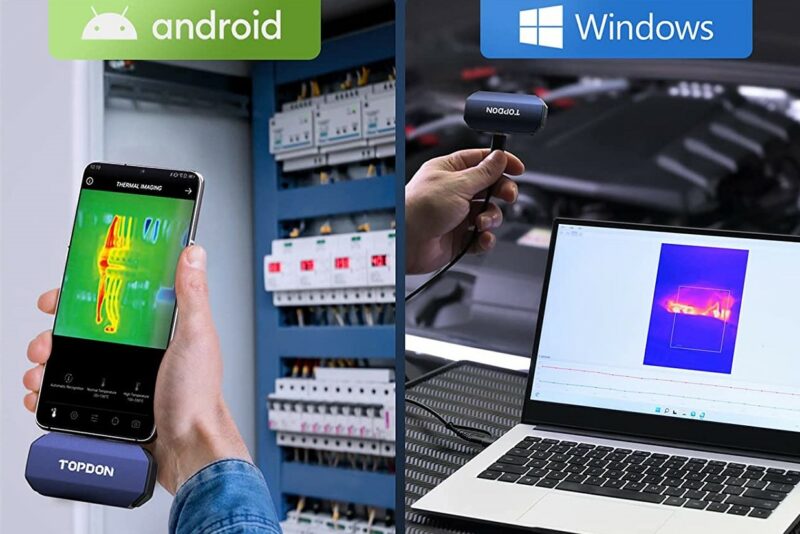 The Test
We only tested the camera on a Windows laptop as we did not have access to an Android phone at the time of writing but the TCView app is available to download from the official Topdon website and the reviews we have read online are mostly positive. Setting up the device was as easy as plugging it in to a spare USB port using the supplied cable and downloading the TCView software from Topdon. We then pointed the TC001 Thermal Imaging Camera at our Volvo 940, specifically at the turbo and exhaust manifold, both at idle and after a spirited run to see what kind of temperatures the engine was producing and if there were any particularly high hot spots within the engine bay – handy information to know when you're pushing boost pressure on your whirly boy, as we are.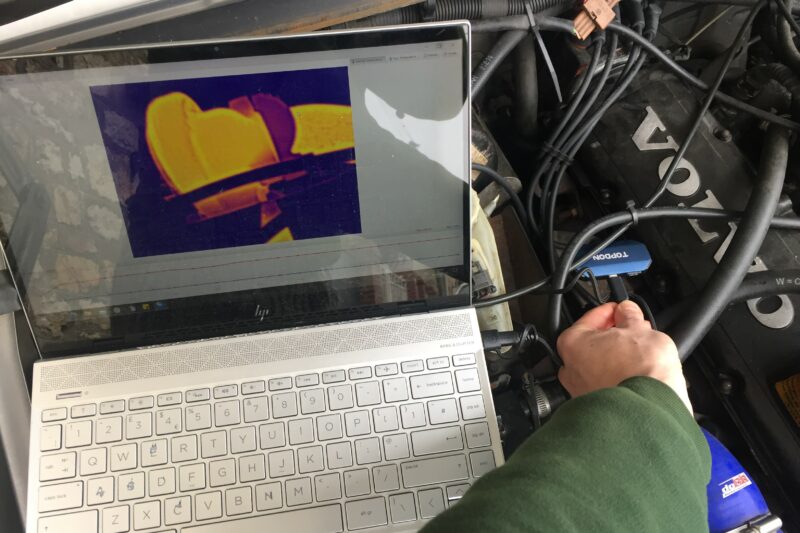 The Result
The TC001 is simple to operate and the resolution is as clear as a bell. The temperature readings update in real time and the user interface is easy to read. The software includes myriad functions including ten different colour palettes, sharpness and contrast adjustment and picture-in-picture mode. Image enhancement technology makes the field of view clearer and more detailed and we could instantly assess what was going on with regards to the heat signature of the engine, making the camera an incredibly useful bit of kit.
Temperature at cold idle (193.5 °C)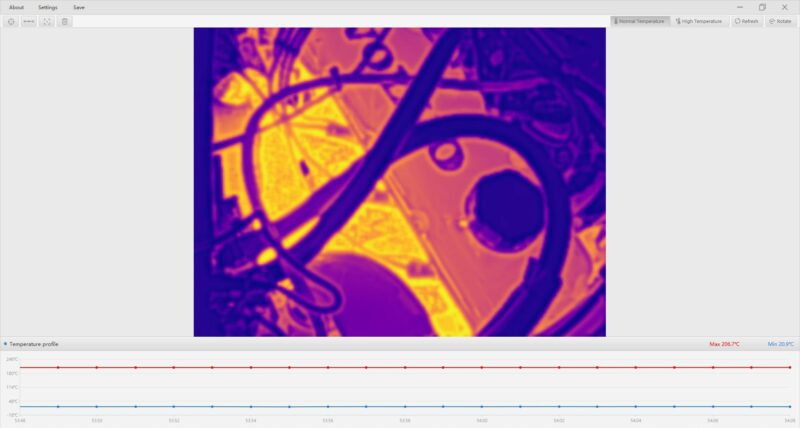 Temperature after a "spirited" drive (206.7 °C)
The Verdict – 4 out of 5
The Topdon TC001 Thermal Imaging Camera is brilliant, in a word. Whether you're investigating heat soak on your modified drift car or diagnosing a sticking brake caliper it's a great tool that's compact enough to get into the nooks and crannies you need it to and has excellent image quality to boot. This is an incredibly useful and quality addition to any diagnostics array and could end up saving you a lot of money in troubleshooting and garage bills. It can also be used to examine the heat signature of your house, too and identify any insulation shortfalls. We're docking a point for no iOS compatibility which should be a given and limits the device's versatility and the supplied lead is a little short but aside from that we think it's outstanding. With the TC001 if it's hot, we can see it.