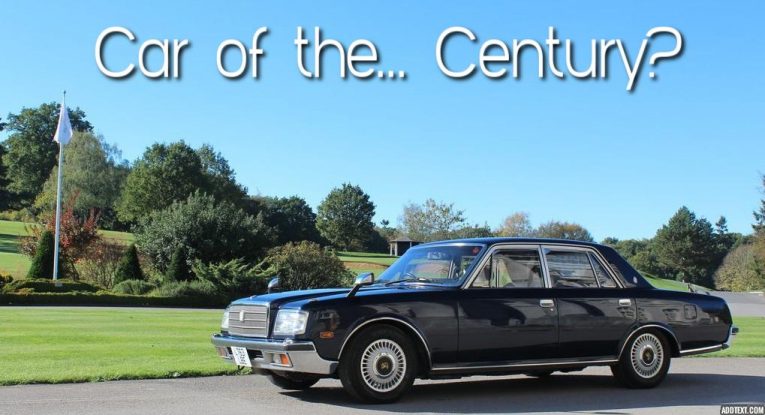 When it comes to buying a luxury car, something dripping with technology, comfort, power, space and chrome, there are some 'go to' destinations. The big one, of course, is Germany. You have cars like the BMW 7 Series, which has been the 'executive express' of many since the '70s. So too has the Mercedes-Benz S Class, a car that has positioned itself as always being at the forefront of cutting-edge technological advances. And of course, there is Audi, with the A8, a machine that boasts driver appeal and luxury in equal measure.
An early first-generation Century
For those of us who prefer our luxury to be home-grown, we're not spoilt for choice. We have Bentley and Rolls Royce after all – two longstanding bastions of all things luxury. However, there is no escaping the fact that both brands, even secondhand, generally remain the subject of a lottery win.
So where else can we go for luxury motoring? The Brits are too expensive, the Germans are too ubiquitous. The Italians, perhaps? There's the Quattroporte after all. However, there is also the lost sleep that comes from wondering when said Quattroporte will break down. France? There's the DS, or later CX. Wonderful cars, but that suspension is scary. What about, then, Japan? After all, this is the country that gave us the Lexus LS400, a car that completely changed the landscape of what could be done with a luxury car. Though, that's not the car we're looking at here. Instead, we're focusing on the parent company of Lexus, namely Toyota. And now you're scratching your head because Toyota doesn't make an out-and-out luxury car. And you're right, it doesn't. At least not for the UK or European markets. Not even for the massive American market, either. The car we're looking at here was and is built exclusively for the Japanese market, where it's regarded as the last word in luxury transport. We are of course talking about the Toyota Century.
First-generation VG40 Century (1993)
When the LS400 was launched in 1989, the automotive world was stunned. Up until this point, Japan had only been making sensible family cars and small sports cars like the Corolla, Sunny, Celica and Skyline. Luxury wasn't something the Japanese did. Except it was. And in a big way. Nissan had the mighty President from 1965 and in 1967, Toyota joined the flagship luxury game with the mighty Century.
And yes, we keep using the word 'flagship', but we need to. That is why this car was built. First of all, the name Century is in honour of Sakichi Toyoda, the founder of Toyota Industries. He was born in 1867, 100 years prior. See what they did there? Then, there is the usage of the Century. It's not a car that one has ever been able to walk into any Toyota dealership and buy. Of course, you can buy it from select Toyota stores in Japan, but generally speaking, the Century is something that comes direct from the manufacturer, because dignitaries, government leaders and the Prime Minister of Japan don't walk into dealerships.
The first Century had a frankly astonishing production run. Launched in '67, it remained largely the same other than some slight visual changes and period correct upgrades in luxury until 1997. A traditional three-box saloon, the Century was and still is focused on the passengers rather than the driver. Deep shag carpets, high-grade wool or leather interiors, even curtains and window blinds in some cases were all part of the back seat experience. By 1971, you even had full control of the climate (a huge innovation for the time), TVs and audio controls.
Early cars were powered by a 3.0 V8 from the Toyota Crown Eight, on which the first Century was loosely based, though over the years, this grew to 3.4 and finally, for the first-generation car, 4.0. The transmission started life as a three-speed hydraulic automatic, but in '87 was upgraded to a fully electronically operated four-speed automatic for maximum smoothness. And that was crucial, because in the Century, smoothness is everything.
After thirty years, the designers at Toyota thought it might be a good idea to look at revising and modernising the Century. There was one issue with that though, and that was the fact the Century's buyers didn't really want it to change. For the more 'youthful' buyer, there is the (also Japan only) flagship Toyota Crown Majesta, which is more contemporary in its looks. The Century crowd, however, had little interest in that. They liked the Century as it was, so Toyota listened.
The second-generation Century, released in 1997 and built until 2017, looked to be nothing more than a heavy face-lift. However, there was more to it than that. It was packed with additional technology like massage seats, PH-sensitive climate control and air suspension. But things didn't stop there. On some models, the centre of the front passenger seat would drop down, thus allowing the rear seat passenger to put their legs through it and stretch out fully. Now that's luxury.
Second-generation Century (2001)
There was also a V12 engine. And this is important, because this engine was built exclusively for the Century. It was and still is the only V12 engine developed by Toyota. It packed 260bhp, but thanks to being a 12-pot, the power was delivered smoothly and with minimal drama. The V12 was chosen because of the subtle way it could deliver the power needed to move the Century along. It's not meant to be fast, it's meant to be relaxing. That's how highly the company regards the buyers of the Century. But then, we are talking about the Prime Minister here.
Initially, the engine was mated to a silky smooth four-speed auto, though in 2005 this was replaced with an 'intelligent' electronically operated six-speed automatic. This transmission was smoother and as such, less intrusive, which was key given the Century's focus on the passengers. Other features highlighted this focus too, like the wool seats, because wool is quieter than leather. Then, there are the doors that pull themselves closed from the latch. Why? It's quieter. It's more sublime.
On the road, the Century is not a car for going fast. It is a car for getting from A to B in complete silence and with every conceivable option at your disposal. It is a place for occupants to immerse themselves in calm before facing whatever storm the outside world may hold. It's not boastful opulence though, it's not brash or blingy. That wouldn't be the Japanese way. This is a car that does its job with function at its heart. There are no fibre optic constellations in the headlining, you can't have the paint with crushed diamonds in it (seriously, that's an £80,000 option on a new Rolls). Instead, most buyers go for black paint. It's not about impressing onlookers.
The current, third-generation Century
Now in its third-generation, the Century has proved itself to be the vehicle of choice for Japan's elite. But don't think it's just for them. We're not writing about it so we can dangle in front of you the car you can't have. You can have a century, and for not a lot of money. The cars you see pictured in this very article could be yours for as little as seven grand, and that's astounding. It might be a bit left-field, but when you consider what you'd have to pay for the same kind of car from another manufacturer, it's a bargain. You'll have something exclusive, achingly cool, and so sedate and comfortable to drive you'll end up wanting to live in it!